We met Ciaran in Paris for a few drinks near the canal in Paris. It was his first big trip alone around Europe and we really enjoyed his spirit. So we asked him to get back in touch once he was done traveling to share how he evolved after this unique opportunity. Very interesting piece. Thanks mate!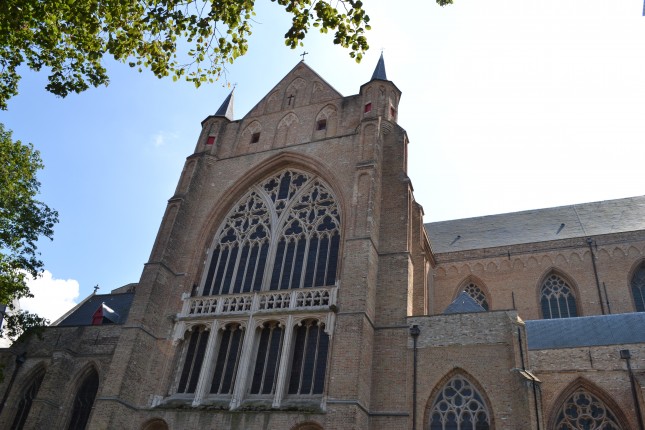 San Salvadors Cathedral in Brugges. One of the many "pretty churches" I saw.
Howdy! My name is Ciaran O' Connor and during August I've been interrailing across Europe courtesy of Isaacs Hostel in Dublin and Hostel World also. They ran a competition in June to find somebody to traverse Europe promoting Ireland and Isaacs along the way as the Isaacs Ambassador! Somehow, I won! So now I'm travelling pour gratis, for free, all over Europe!
Soundtrack of the report
Burning Down The House
Talking Heads
My travels have taken me through London, Paris, Brugge, Amsterdam, Berlin, Poznan, Prague and lastly Vienna, which is where I am at the time of writing! One thing struck me along all the way. Europe has some really beautiful churches, and my god, are they Beautiful! After a while though, they all just become 'pretty churches'. You take a photo of one, think it's lovely, then another and another and so on and so forth. After a while, it's just another lovely Church! Soon, you've just become some sorry tourist with 198 pictures of Church spires and doorways. Talk about over saturation!
What can you do to get away from all the lovely Churches? Get stuck in! By that I mean, get stuck into the culture of the place you're in. From my experience, the people have been the most compelling part of every town and city I've been in! Whether it means getting properly destroyed in a bar or chatting to a shopkeeper while you're desperate for water, talking to the locals is the best way to gauge the atmosphere of a place!
This is what happened to me in some of the cities I was in, including Paris. Here I met Alex from this site, Hejorama. We had a very chilled out evening. There was no churches, no mesmerising architecture. Just a couple of beers down by a canal and then in a bar. Not only did I see a side of Paris that all travellers don't get to see, but I learnt a lot about the similarities and differences between France and Ireland. That's what I wanted from this trip!
"the locals in each city are, in a way, the Ambassadors of their own country"
Just like myself, the locals in each city are, in a way, the Ambassadors of their own country, town, city, what have you! Get chatting to your fellow travellers too! And I don't mean chatting whilst you're ordering your 2nd Big Mac, but get to know them! They could end up travelling with you!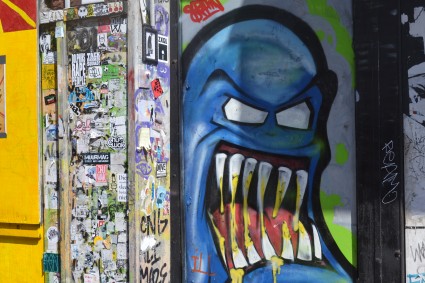 Street art in Amsterdam
Not only will talking to the locals and other travellers give you great stories, but they'll tell you what else there is to see and do in a city besides gazing at all the lovely churches. While every city has some wonderful places of worship, there's more to each city than just the amazing neo-romanesque architecture (or whatever style it is) so talk, learn and get out there! Just not to the pretty churches!

Tourist taking a picture on Charles Bridge, Prague. There are other things worth photographing than churches!
As I've been travelling for Isaacs hostel, I've been keeping a blog of my adventures online at isaacsdublin.blogspot.com. Check it out! I'm also on Twitter at @ciaran_o_connor if you want to hear me rant about Irish things, get on it!
Ciaran