Alternative destinations: Issyk Kul lake, Kyrgyzstan
After a great guide on the beach resorts of the Black Sea, Jerome offered to review for us the lake Issy Kul area in Kyrgyztan that he had just visited. It seemed quite an off-beaten path destination—as usual for our French adventurer—and we figured it would be worth getting some info for people who might be interested in getting to this area. We've added it to our "to-go" list…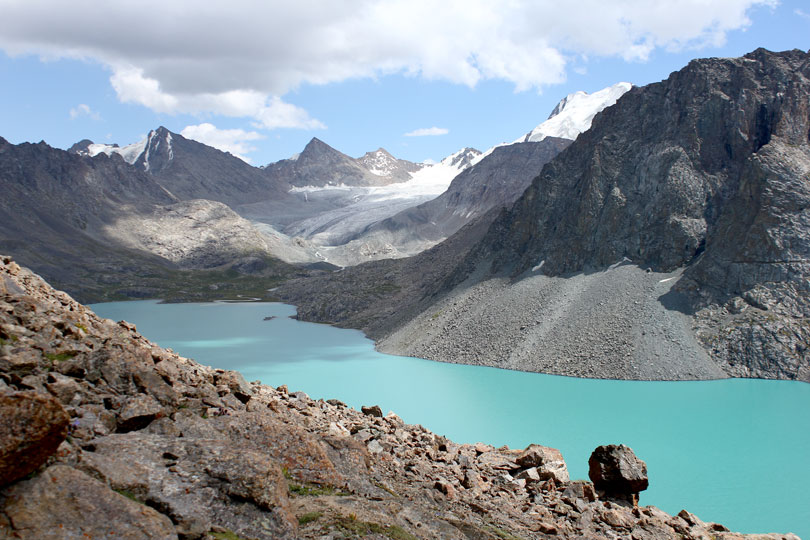 Kyrgyzstan just waived the obligation of visa for 44 countries from 28 July 2012. I heard the news when I was in Uzbekistan. I jumped on the occasion and decided to make an unplanned visit.
Soundtrack of the report
Ordo Sakhna
Ordo Sakhna
More than a delightful surprise, I must say I totally fell for this country, and especially the lake Issyk Kul area. Today I would like to introduce you to its many wonders…
At an altitude of 1,600 metres, the lake is the second largest mountain lake after Titicaca. Aside from a military testing site, it was a popular holiday destination at the Soviet era: hot summer sunshine, beaches, mountains, sanatoria, archaeological sites… With so many activities, there is something for everyone here. On the routes of the Silk Road Issyk Kul attracts nowadays more and more international tourists.
Around the lake are three places offering significantly different options depending on your tastes: Cholpon Ata is a summer resort by the lake; go to Karakol if your prefer hiking, trekking in the mountains, getting a sense of the true local nomadic life, skiing and heli-skiing in the winter; and choose Tanga or Tosor on the south shore for a wilder/more authentic perspective on the lake.
Cholpon Ata
Russians, Kazakhs and Bishkek week-enders are found in high numbers during the summer in this trendy lake-side resort. When I read about it, I pictured a dense city with many high apartment buildings and hotels, busy streets with many clothes shops, western-style restaurants, food stalls everywhere, jet-setters in designer shorts and flip-flaps, luxury sunglasses and ostentatious jewellery, large families with spoiled kids running everywhere. It's actually less impressive than I expected. In fact, it's a regular town but with a bit more shops and restaurants and busier than the usual countryside Kyrgyz village. No high buildings, no big hotels. Just a few unfinished or run-down buildings on the outskirts of town are the proof that there were once better days when developments were undertaken, and this was just before the end of the soviet era…
Only the Presidential Summer Residency remains a landmark. Modern and luxurious, it adorns the centre of town but the downside is that it splits the lakeside in two, making impossible a continuous shore strip that could make a beautiful long sandy beach.
To the east of the Residency can be found the remains of a beach complex including a park, a derelict open-air theatre, restaurants, tennis courts, and a good and clean sandy beach. Other activities include camel riding, parasailing, pedalo…
The main public beach lies west of the Residency, and this is where the main bars and clubs can be found. Dance music beats resound late into the night over the whole town from there.
Slightly further out west is the Yacht Club where you can rent boats, kayaks and canoes.
Everything there is aged and need serious upgrading, but everything here has an incredible potential. The site is exceptional with an astounding view over the ice-capped mountains to the other side of lake. And those close mountains open to still many more activities for holiday makers (see The Karakol section below). I heard of development projects including mid and higher end hotels, but investors seem hard to find. With the country opening to international tourism by waving the obligation of visa in July 2012, many visitors should be expected next summer.
Another popular tourist attraction outside Cholpon Ata is the petroglyphs site with 2000 engraved stones dating from 800 BC to 1200AD.
Karakol
Karakol is a small city of 70,000 habitants. It has a nice colonial feel, with lovely houses and a remarkable wooden Russian Orthodox cathedral. It is the starting point for trekking, hiking, skiing in the mountains. Many guesthouses and tour companies organize guided treks, horseback riding, glacier trekking, and mountaineering. From day hikes or 3 day treks to week-long expeditions, there is a wide choice of adventures to fit any level. Keep in mind that altitudes are very high around here, and that any good physical conditions is challenged by the extremes!
Very good information, maps, all services booking and equipment rental can be found at the excellent Community Based Tourism office in the centre. Always start your trip there.
For example, I did the classic and average difficulty 3-day trek (but best done in 4 days at a more relaxed pace) up 3,500 metres to the amazing Ala-Kul lake, then up across a pass 3,800 metres high, and down to the comforting and soothing hot springs of Alynarashan. The scenery is breathtaking: from green valleys to sky-high glaciers and peaks. This can be done alone with a good map available at the tourist information office or CBT (recommended). A minimal equipment is required: good shoes, sleeping bag and tent, warm clothes, enough food of course…
There are several sanatoria around Karakol where you can indulge into a relaxing massage. The time there seems to have stopped in the soviet era, and staff only speak Russian, but this is definitely a moment you will remember!
Other attractions in Karakol include the Sunday animal market where you can see (and smell) thousands of goats, sheep, cows and horses. It is said to be the biggest and most picturesque of its kind in central Asia. And if you really want to plunge deeper into the traditional life of nomads, you can do 'yurtstays', sleeping overnight in a yurt. There are many places in the valleys or mountains, enquire at the CBT.
In the winter, a few ski lifts will let you enjoy incredible snow just outside Karakol. But the real excitement is heli-skiing: possibilities to make your own trace on those mountains are endless…
Barskoon, Tamga and the south
The south side of the lake is a lot more dry and less populated. There are a few village worth stopping by if you feel like a quiet break away from the crowd, or to meditate after so much excitement and adventure. Barksom and Tamga are laid back spots on the Silk Road, with lovely beaches and clear water. They are also good starting points for trekking and horse riding. There are a few geological sight like the Barskoon waterfall and the red rocks of Razbitoye Serdtse in Jeti-Ögüz and remarkable remains of the Soviet times, including a bust of Yuri Gagarin who was a regular holidayer here after the first manned space flight.
Nearby is the open-pit gold mine of Kumtor employing more than 2,500 people in the area and operated by the Canadian company Centerra Gold. The mine is located at 4,200m where it snows regularly, even in the summer. No visitor access is authorized though.
All along the south shore it's possible to camp on the beach, but there are a few safety warnings. Some locals sit and drink late on the beach and I heard of annoyances due to drunk individuals. Nothing too bad, but if you do want to pitch your tent by the lake carefully pick a location away from the road.
General information:
Formalities
Citizens of 44 countries now can stay up to 60 days in Kyrgyzstan, visa free!
Travel to Kyrgyzstan
Turkish Airlines (Istanbul) and Aeroflot (Moscow) connect most international airports to Bishkek.
Access
The only access to the lake is by the road from Bishkek. Cholpon Ata is a 6-hour minibus ride east of Bishkek on a road which was being entirely rebuilt and broadened this summer 2012. It should be considerably faster by next summer. Road construction is undertaken by the Chinese here in Kyrgyzstan as a mean to develop exports and business (of coal mainly). The road around the lake is fairly good. It takes 2 hours from Cholpon Ata to Karakol, and 4 to 5 hours from Karakol to Balikchi (west). To move around the lake, there are frequent Mashrutkas (minibuses) from/to anywhere for a maximum of 200 SOM (from Karakol to Balikchi for example).
Accommodation
All around the lake, guesthouses prices start from 400 SOM (7.5 EUR) per night per person.