Interview: Nans et Mouts de l'émission Nus & Culottés
Août 2012, nous sommes gentiment en train de passer à travers un été parisien, morne et pluvieux, quand Alex me parle un matin d'une nouvelle série qu'il vient de découvrir sur France 5 (télévision française).
Soundtrack of the report
Tout nu et tout bronzé
Carlos
Deux mecs partent nus d'un endroit en France (tous nus !!) pour aller réaliser un rêve. Autant dire que j'ai tout de suite accroché... Ils partent à la rencontre des gens pour trouver des vêtements, se loger, se nourrir, se déplacer, etc. qu'ils le veuillent ou non, ils doivent aller vers les gens. Ils partent pour faire un bonhomme de neige dans les Alpes, faire du parapente en Corse, trouver une oasis au Maroc ou encore faire du tandem en Hollande. Une superbe idée et un très grand courage aussi.
C'est exactement l'esprit que nous essayons de développer avec Hejorama. Créer des rencontres, des moments inoubliables, en apprendre plus sur le monde et soi-même. Penser et réaliser des voyages plus singuliers et plus personnels. Remettre en questions les pensées préconçues sur le voyage (y-compris dans son propre pays), les gens, l'argent, ...
C'est avec une immense joie et un grand honneur que nous avons rencontré au bureau Nans et Mouts alors qu'ils étaient à Paris à l'occasion de la sortie du DVD de leur aventures. Nous avons aussi discuté, comme vous le verrez, de La bible du grand voyageur à laquelle Nans a participé (avec Anick-Marie Bouchard et Guillaume Charroin) et qui est sorti depuis quelques temps chez Lonely Planet.
Une discussion d'une heure qu'il a fallu réduire à 20 minutes (sous la torture du tout puissant internet - Nous avons du coup, des tonnes de rush en rab' ...). Quelques informations que nous avons dû couper mais qui nous paraissent importantes de citer malgré tout:
- Un grand bravo et respect à la co-réalisatrice Charlène Gravel qui a passé des semaines à visionner les 80 heures (en moyenne par épisode!) de rush et s'est occupé du montage pour arriver à cet équilibre subtile.
- Pour tout ce qui est survie en pleine nature, ils nous ont parlé de leur ami et modèle Kim Pasche avec qui ils ont passé pas mal de temps pour s'entrainer. Contrairement à Bear Grylls qui a besoin d'une pierre à feu, lui n'a besoin que d'un couteau... Il tente de recréer un mode de vie proche de nos ancêtres les chasseurs-cueilleurs.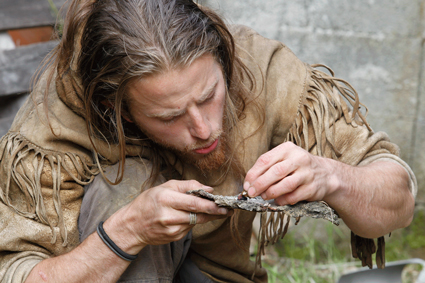 À ce sujet, je vous rappelle qu'il y aura (a priori en 2013) des stages de débrouille en pleine nature par Nans et Mouts.
Je sais que c'est long pour une vidéo internet, mais gardez-vous 20 minutes de coté, sautez votre pause dej', séchez le cours de piscine et profitez de la bouffée d'émotion et d'aventure offerte par Nans et Mouts.
Ben