Anecdotes from Tux Valley, Tyrol, Austria
10.6K views
3

minute read
What can expect two French travelers – Ben and I – from spring ski holidays in Tux Valley (Tyrolean Zillertal region, Austrian Alps) when they already have a large choice of ski resorts in France?
Maybe, a pristine landscape cloaked in white, with great slopes (900 ha runway surface with 245 km of slopes in Tux -Finkenberg) that are not too much crowded. Also, cosy accomodations, low prices, very nice and welcoming people.
But above all, Ben and I enjoyed typical Austrian experiences, that we never experienced in France.
Here are our anecdotes from Tux Valley.
– Our favorite local menu –
Starter
Goulash / Stew of meat with paprika and onions
Main dish
Wiener Schnitzel with its potato salad / Very thin, breaded and deep fried Schnitzel from veal
Dessert
Kaisershmarnn served with apple compote / Caramelized pancake baked in butter, split into pieces while frying, shredded after preparation and sprinkled with powdered sugar
After-dinner liqueur
Schnaps / Local strong eau-de-vie
– Toboggan in the night –
Our last night in Tux, we had dinner in a typically tyrolean hut called Höllensteinhütte. After dinner, we went out by a little door, and there, wood vintage toboggans were waiting for us!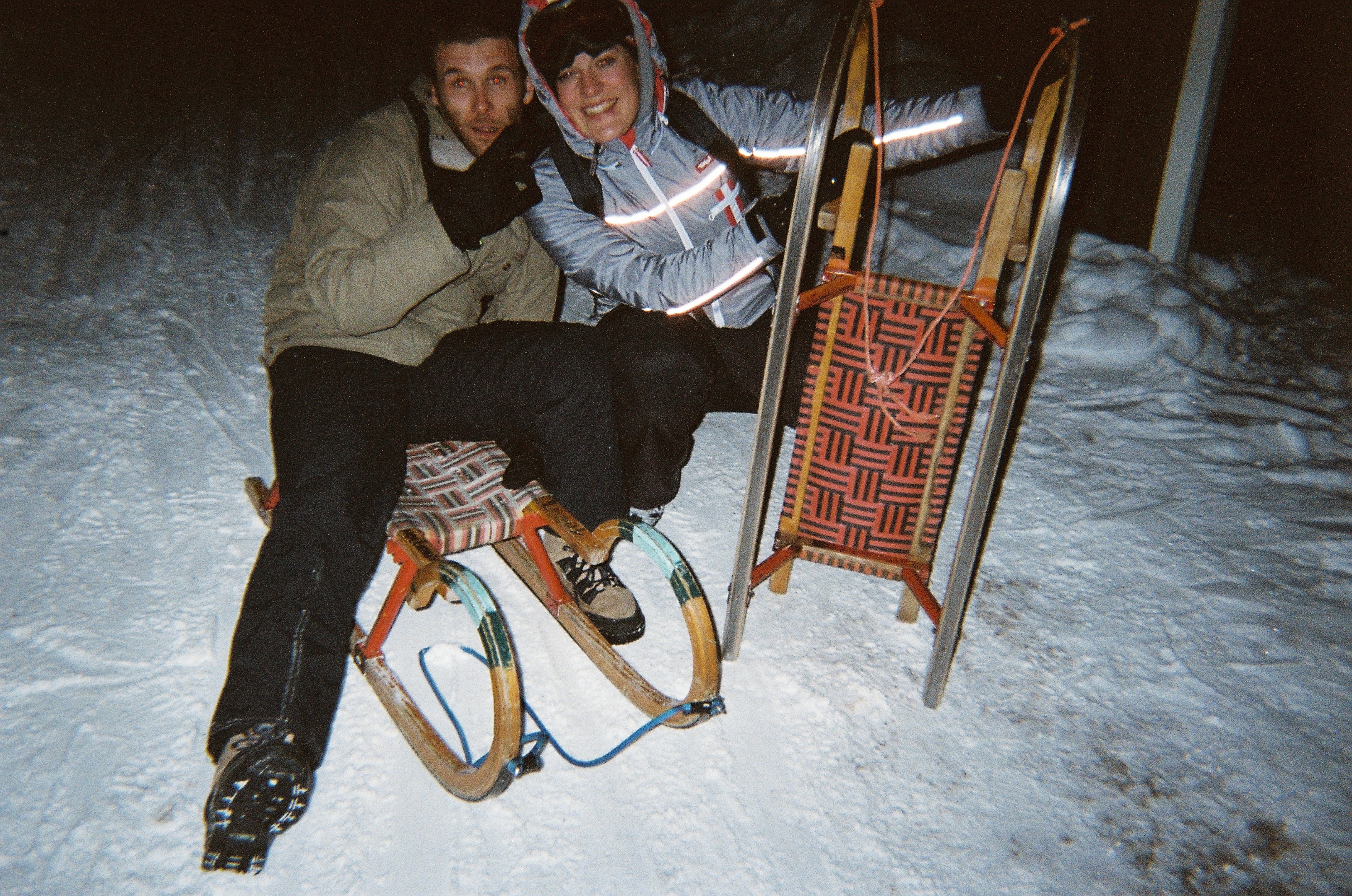 Ben (Hejorama) & Martina (Tux Finkerberg)
People from Tirol Tourism Board and Tux Finkenberg (we were invited) showed us the sloping white road, with all its curves. It was during night, we were able to see all the night lights from the Tux Valley.
They explained us how to brake with our feet and cord, and told us to follow the lights inside the trees :
– green light : you can go fast, everything is ok!
– yellow light : you have to slow down
– red light : be careful !
Wonderful and magical moment, one of our best memory from Tyrol.
– Family portraits –

Forelle hotel in Tux Finkerberg. Kirchler family
In the Tux Valley, a lot of places are owned by families, that manage the place from parents to children. They are very proud of that and like to hang their family portraits to their walls. We saw a lot of these portraits in après-ski bars, restaurants, hotel… Both kitsch and touching, it brought conviviality to our trip, and made us feel closer to the local people of the region.
– Tyrolean yodeling in an après-ski bar –
Ben and I discovered après-ski bars (you can read our article about that), and our favorite one was the Kaser Mandl. There, Dj-Mox sang typical Tyrolean songs (yodeling) in his mike, and played trumpet.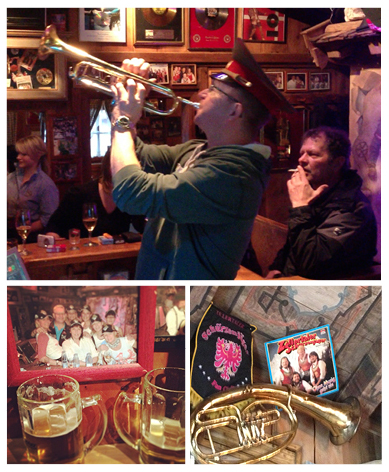 Yodeling, a form of singing that involves rapid and repeated changes of register, was developed a long time ago in the Alps. It's a major feature of folk that can be heard in many contemporary folk songs, which are also featured on regular TV broadcasts. Imagine our joy to be there, listening this typical music! Especially when this guy – Dj Mox – seems to be quite famous in the region, with a lot of portraits, photos, instruments and awards hung in the bar!
(a big thanks to the Tirol Tourism Board,Tux-Finkenberg and Lea Hajner from Tripwolf!)