5 things to do in Vienna during summer
15.4K views
5

minute read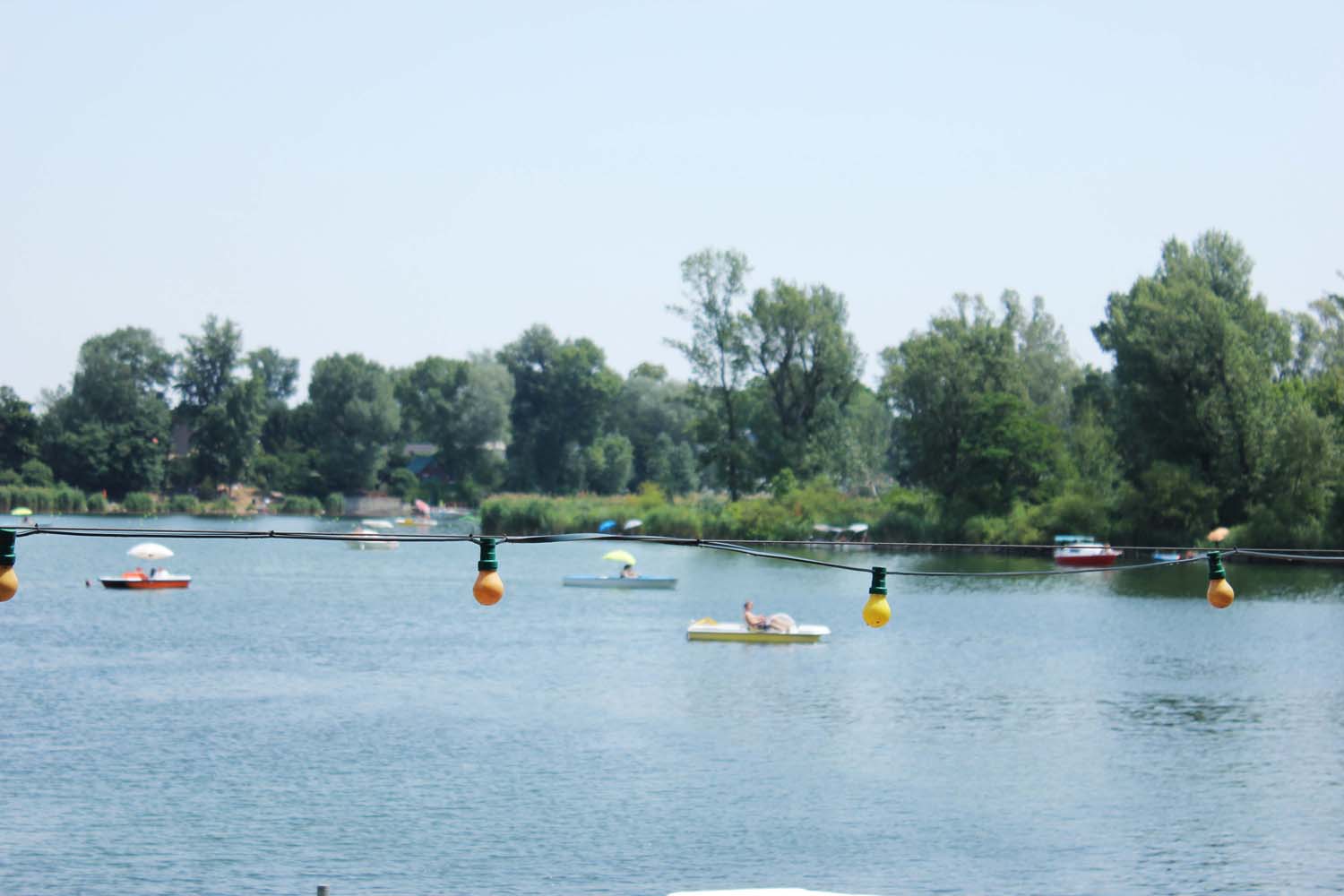 Last week, I visited Vienna for the first time, on the invitation of the Vienna Tourism Board and the lovely Viennese co-organizer Lea. With other travelers from
Just Travelous
,
Travelettes
,
Live Share Travel
,
Travelllll.com
,
Velvet Escape
,
Isabelle Travel Guide
,
The Aussie Nomad
,
Reisedepesche
, and
Reisewerk
, we were visiting to try to discover how young people have a good time in a city that is most often known as an old and traditional city. After few cold and rainy weeks in Paris, and only a handful of sunny days, I prepared my luggage for this four day trip. I didn't really know what to take, so it was a big mix of shorts, jeans, tank tops, sweaters, a coat, umbrella, boots, sneakers, sandals and a bikini. I couldn't imagine wearing my bikini in Austria, but Lea told me to bring it. I am happy to have followed her advice! We knew the hottest day in recorded history of the city. I didn't think that it could be so warm in Vienna. Fortunately, it's a beautiful city with a lot of cool and pleasant things to do during the summer, including swimming in fresh waters. Here are five things I tried for you during this beautiful and sunny month of June in Vienna.
1. DANUBE CANAL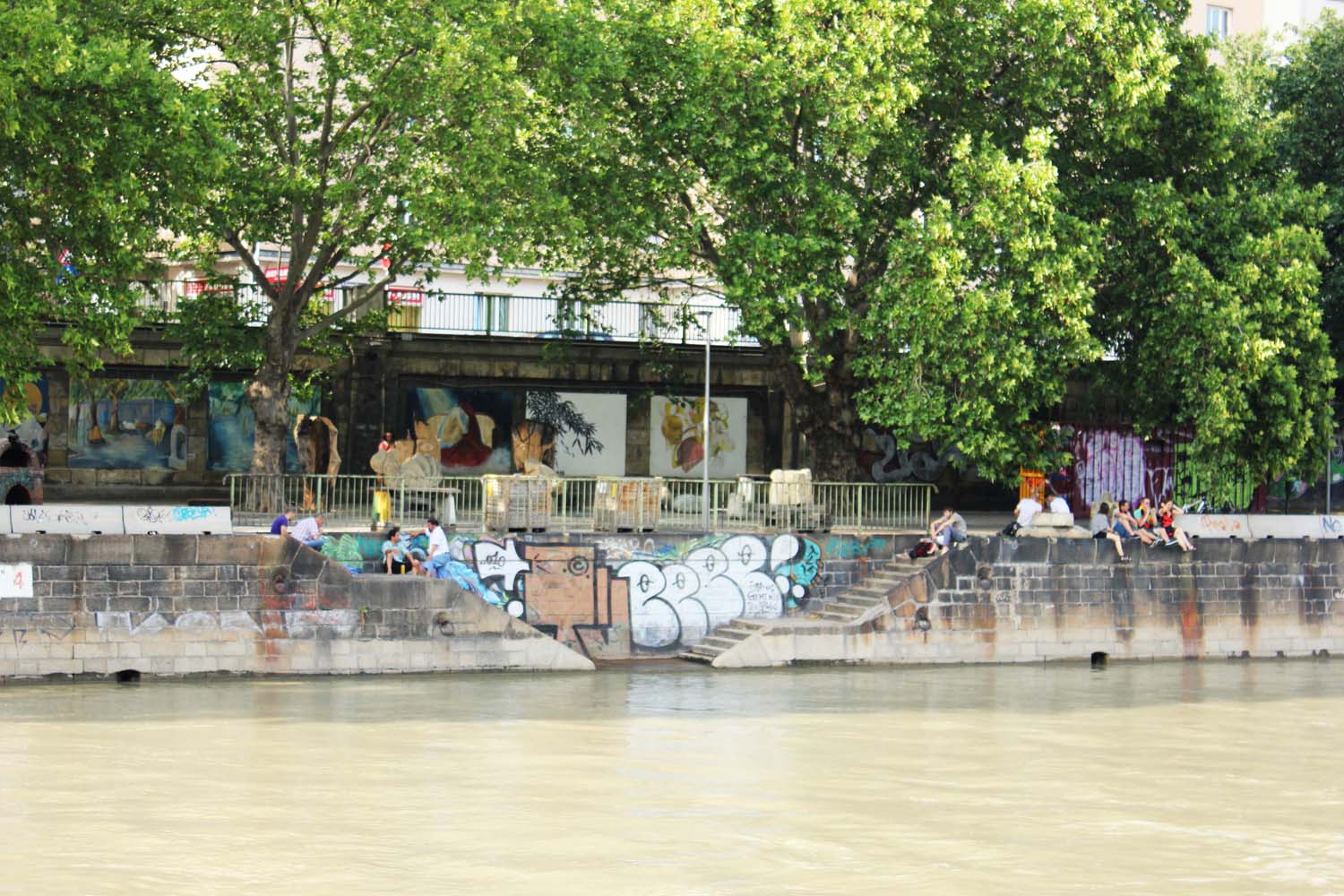 With its car-free quayside, bars, restaurants, walls of graffiti, young people sitting down on the ground or on artificial sandy beaches, joggers running in the evening… the Danube Canal offers an exciting and living atmosphere. It's perfect for holidays, relaxing moments, encounters with interesting people and bar hopping in the center of Vienna. I went to the Badeschiff with my new friends, a transport ship converted into a club-bar-restaurant. We didn't have our bikinis with us, but this place has a swimming pool floating on the Danube Canal! Next time I'll be sure not to forget it! After dinner at the ship's restaurant – the
Holy Moly
– we went upstairs, on to a big terrace, to watch the semifinal of the Euro 2012. Most of my gang was supporting the German team (especially Johannes, Yvonne and Nina, who are from Germany), and it was funny to see that most of the Viennese supported the Italian team, although they all speak German. Perhaps it's because Italy is one of their first choices for a holiday destination. In spite of the competitive air, there was a very nice atmosphere - all the bars and restaurants broadcasting the semifinal on their terraces, and everyone excited by the match. I got to keep a good souvenir of this night.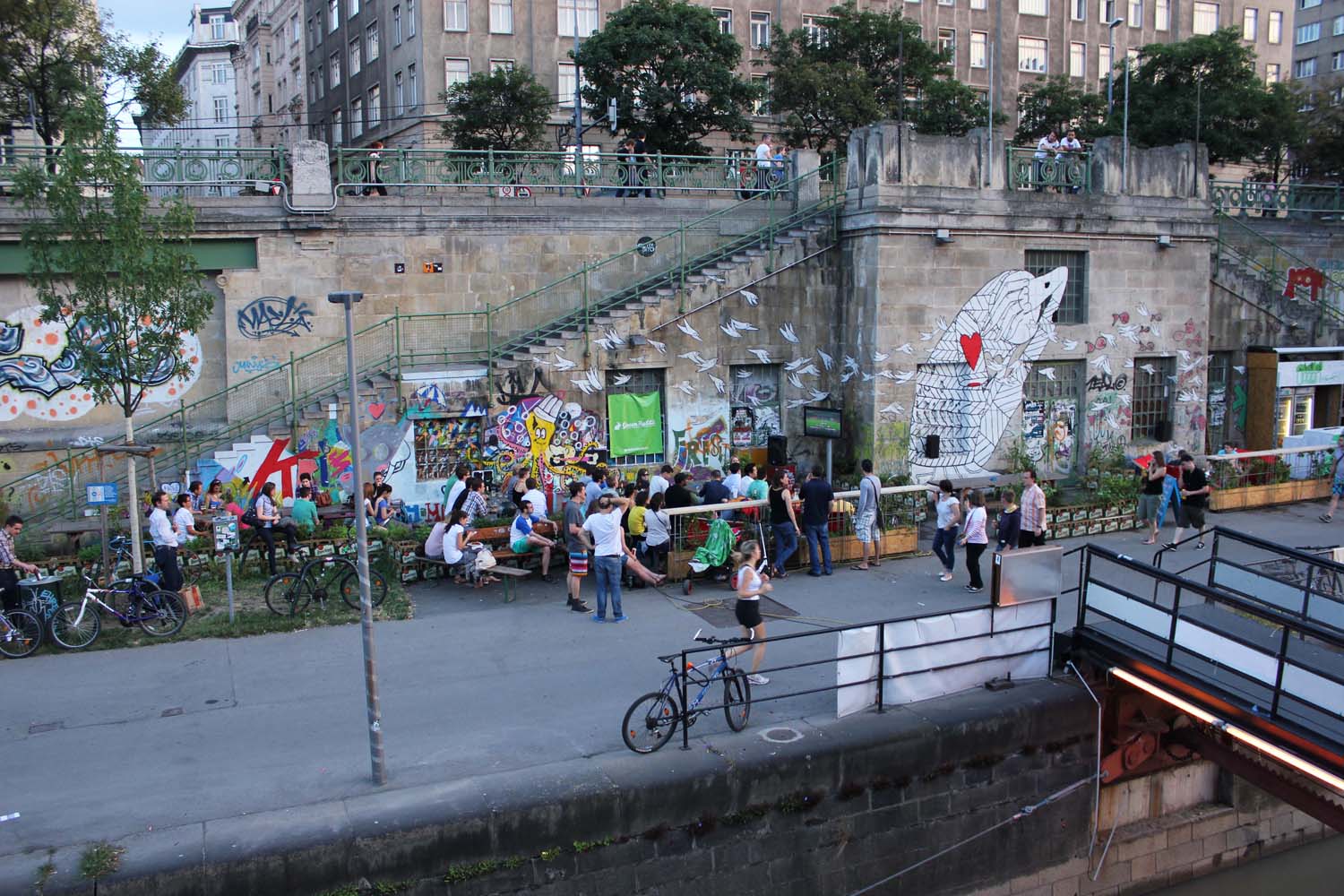 People watching the Euro 2012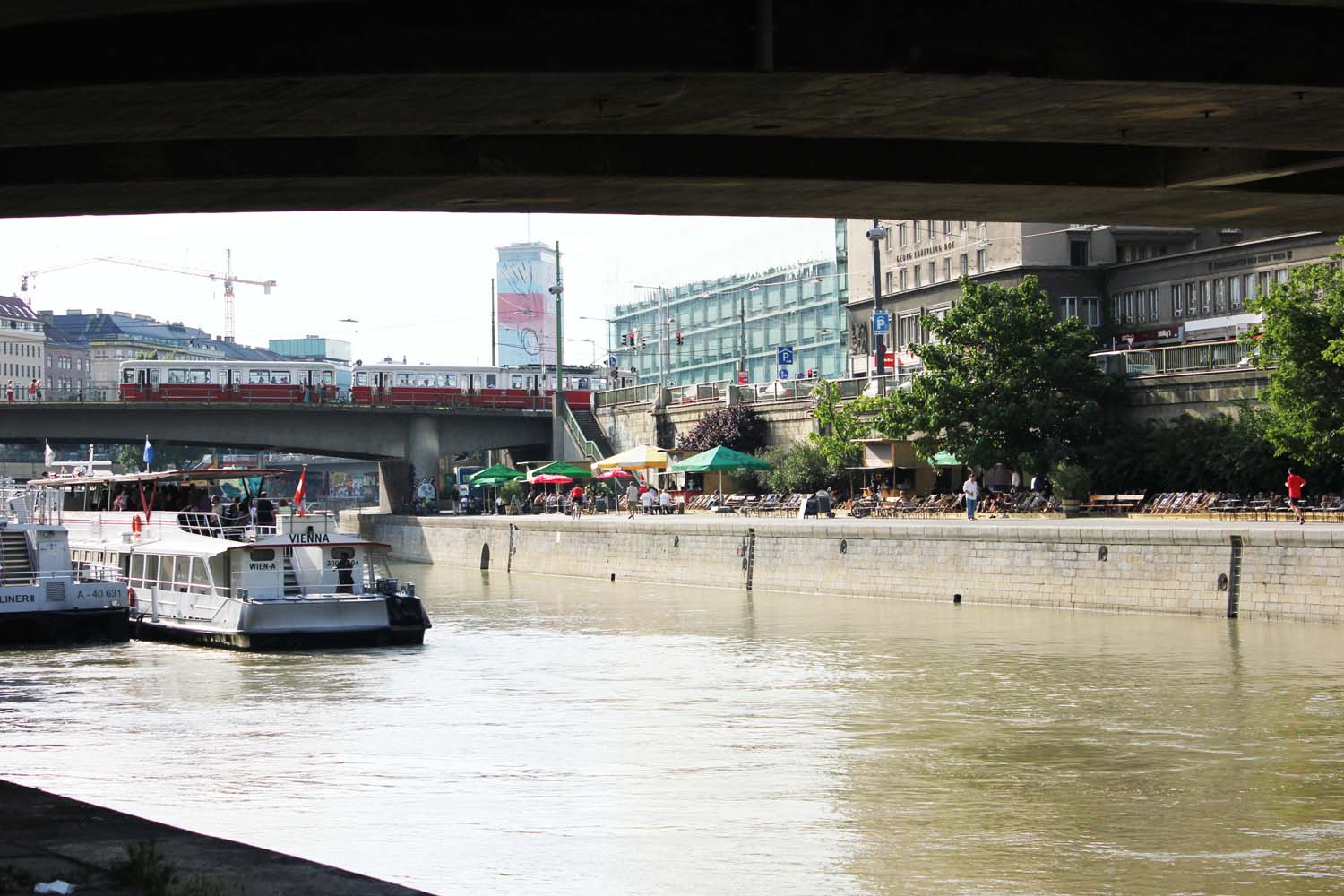 Converted transport ships
2. MUSEUMSQUARTIER (MUSEUM QUARTER)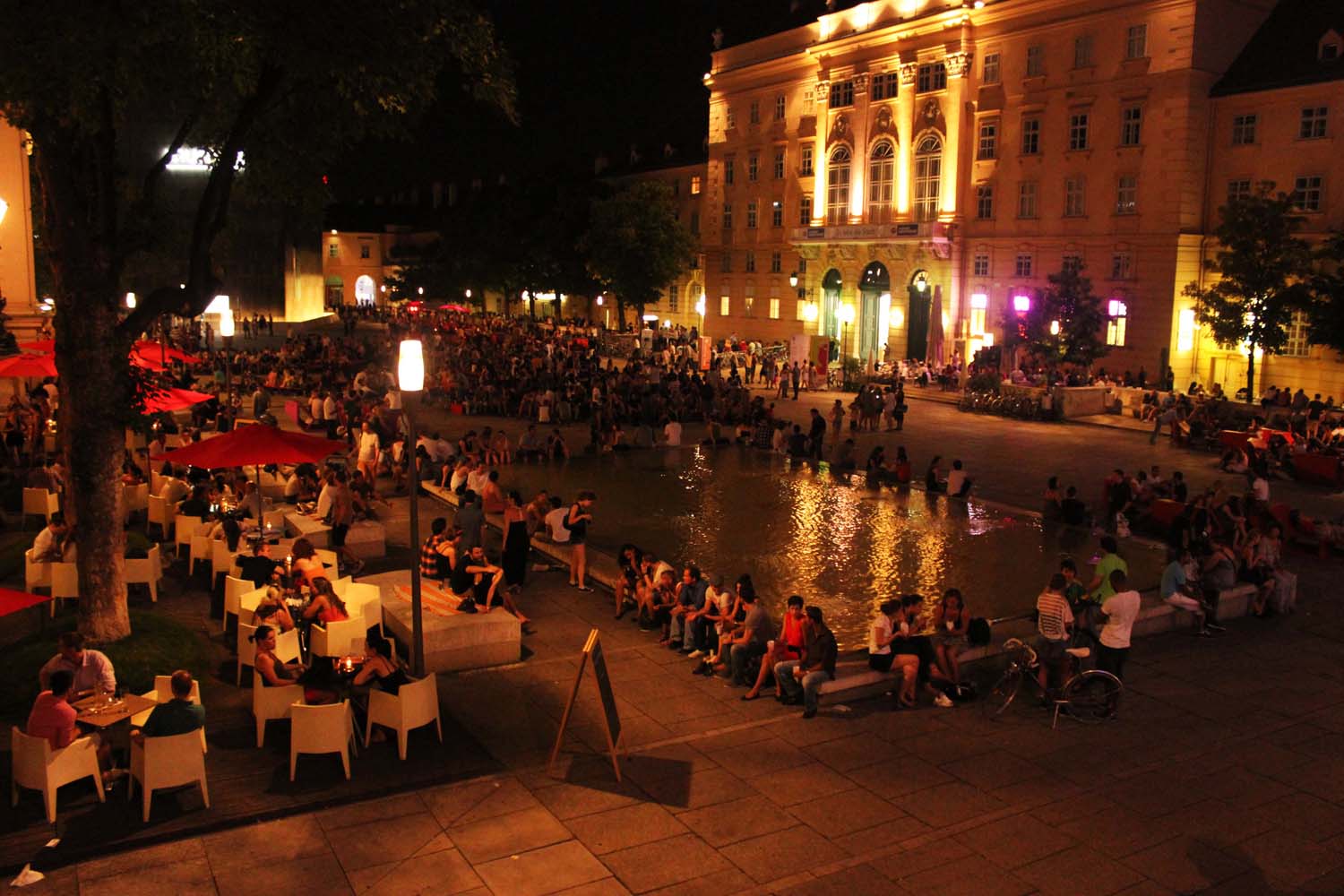 The MuseumsQuartier Wien is one of my favorite place in Vienna, located in the middle of the city. I used to imagine Vienna as an old and quiet city, with only traditional and historical buildings. But in this area, historic buildings from the 18th and 19th centuries are mixed with contemporary architecture, forming an impressive art space - one of the world's largest complexes for modern art and culture. I visited the
Mumok
(Modern Arts Museum), but there are more than eight other museums to discover as well. And when the sun is going down, and the museums are closed, you can move to one of the many outdoors restaurants – I tried the beautiful
Glacis Beisl
– and bars, enjoy a cold drink sitting down on the fountain, your feet in the water, or on the famous « enzis » (geometrical installations in the square). Always in a lovely atmosphere.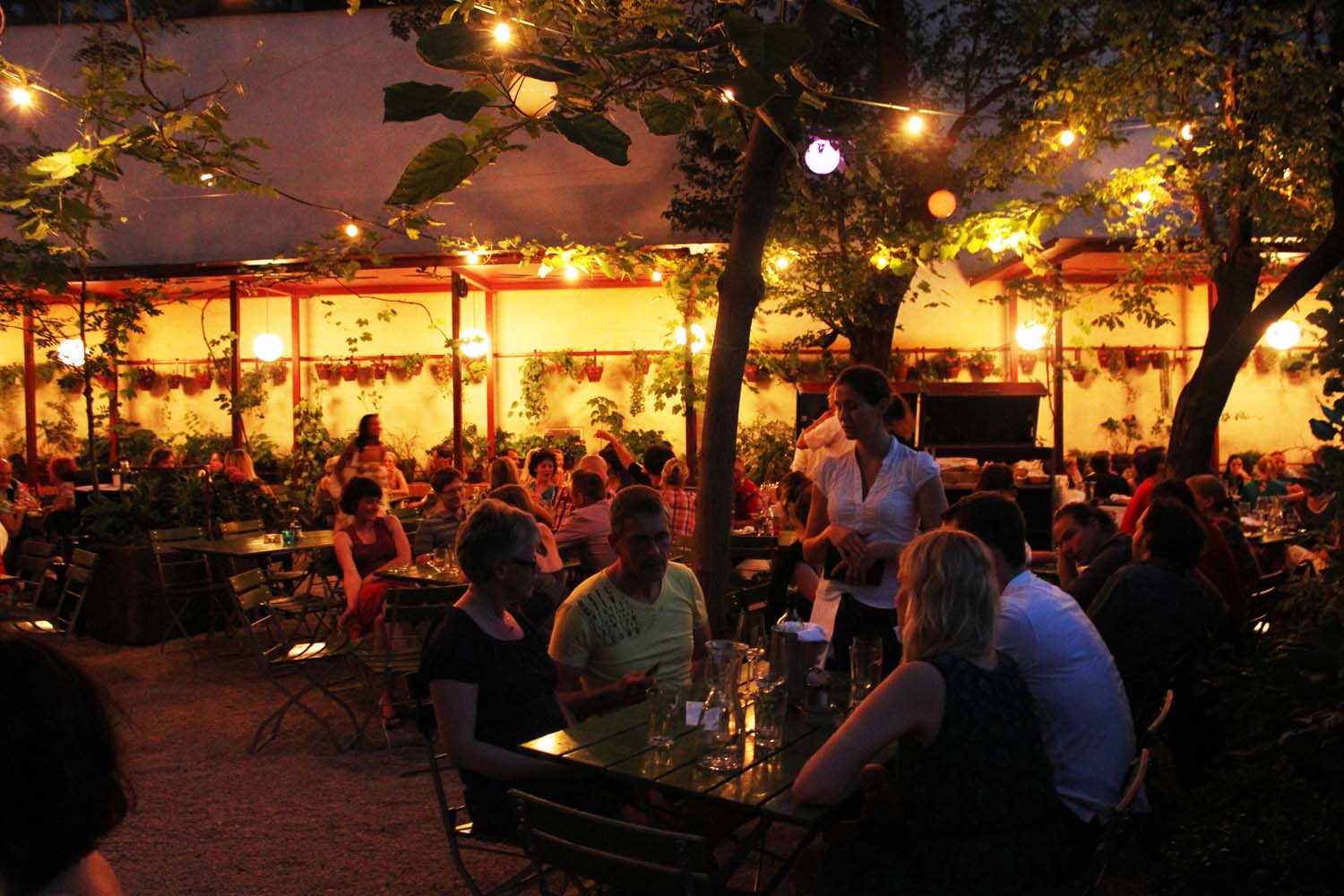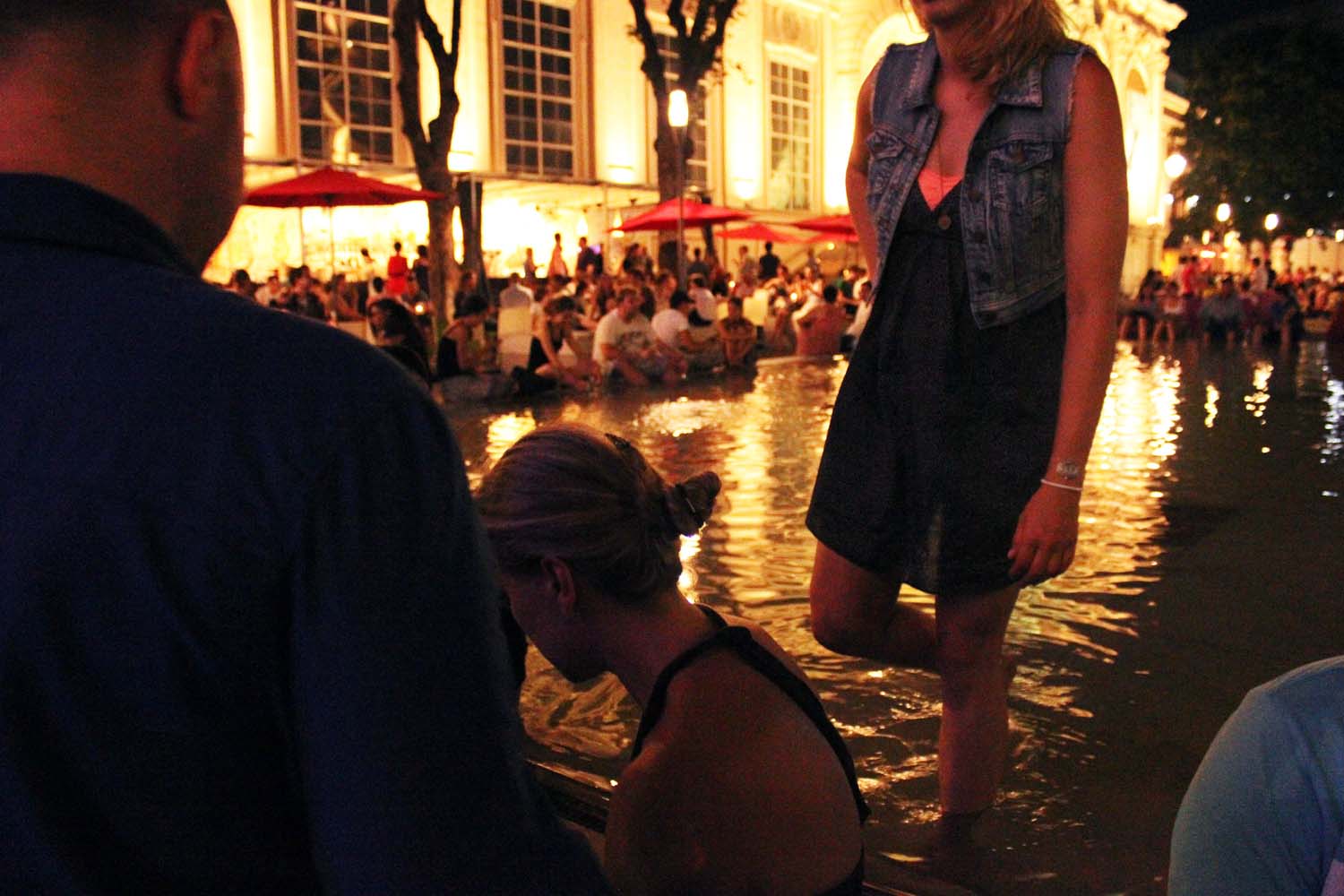 MuseumsQuartier fountain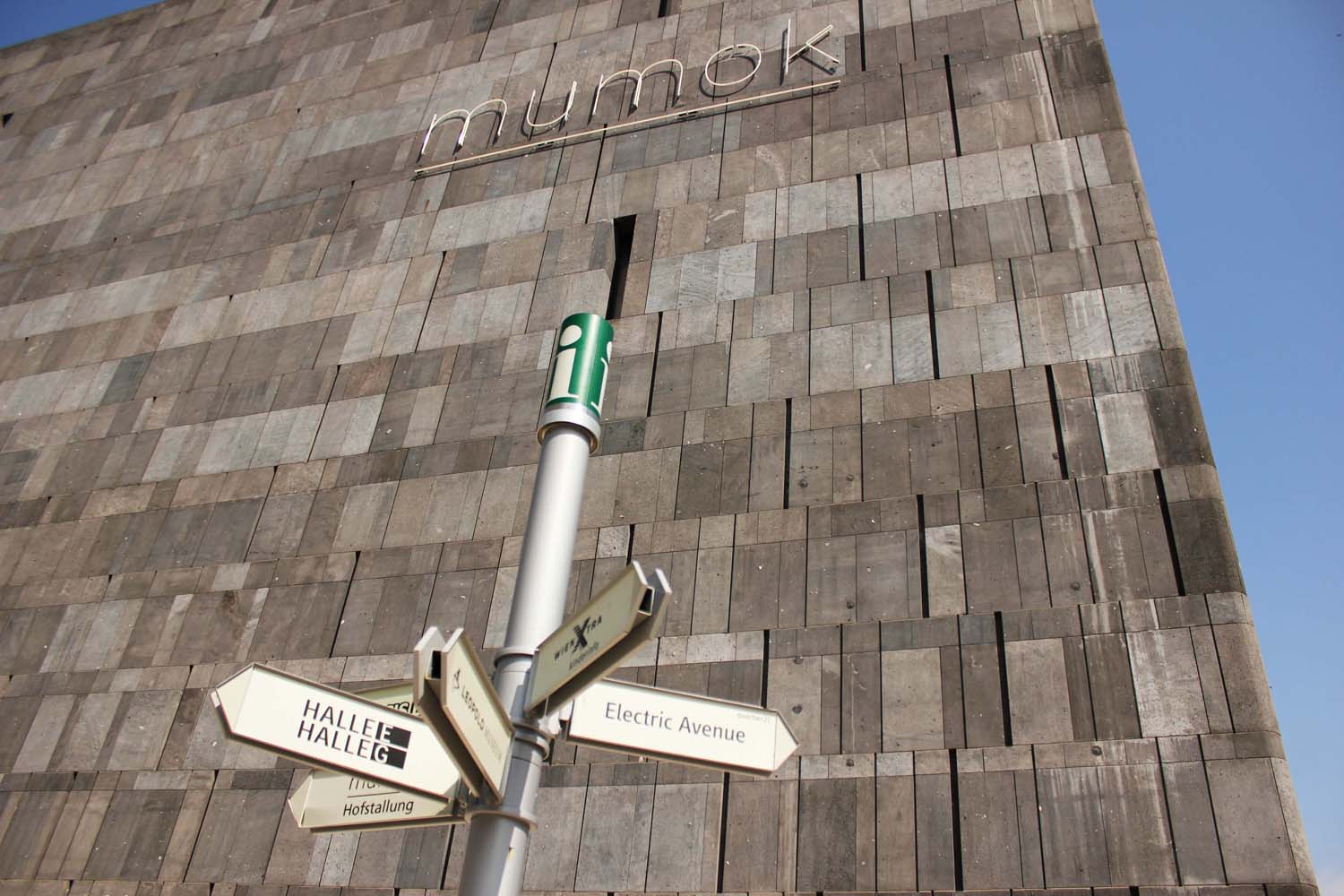 Mumok (Modern Arts Museum)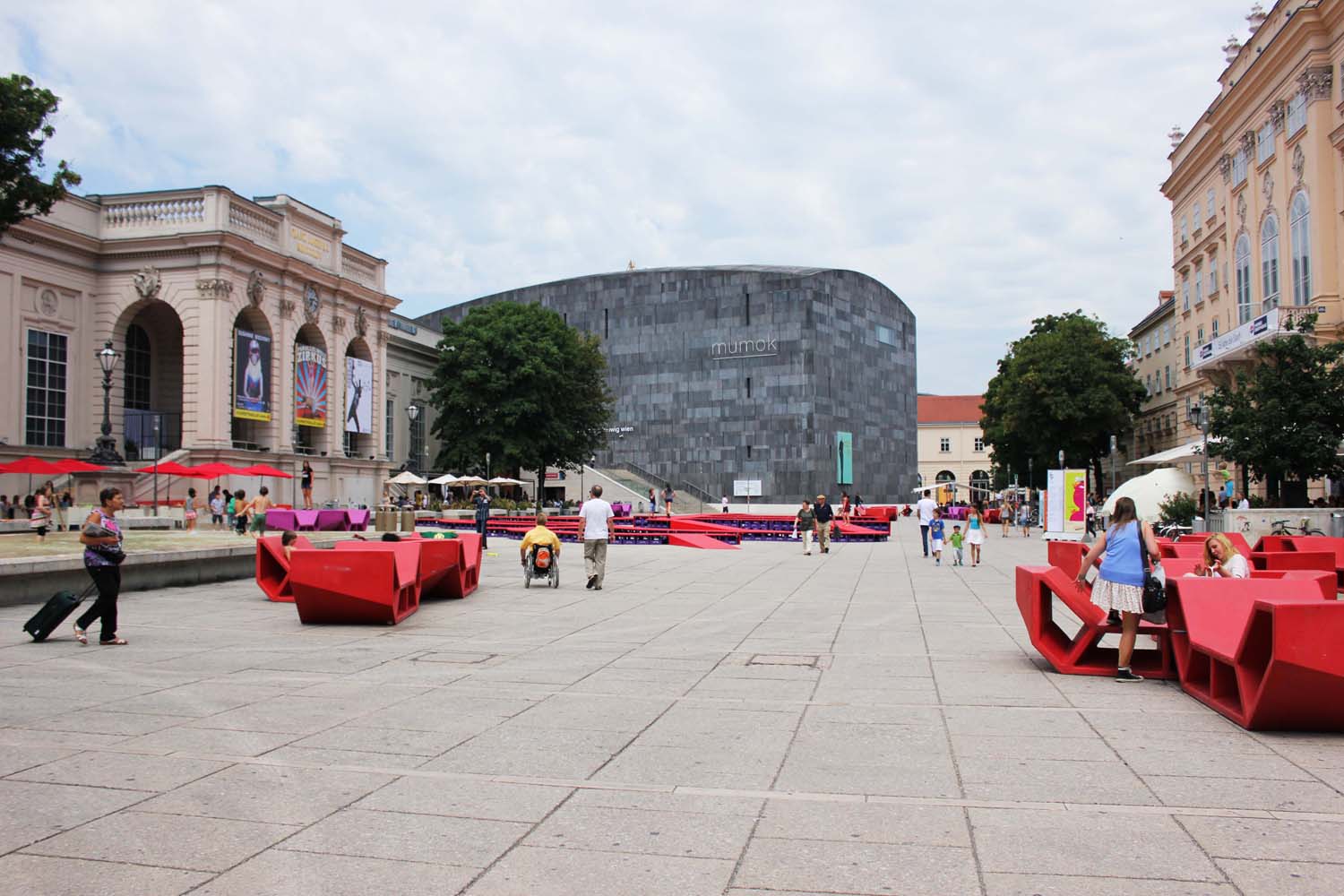 Mumok & the _enzis_
3. OLD DANUBE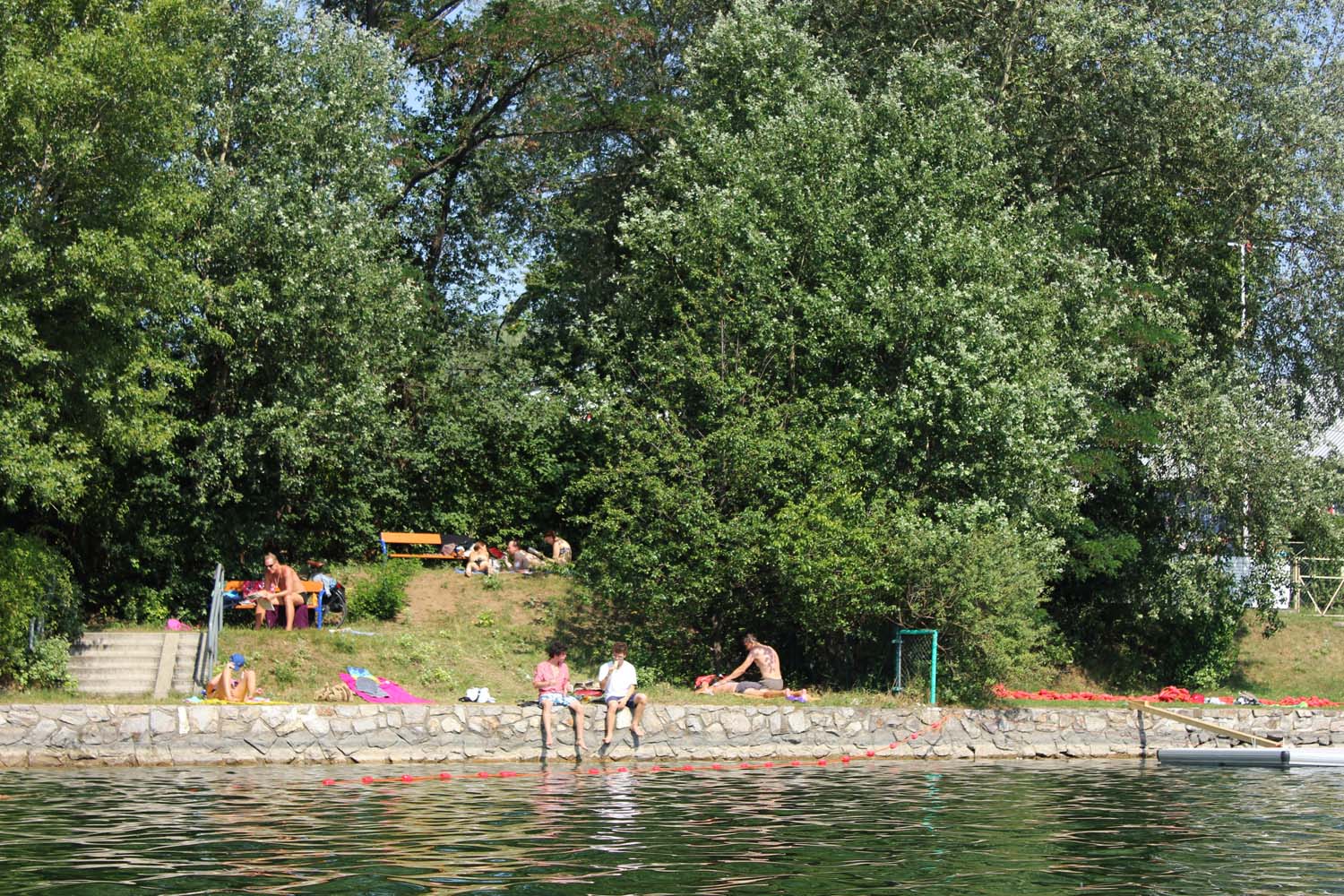 On the hottest day of our trip – and also in the history of the city – our cheery troop brought its sexiest bikinis, took the subway for 10 minutes (seven stations from the inner city), and arrived at the wonderful and leisurely Old Danube. This heavenly oasis offers an idyllic atmosphere, with charming restaurants along the river, paddle boats, people swimming in the fresh water, or getting a tan on the shores. We enjoyed lunch at the
Kaisermühle restaurant
- a generous and delicious meal with seafood, refreshing drinks and ice-cream. And when we were sure we weren't too heavy to sink in the river, we decided to rent paddle boats (with a slide!) and electric boats. Safer! The Danube is huge, and we had enough room to relax in calm waters, and dive without disturbing anyone. It was a holiday mood for a perfect day.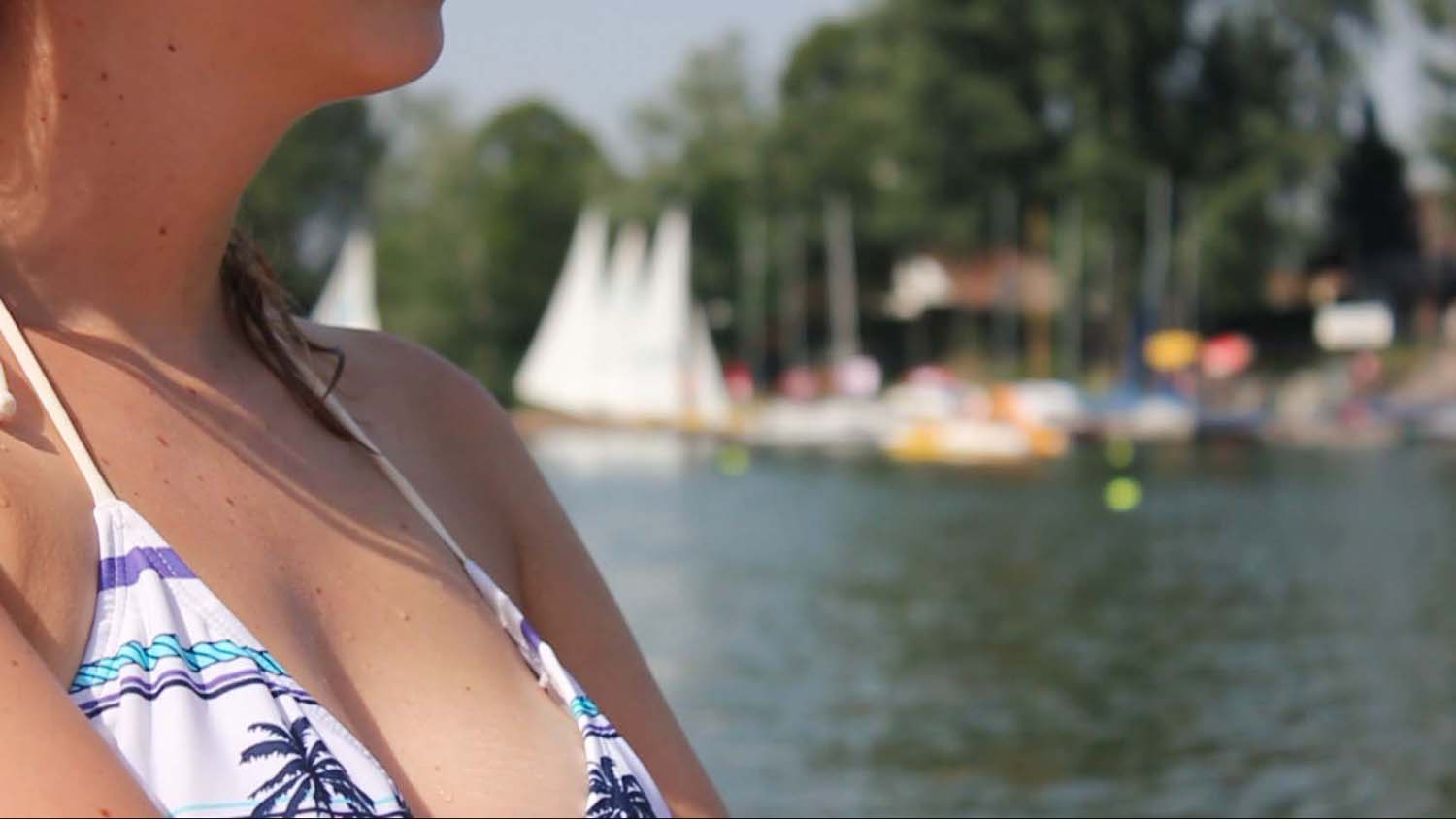 Getting a tan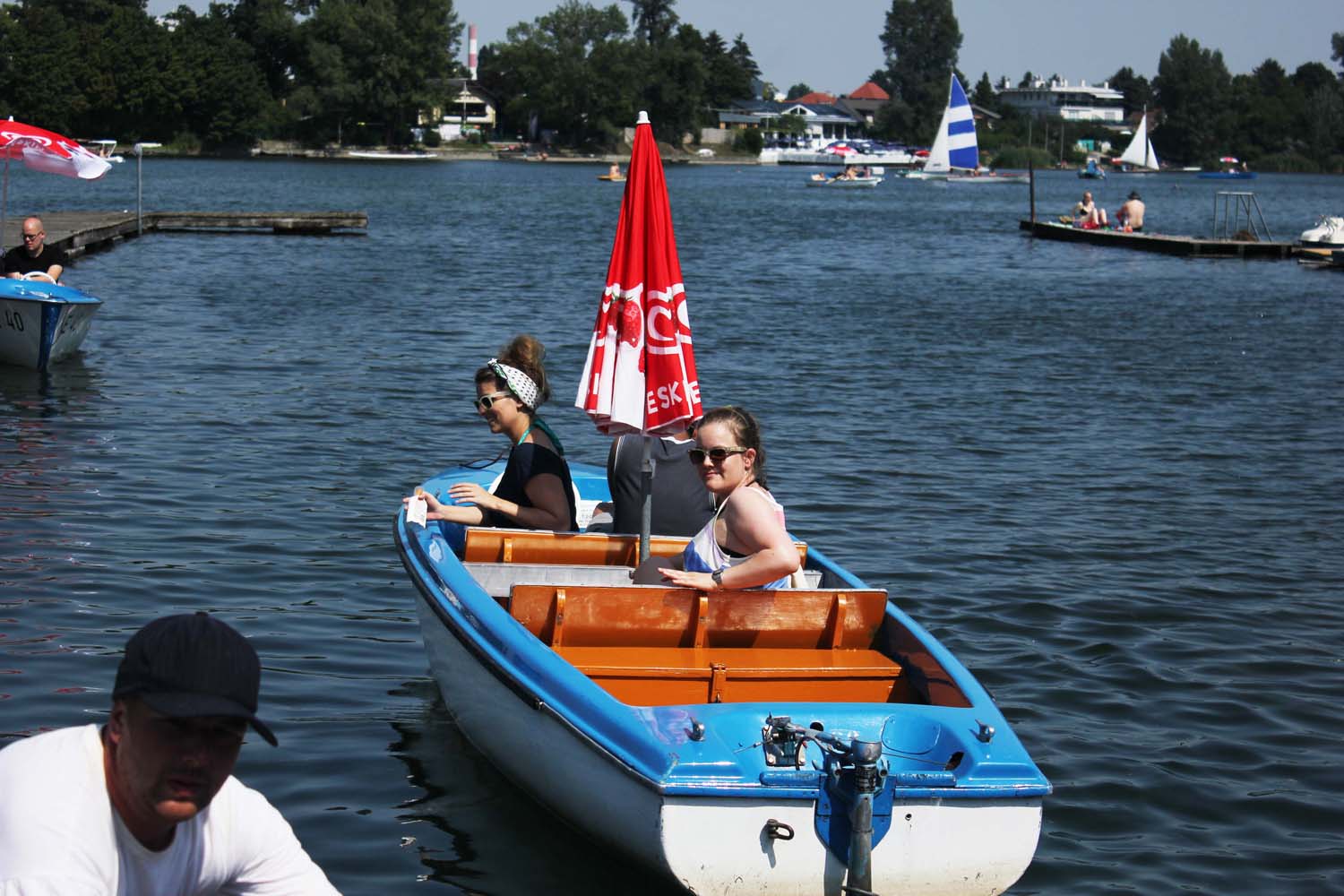 Yvonne and Nina on their electric boat
View from the Kaisermule restaurant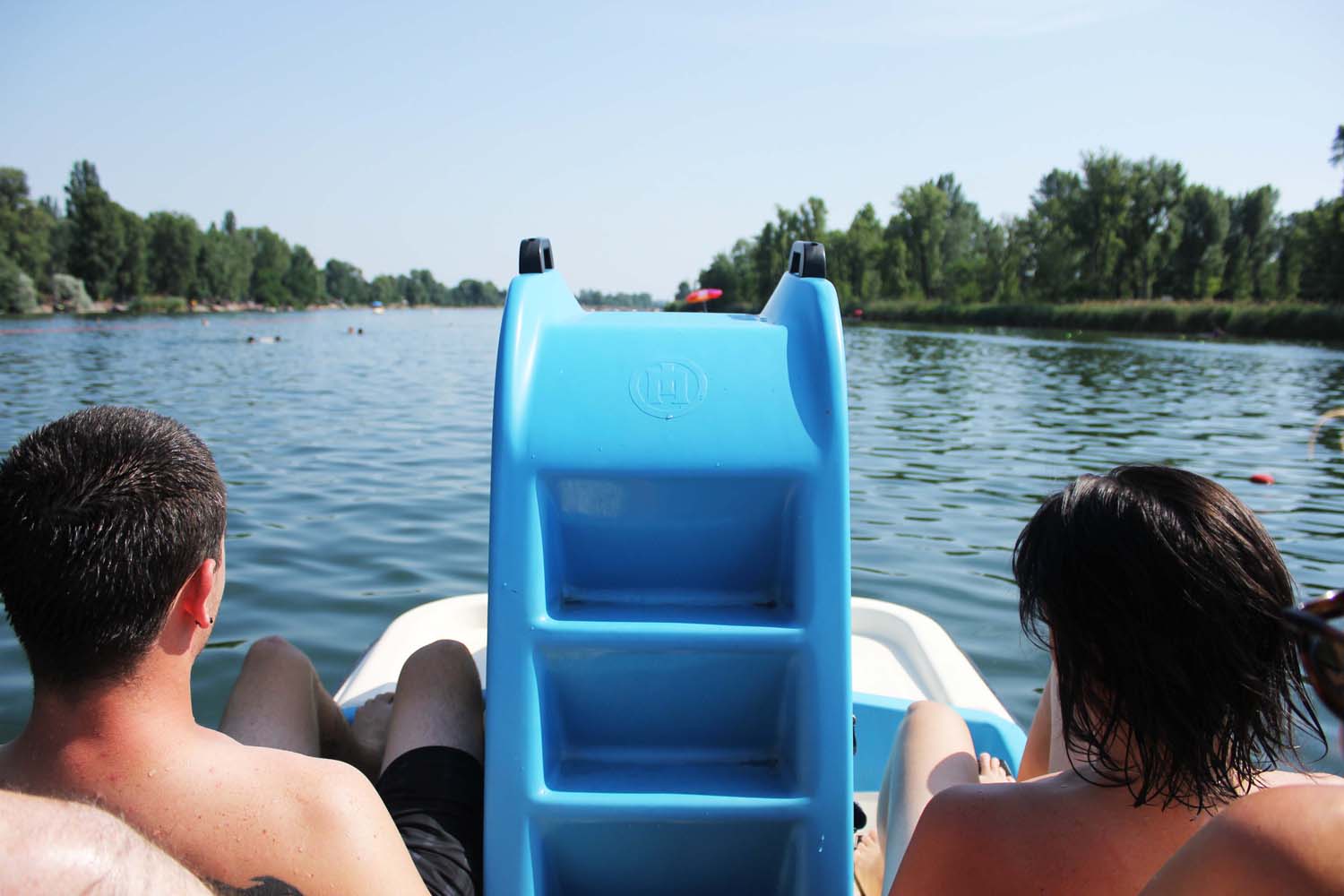 Paddle boat
4. WURSTELPRATER AMUSEMENT PARK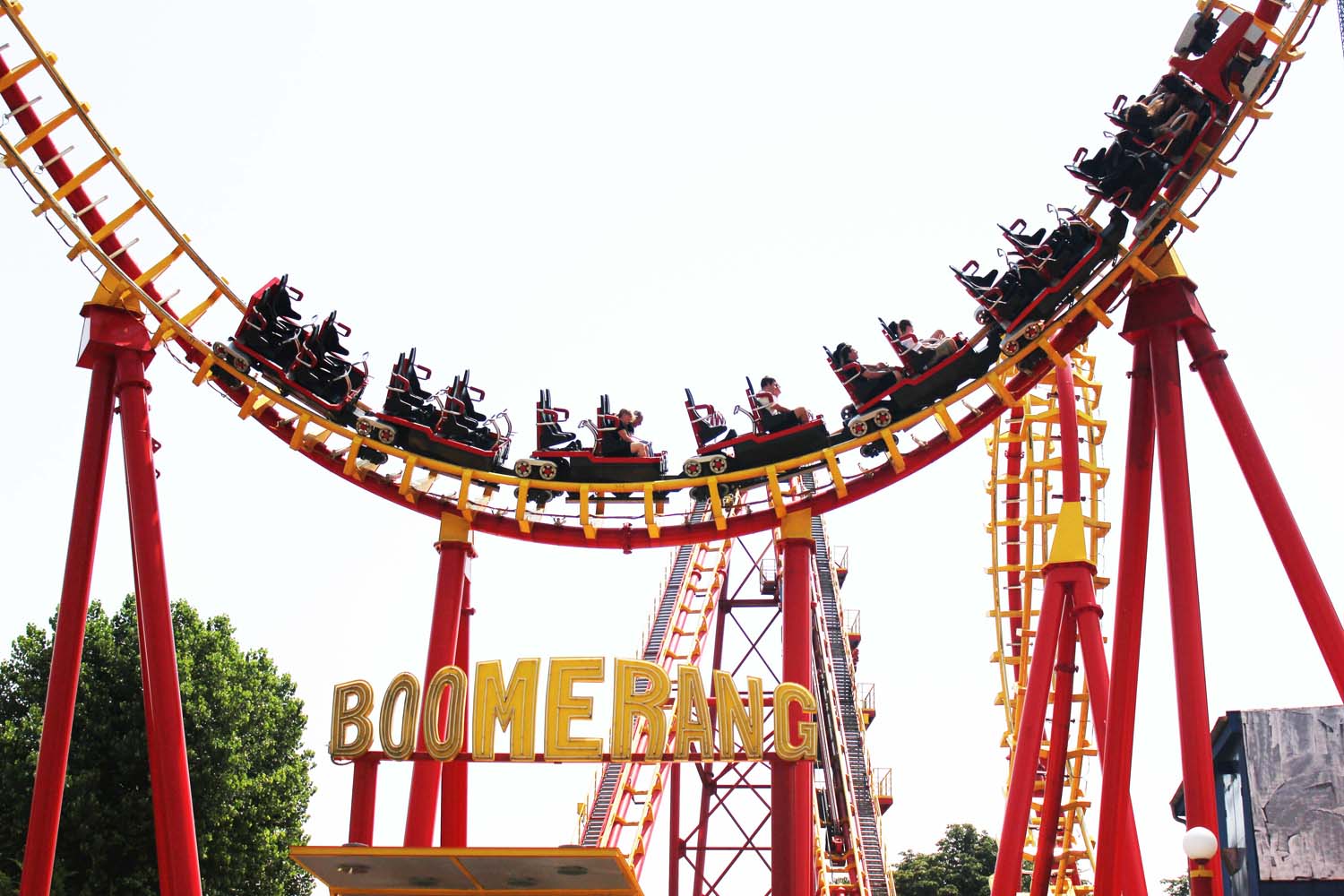 Boomerang rollercoaster
I'll admit I love amusement parks. I've been at least 10 times to Disneyland Paris. When I learned than we were going to the
Wurstelprater Amusement Park
, situated in the Prater Park in the 2nd district of Vienna, I was super excited. We all spent a crazy and fun morning in the park, behaving like children, playing in bumper cars, carousels, ghost trains and rollercoasters. Prater Park has also two crazy attractions to try: the Wiener Riesenrad, one of the first Ferris wheels ever built (1897), and the world's highest chairoplane ride (117m). We were too frightened to try the chairoplane (if you dare to, congratulations), but went on the Ferris wheel to enjoy the wonderful view of Vienna.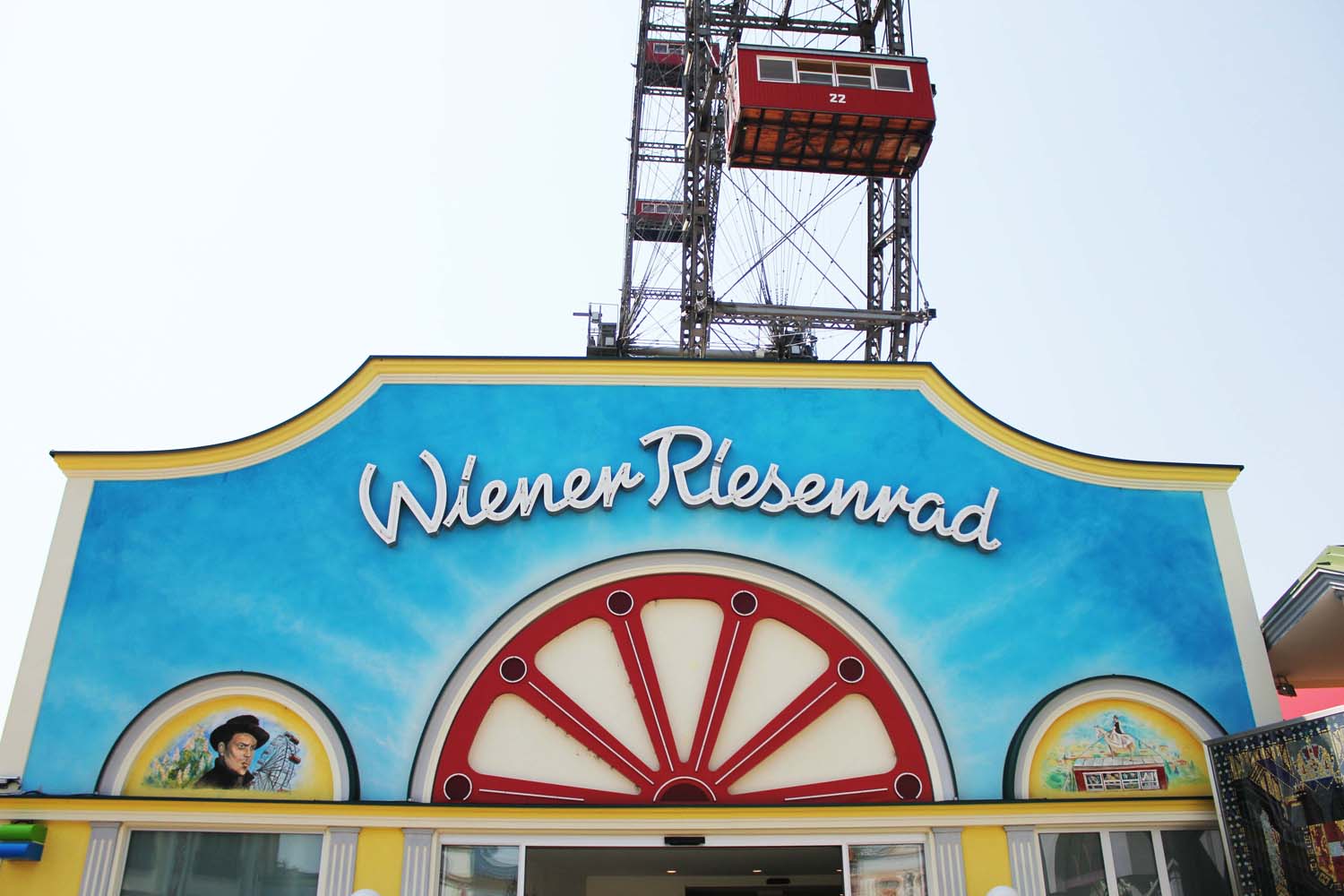 Wiener Riesenrad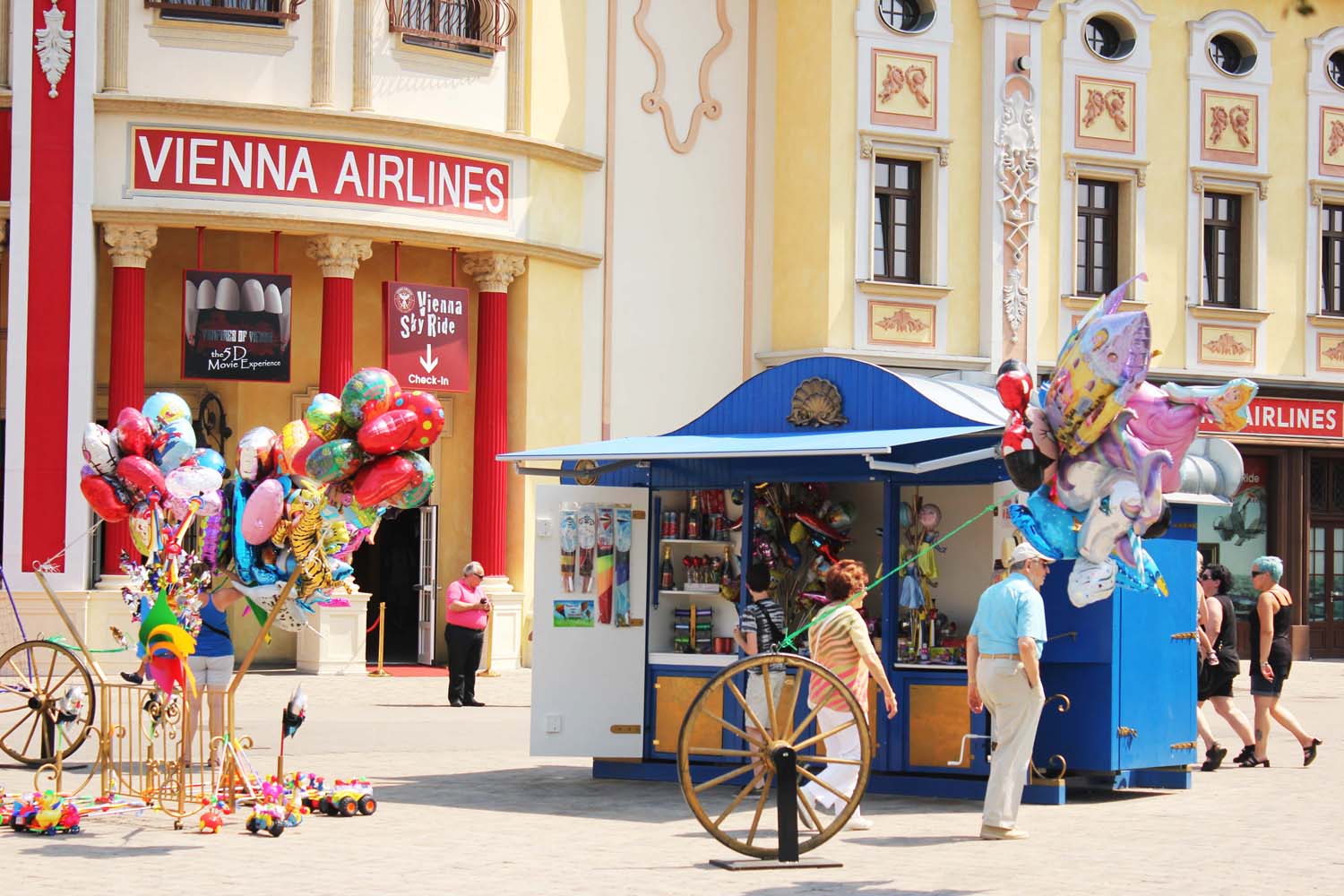 Vienna Airlines
Me and Nina in the rollercoaster ©Lea Hajner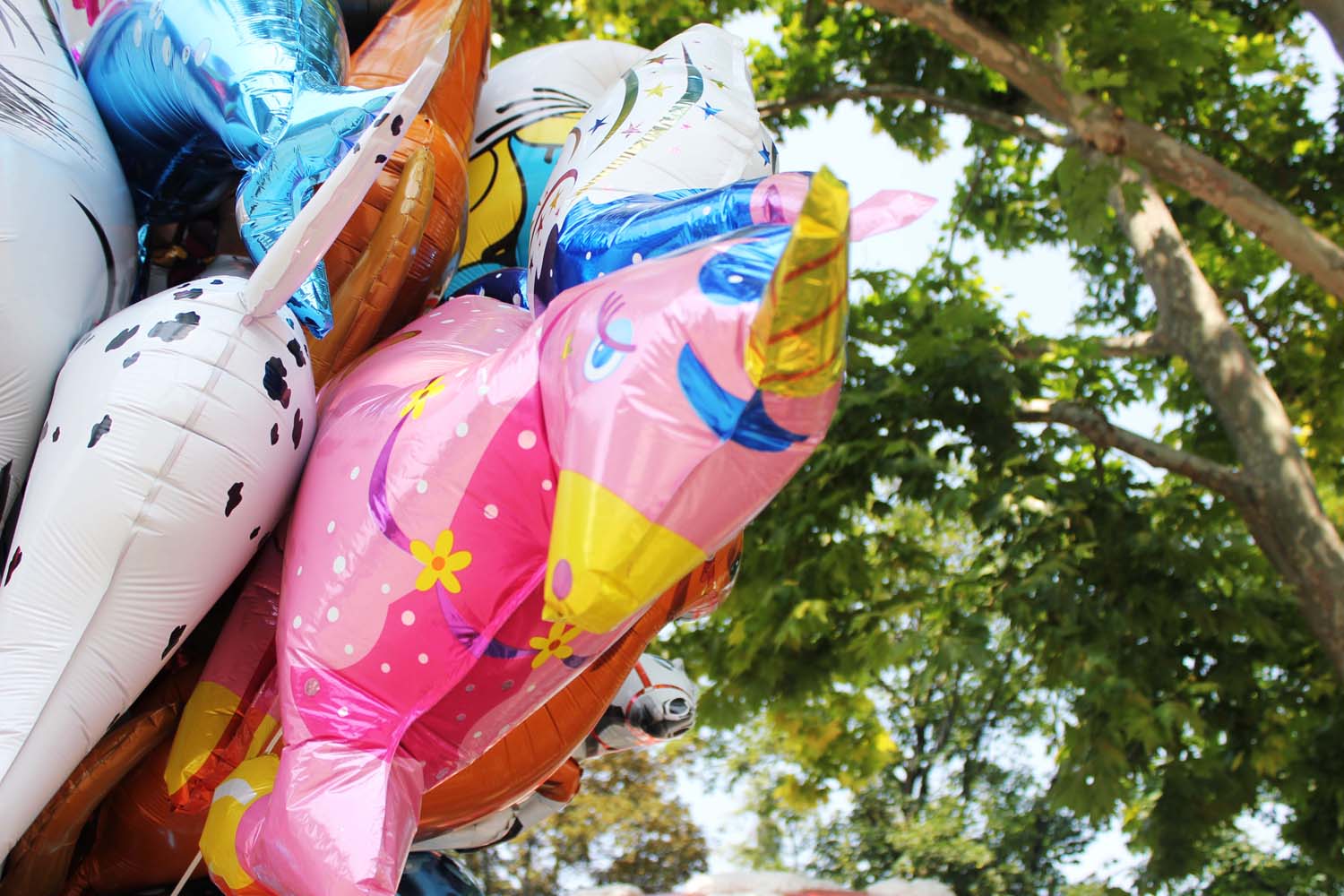 Balloons
5. NASCHMARKT MARKET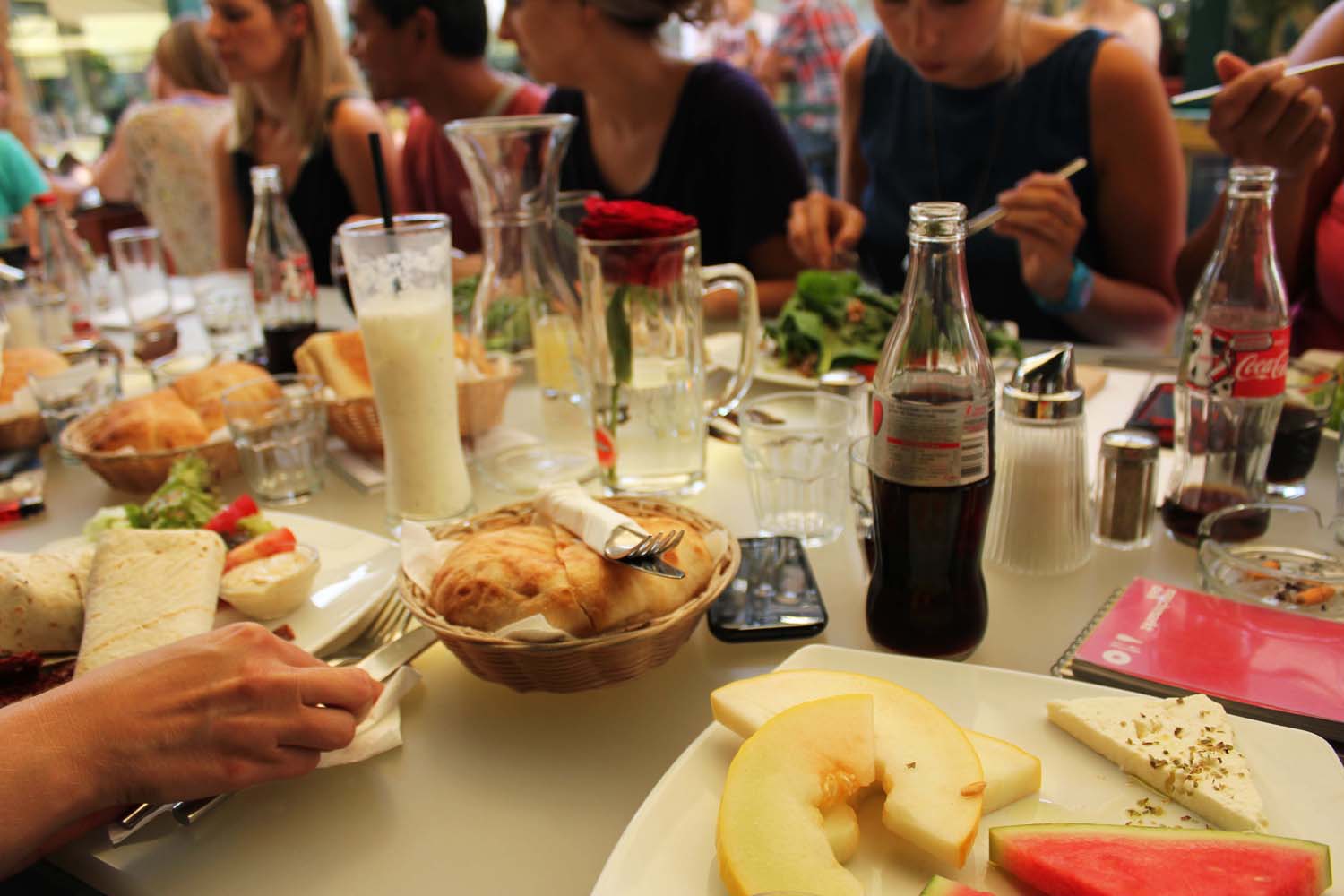 Lunch at Deli restaurant
The Naschmarkt Market is the most famous of Viennese markets. Walking between the stalls, bars and restaurants, I was intoxicated by all the smells of the stands selling spices, fruits and vegetables from dawn until dusk. I was invited – with all the other travel bloggers – to the
Deli
, one of the early Naschmarkt pioneer, and a trendy place for young people in Vienna. The food was delicious (cornflake chicken schnitzel and watermelon cocktail) and to sunbathe on the terrace very pleasant. If you go there during the weekend, DJs play music. There is also a flea market on Saturday morning.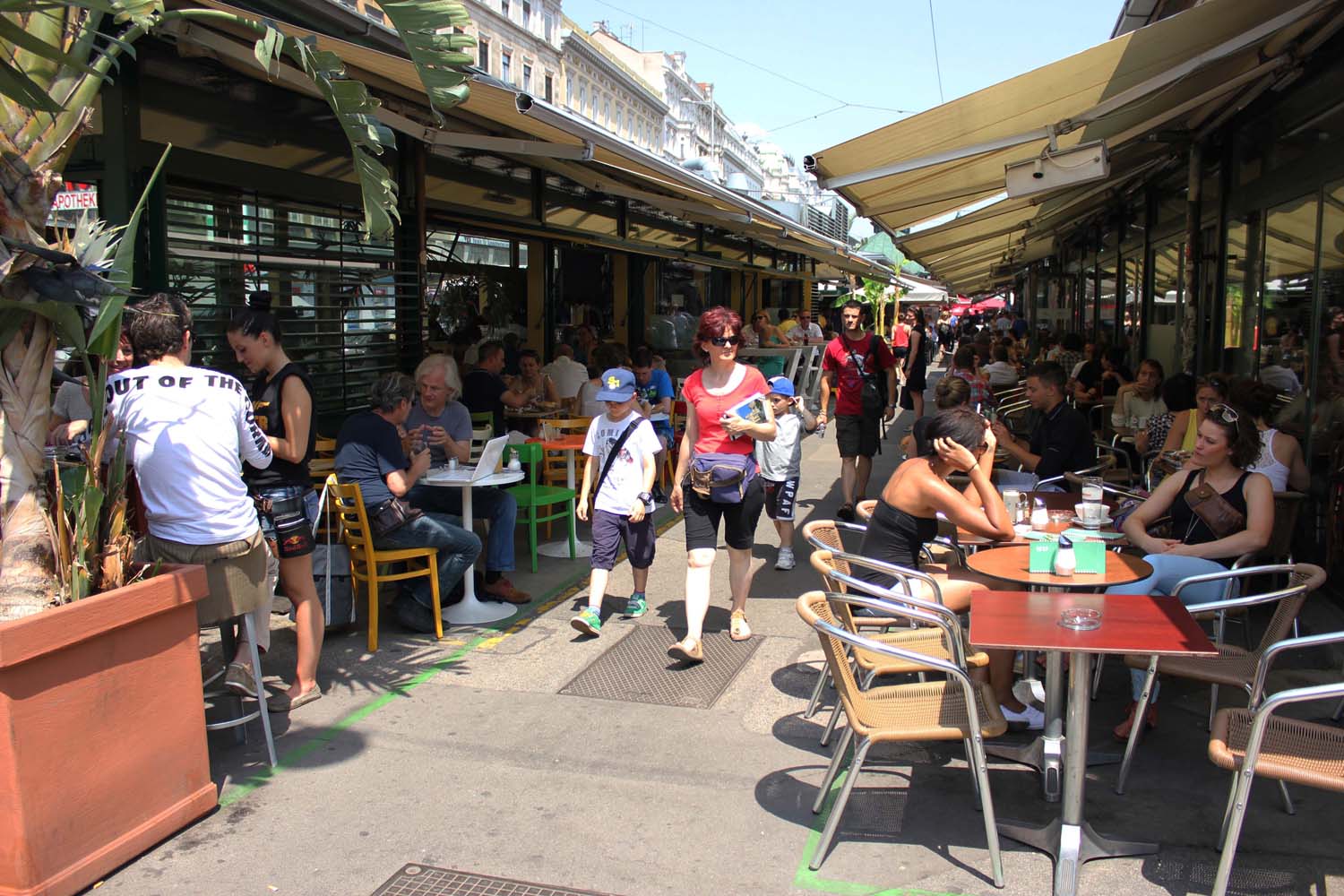 Naschmarkt market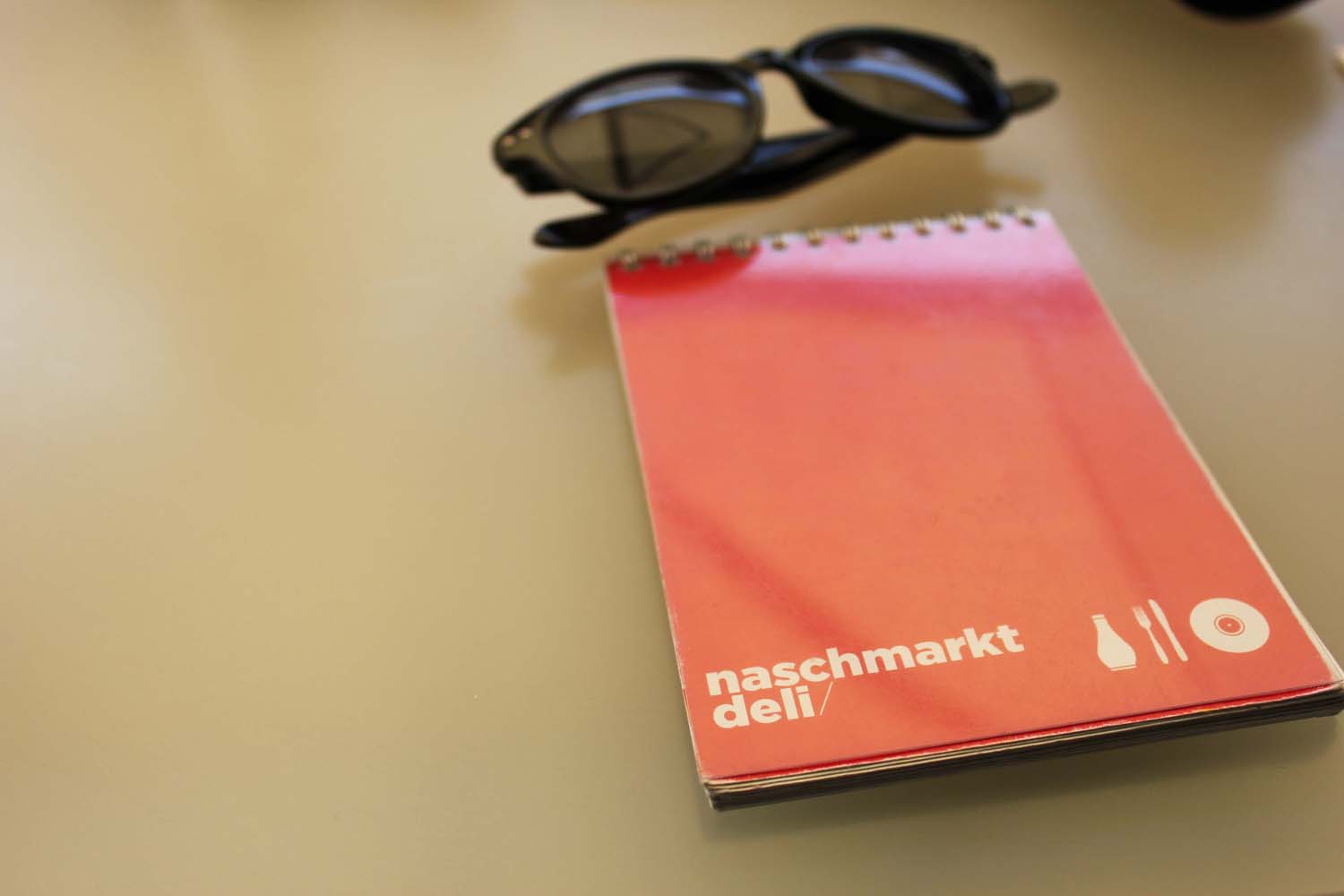 Naschmarkt Deli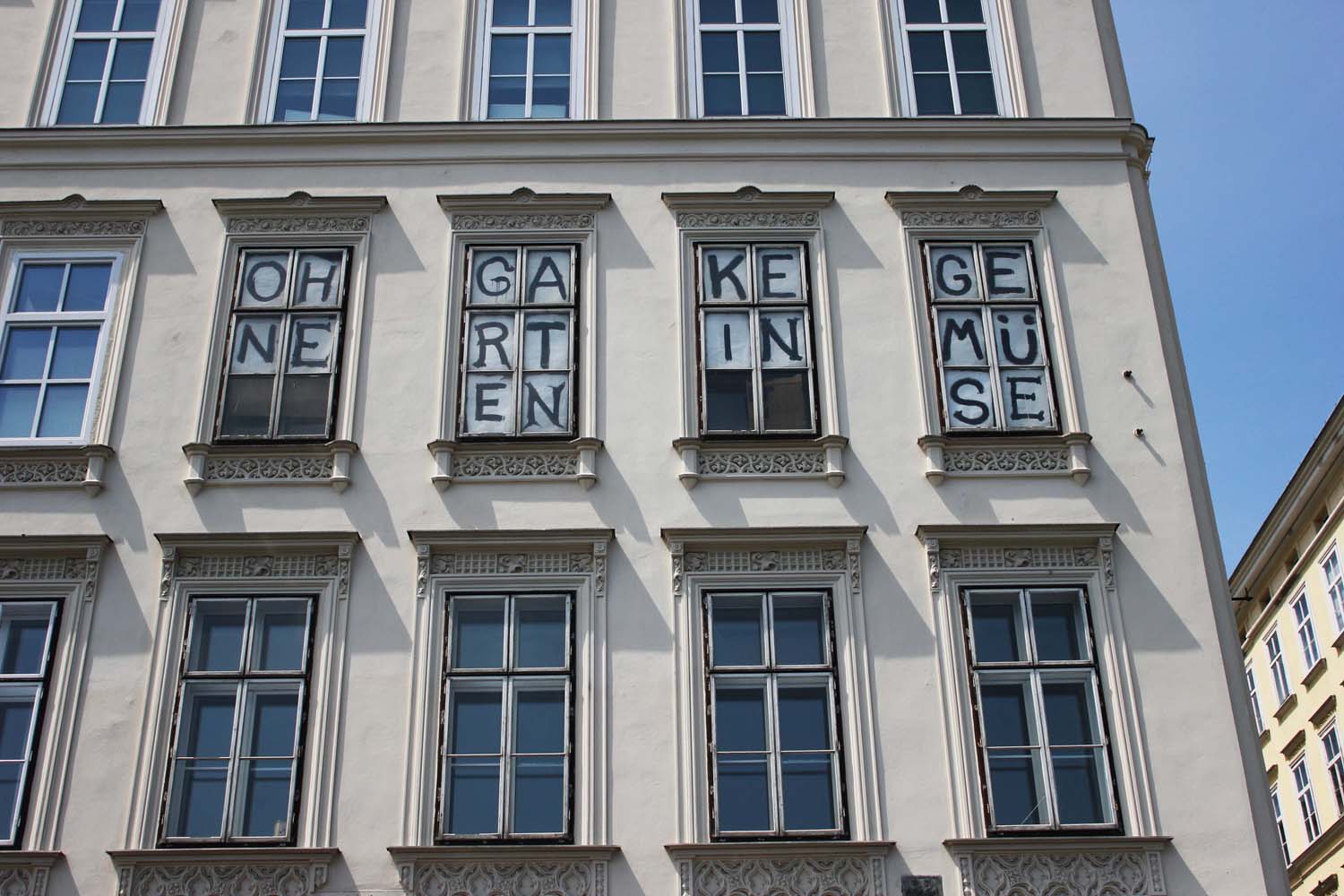 Naschmarkt Area
BONUS
Vienna is a beautiful city, known above all for its historical buildings, and not so much for its modernity. When I wandered in the streets, I discovered a lot of cool buildings and graffiti-covered walls. I found this one of Sponge Bob, on Gumpendorferstrasse street in the 6th district…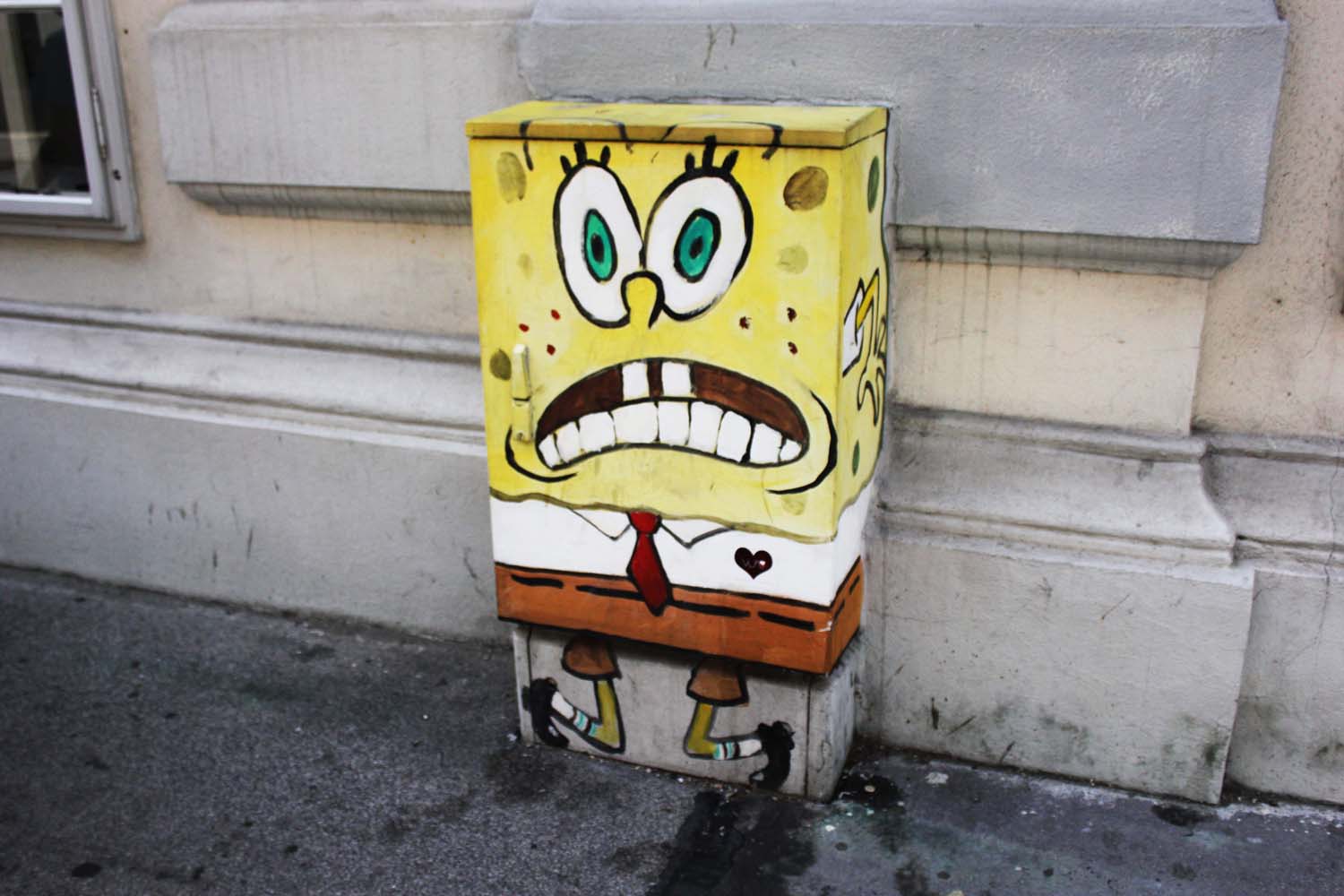 Sponge Bob
… and this wonderful fox graffiti, where Bandgasse street crosses Westbahnstrasse street. When you are in the street, you can only see the fox's head. If the door is opened, come in the courtyard and admire this beautiful house, called « Fox's house ».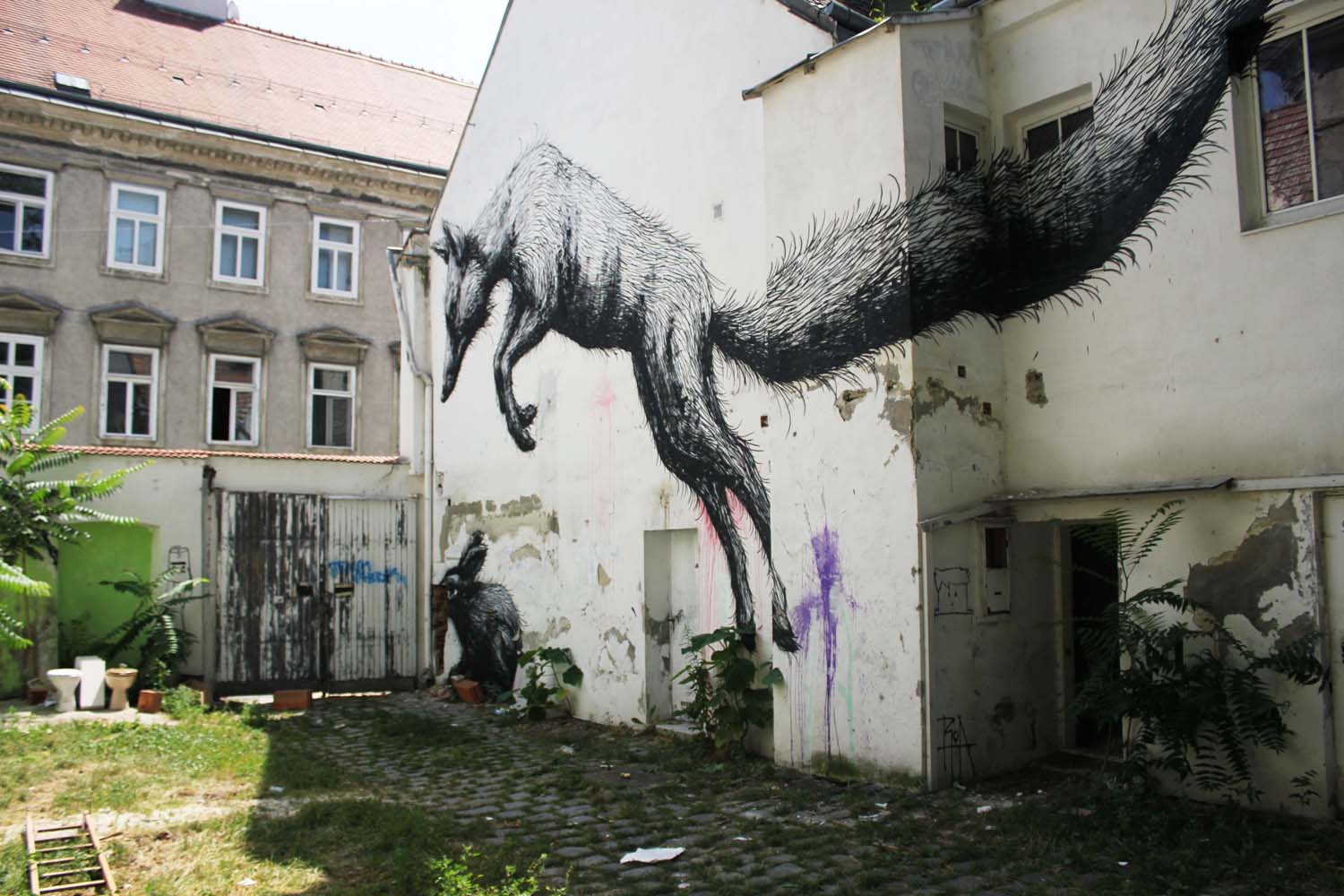 Fox's House
Take your map, try to found them, and on your way to Bob and the fox, you will be fascinated by this wonderful city. Here are some pictures of the kind of things you can discover during your walks.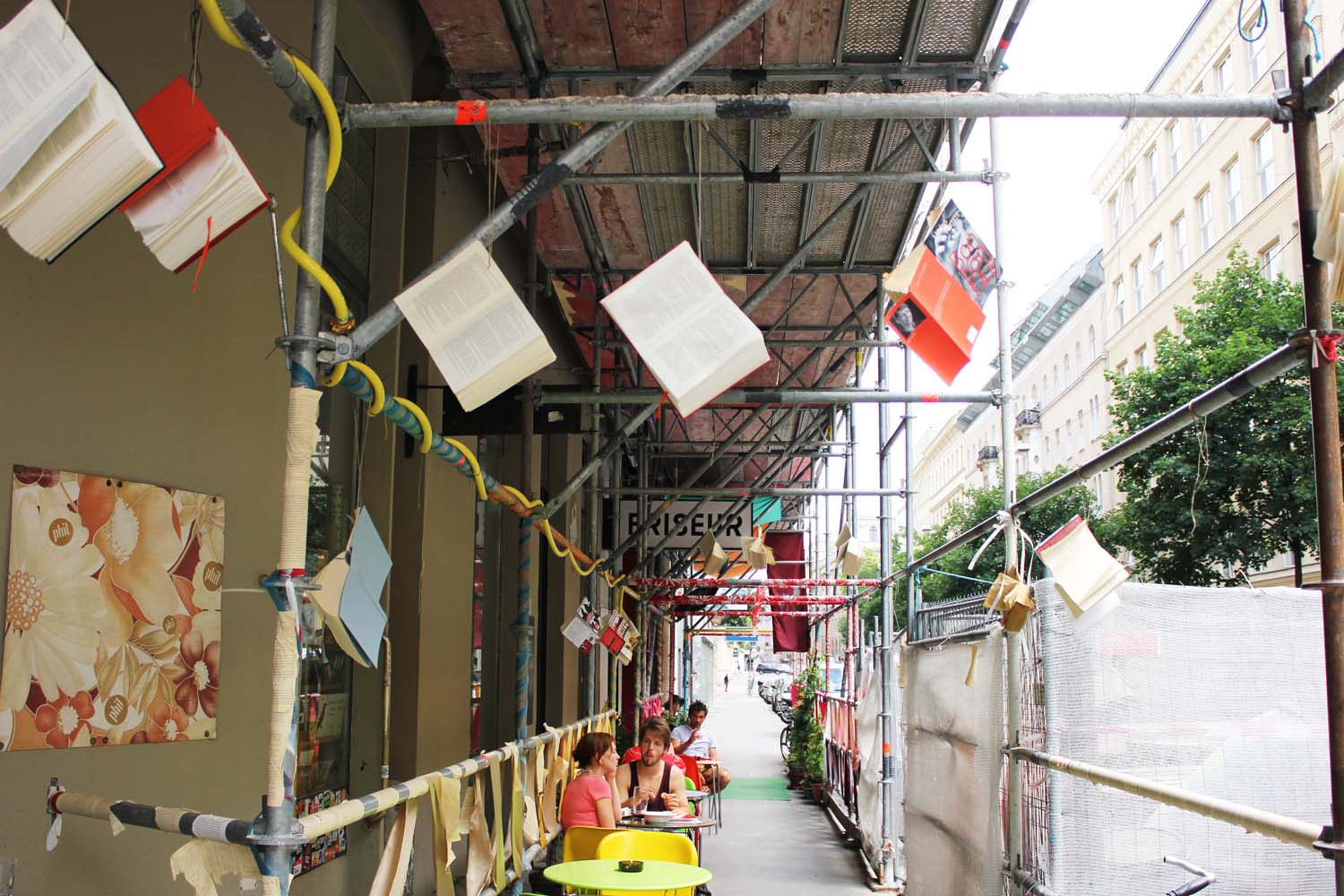 Beautiful scaffoldings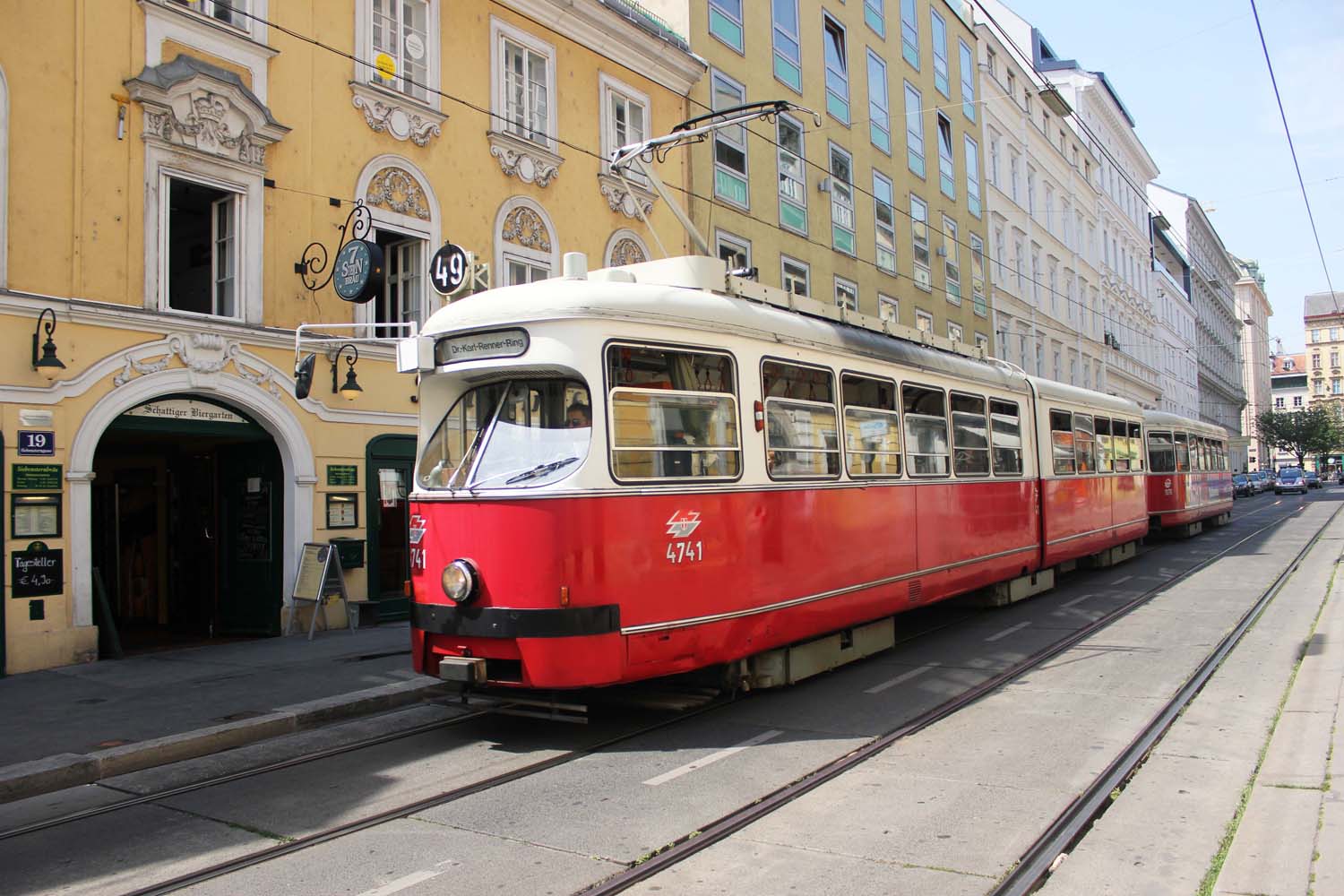 Viennese tram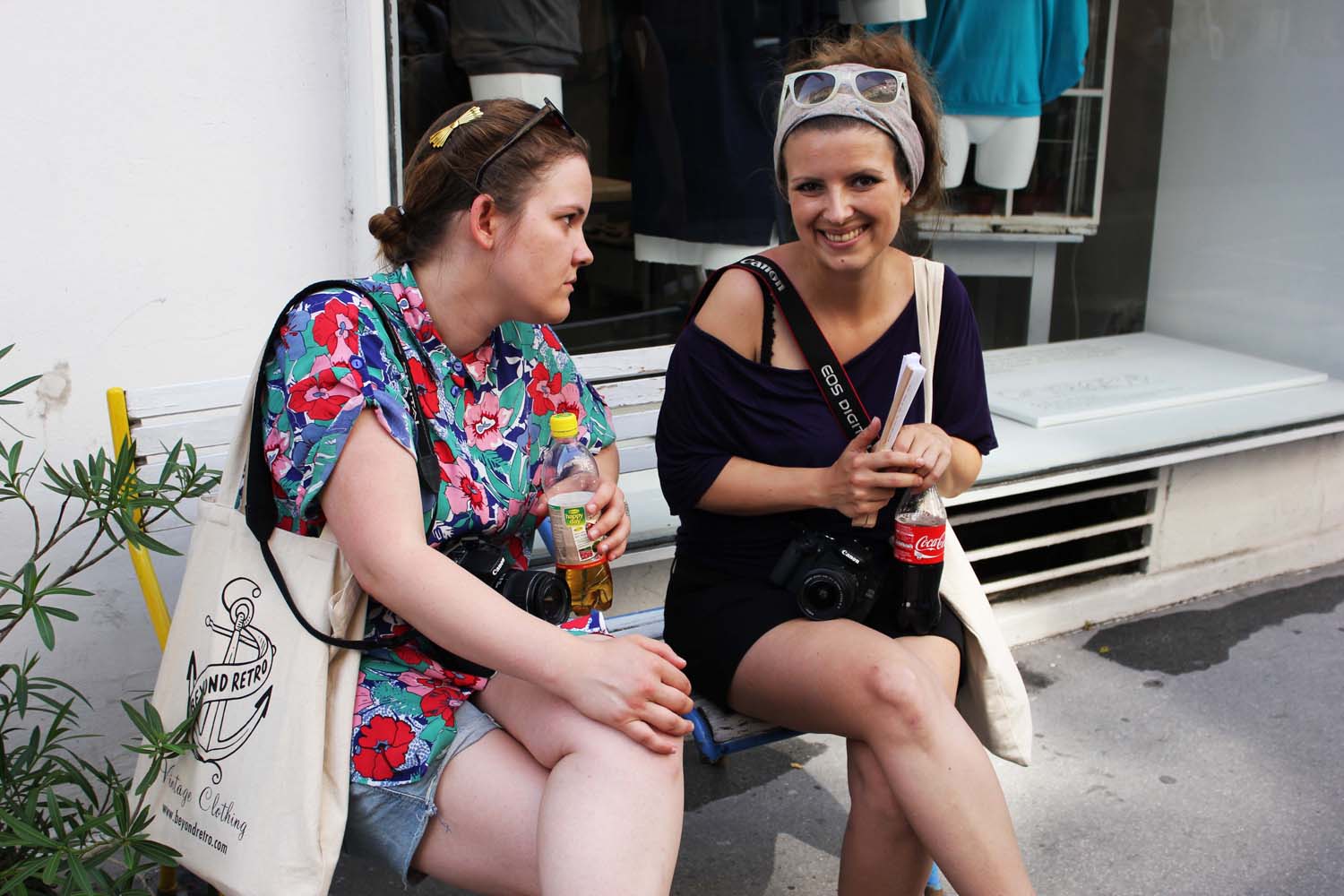 Pretty travelers like Nina and Yvonne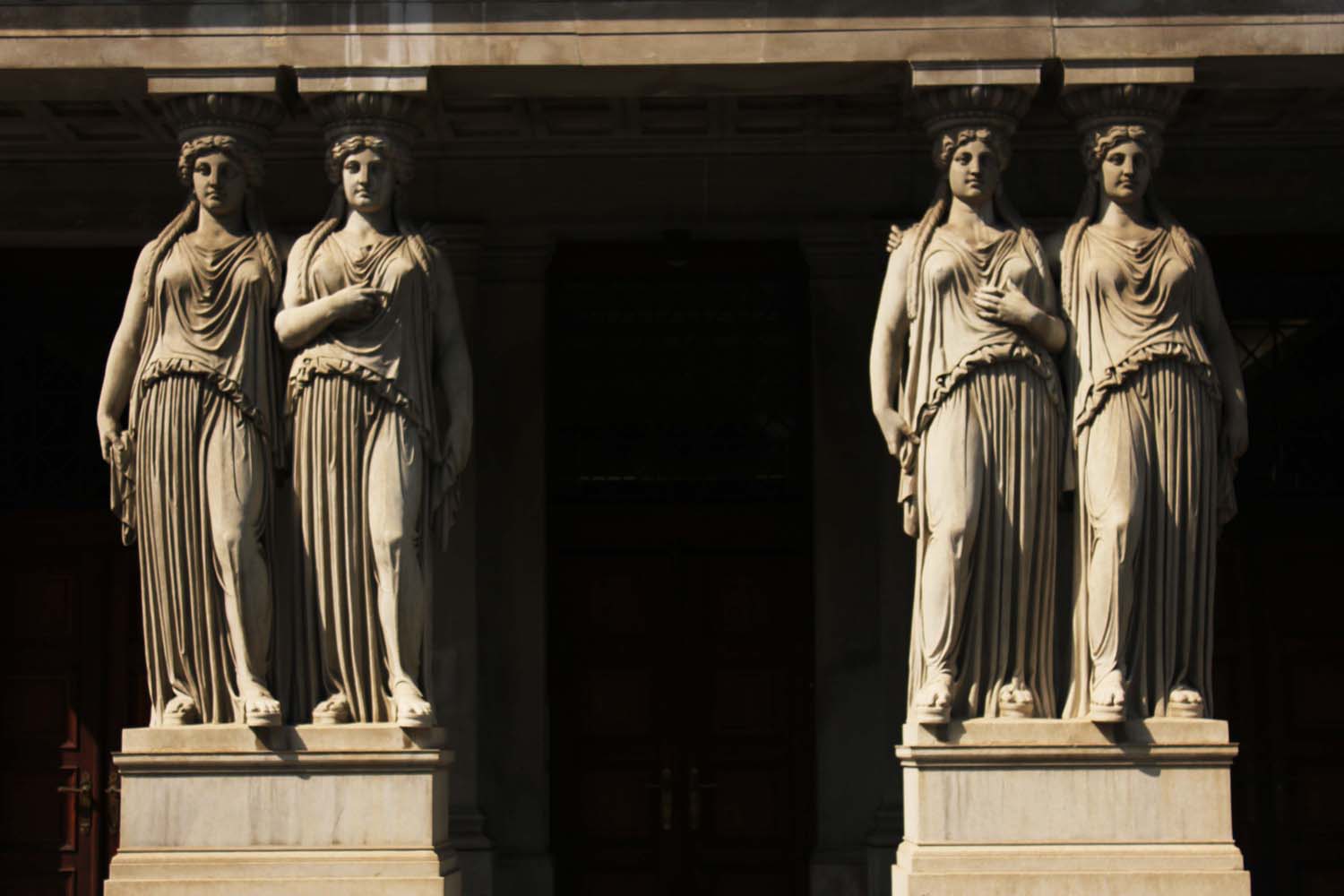 Historical statues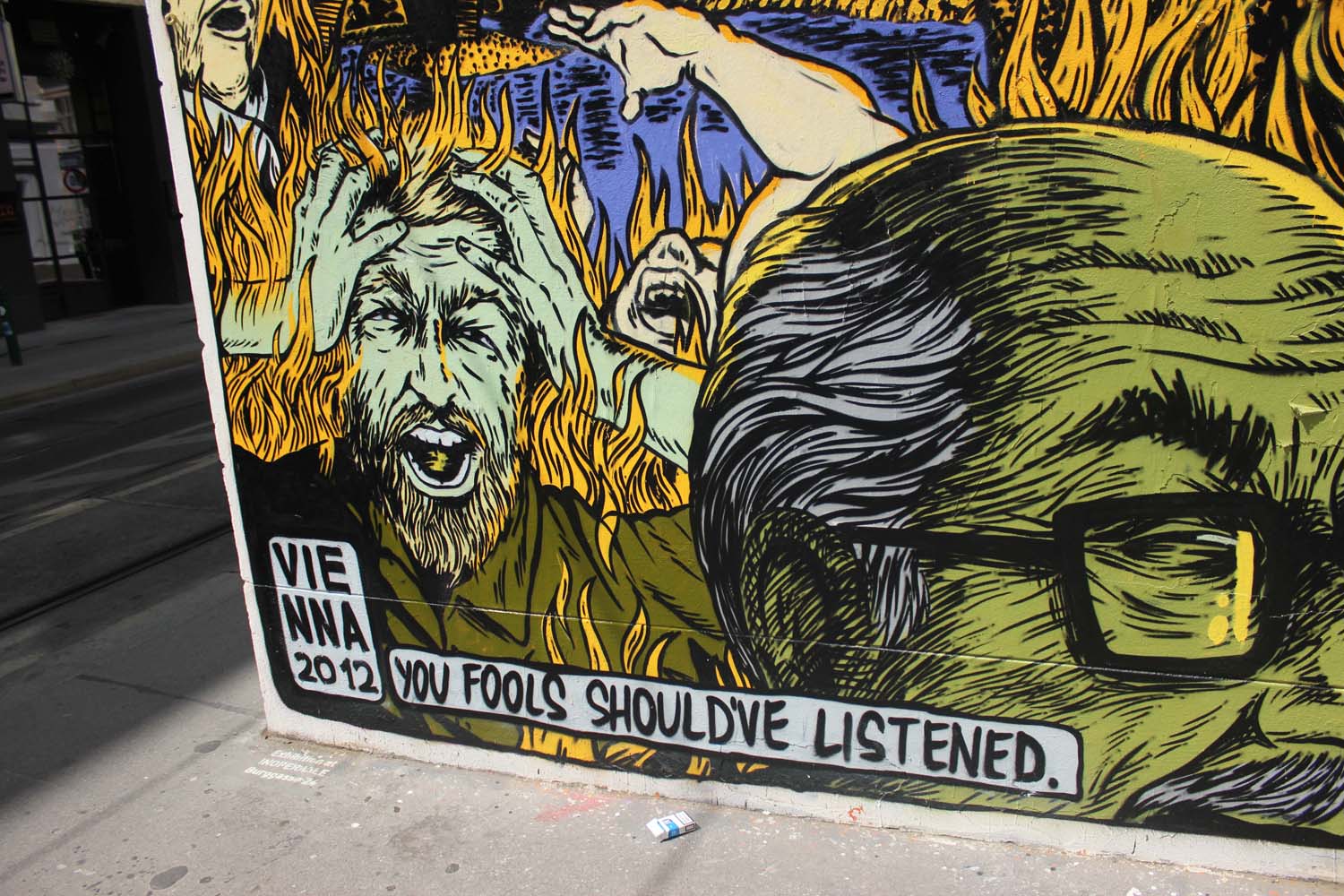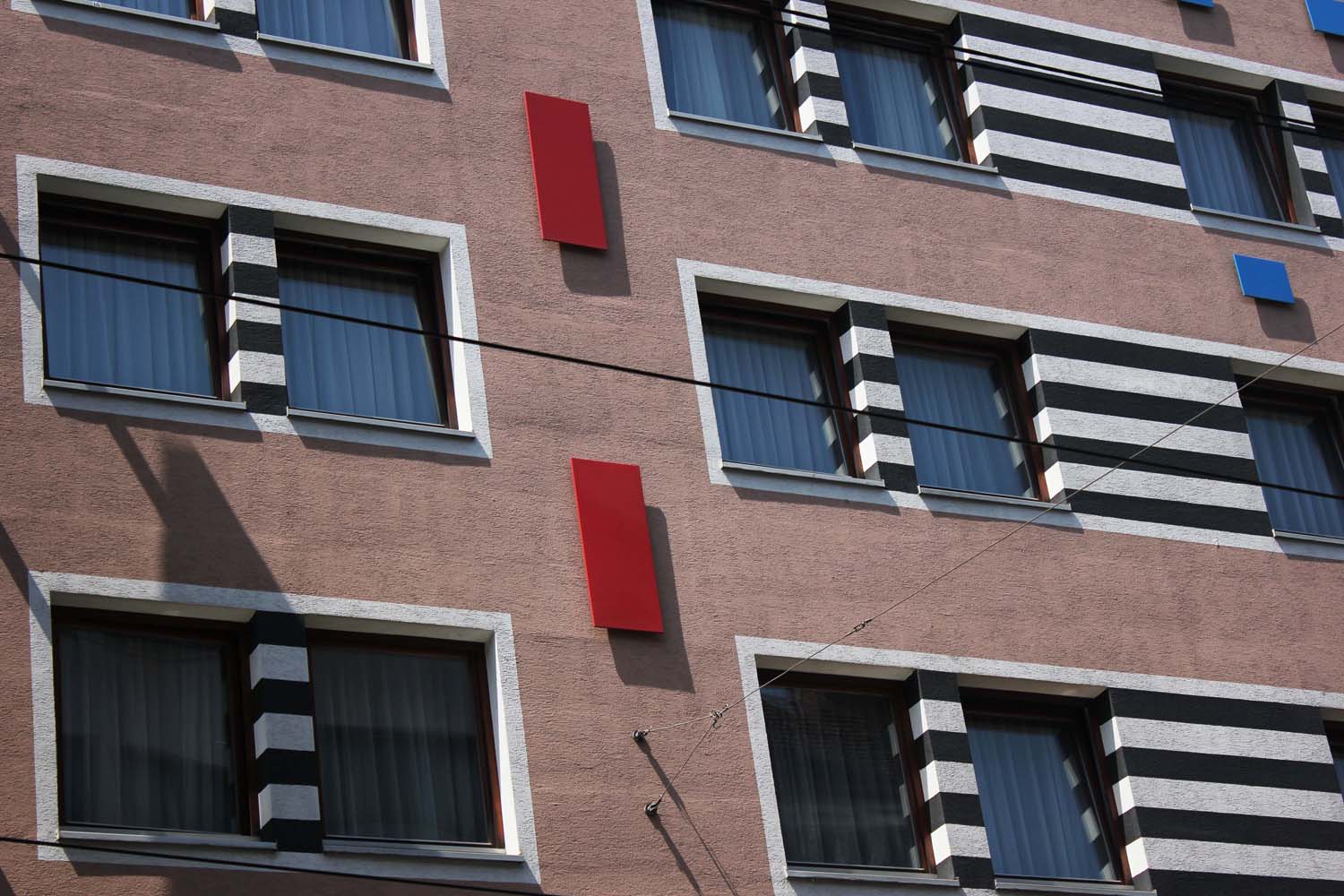 Crazy architecture
Thanks to the
Vienna Tourist Board
for inviting me, and to the
25 hours hotel
for hosting me in a wonderful room! Maéva