"I am a writer / director and I've made feature films and a few shorts and commercials. Sometimes even music videos. I am happiest on a film set."
Soundtrack of the report
Union in Beijing
MiSanDao
That's how Australian filmmaker Shaun Jefford describes himself on the homepage of his website smjfilm.com. After watching the trailer of his new movie, Beijing Punk, we totally understand why ! This must have been an adventure that I (and any member of the Hejorama Team) would wish to live : a quest for truth and authenticity in China during the 2008 Olympics in Beijing.
As you can guess by the title, Jefford went straight to where the rebellion is growing, with the "punks and misfits" that China don't want the rest of the World to know about. Heading to the outskirts of Beijing to follow a group of those Chinese punks and Skinheads, he discovers an underground world of Sex, Drugs & Chinese Rock'n'Roll. In the area of Thingzhou, the club D-22 has become the place where this rebellion his partying and expressing its creativity. Note: I made some quick research about the area Thingzhou as they spelled it in the trailer but I didn't found anything. I think the correct spelling might be Tsinghua as it's the area where the club D-22 is located. Or maybe it's a trick from the Chinese censorship... When I have a chance to go to Beijing, I'll definitely check that area. In spite of being called a "warzone" in the documentary, there definitely seems to be a different vibe that what you'd see in the center of Beijing. And that's what we look for when we travel.
More on the Beijng Punk youtube page. Can't wait to see the film !
Most of the characters that appear in the movie are members of the leading bands of the Chinese punk movement. You can see in the trailer, the leader of Misandao, Leijun. If you want to check more Chinese punk scene we recommend : Demerit and PK14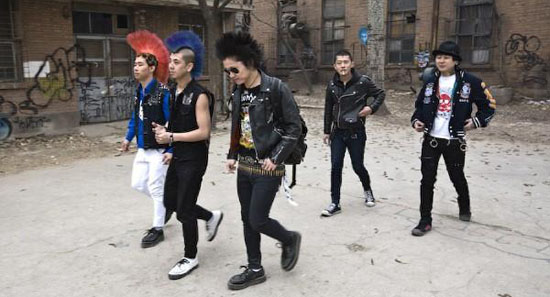 For more about the movie, you can also read the interesting review on the Huffington Post by Stewart Nusbaumer who was lucky enough to get to see the film at the Atlantic City International Film and Music Festival
Subsidiary question : is Hejorama going to be banned in China for this small article ?
Alex