502 days, 71 weeks or roughly 16 months. That's the time our disposable camera n°3 traveled around the world from Paris to Paris. And for the first time in the project, it did actually cross the International Date Line. Here's the tale of the missing camera.
Soundtrack of the report
I Turn My Camera On
Spoon
The concept is simple, we give a disposable camera to someone with the mission to take 5 pictures and then find a traveler to pass the camera to who will take 5 photos again but in a different part of the world, etc... A chain of 5 people taking 5 pictures around the world. We figured that it would be a great way to connect people together.
We sent 10 cameras around the world between June and September 2011. And if you followed the project, you already know that we have received two cameras back so far. And to be fair, we thought that would be it for this first batch.
And then we received a message from Adrien, a French traveler in Bolivia, who told us that he was the 6th holder of the camera. Wait, 6th? There was supposed to be only 5 but people figured that since there was a few photos left they should pass it along anyways. Great initiative! And it's not the only particularity of this camera. See, in the initial package we had left 5 notebooks as a gift for the successive caretakers. But Malin—the second person on the chain—decided to use one of those to tell the stories behind each photo and so did all the people after her! That was simply amazing and we couldn't be more happy that participants added their own twist to this community project.
Thank you all for making this happen and special thanks to Adrien who took care of sending the camera back to us from Bolivia.
Enjoy the photos!
Note: only 20 photos came back from the photo studio and we are not sure why but some simply didn't came out. Thanks to the notebook we do know howver what were supposed to be on them.
The package
As you can see the package arrived in pretty bad shape which is not really surprise after sixteen months of traveling. The camera was even open in half, probably by the French custom officers looking for cocaine from Bolivia.
Everything that we sent from Paris came back minus four of the notebooks as planned. Getting one back with all the stories was simply amazing! Having the camera opened was a first too.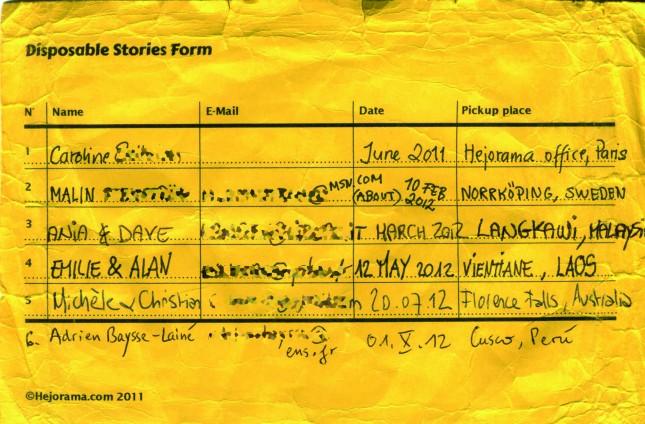 This is the form that's with every camera. Very nice to see an extra line added. As you can see this one really went around the world!
Here's one of the pages from the notebook. Having this allowed us to realize that there were some photos missing actually. Not sure if they were not properly taken or simply didn't come out at the development.
Carolin
We randomly met Carolin and Fredrik via Twitter when they came to Paris. We got along really well and decided to give them the third disposable camera of the project. For some reason there's only two photos taken by them. Not sure what happened...
Carolin and Alex from Team Hejorama in Paris
Party people in Paris
[Missing photos?]
Malin
Malin is a 21-yo graphic design student from Norrkoping who got the camera from Carolin. We know all that because she had the smart idea to write down the story of the camera in one the notebooks. Brilliant idea!
A scan of Malin's second page in our notebook
Malin in cold and snowy Norrkoping before before leaving on her trip to South-East Asia.
[Missing photo: In Singapore at a place called "the bridge" where students hang out before going to clubs.]
Snorkeling in Payar Island, Malaysia
hanging out in Daddy's guest house in Penang, Malaysia
Sunset at Cenang Beach
Ania and Dave
Ania is from Italy and Dave from Rochdale, England. They are traveling for a year in South-East Asia. They got the camera from Malin in Langkawi, Malaysia in March 2012.
Dave, Malin and Ania in Langkawi, Malaysia
Traditional khmer house in Cambodia
[Missing photo: Tuk tuk after a tropical storm in Phnom Penh] [Missing photo: shot taken accidentaly in the bottom of the bag] [Missing photo: sunrise in Vietnam]
Emilie & Alan
Emilie and Alan both come from Switzerland are traveling around the world for a year. They met Ania and Dave in Hanoi where they gave them the camera. They started taking photos in Laos.
The two couples having dinner in Vientiane
Buffalos in the river in Vang Vien, Laos
Boat on the mekong during the trip from Laos to Thailand
"Free monkey zone" in Lopburi, Thailand
[Missing photo: firsh market in Lombok, Indonesia]
Michèle & Christian
Michèle and Christian are also from Switzerland but they met Emilie and Alan in Florence Talls, Australia. So approximatively 15,000km away from their home country. You can follow their adventures on their blog.
The couples in Florence Talls, Australia
Crocodile in Barry Springs, Australia
Funerals of a member of the royal family in Ubud, Bali
Car plate in Hawai
World famous Machu Picchu in Peru
Adrien
Noticing that there were a few shots left on the camera, Michèle and Christiand decided to pass the camera to Adrien—a 22yo French student—in Peru. Adrien took the time to send us the camera back and we are very grateful for that!
[Missing photo: Adrien with Michèle and Christian]
El Valle de Los Volcanos
Lake Titicaca
La Paz, Bolivia