The Suffolk adventure
15.9K views
6

minute read
For this new edition of the "Must Love Festivals" we started by exploring the Suffolk region of England and attend Latitude Music Festival by 1000 online payday loan.
During the week long adventure we slept in yurts, biked around the English countryside and listened to some of the currently most brilliant musicians. This is the story of another successful #MustLovefestivals trip.
[divider line="true"]
Going going,
back back,
to London London
It all started with a short stay in London, one of my favorite cities in the world and natural beginning for any good English road trip. We stayed in East London as always but this time decided to choose a hostel close to London bridge as we really enjoy the development of the lively and fun Southwark/Bermondsey area. Not to mention Borough Market, of one our favorite in the city along with Broadway market. It also gave us the chance to discover the BFI, the British Film Institute located on the South Bank, for drinks at night which we highly recommend.
For accommdation we chose the Rose & Crown, a proper English pub with a few hostel rooms which we really enjoyed : great location, super friendly staff and convenient amenities. It also gave us the chance to experience something new when our 2 American dormmates decided to bring back boys in our 4-bed dorm. But that's for another story…
[divider line="true"]
After two days in London, we got our rental car and headed to Suffolk. Now for all our readers driving their car on the right side of the road, don't assume that it will be easy to switch to left and be extra careful at the beginning. If you can, pay the extra for an automatic car and spare yourself the effort to adapt to the shifting stick on the left. It's all very worth it as it will allow you to really explore various areas of the country very easily but make sure you don't ruin your trip with an accident.
And if driving a car isn't an option for you, bear in mind that England as a good railway system and Suffolk is only a couple of hours away from London. Once there, biking or hiking are two great ways to get around as we experienced as well.
Ivy Grange Farm
Thanks to VisitBritain, our base for our Suffolk exploration was a fantastic yurt in Kim and Nick's amazing Ivy Grange Farm. It was our first glamping (more about this in a coming article) experience and their glamourous yurts really are a new way to camp in comfort but still very close to the nature. It was a perfect fit for us as we are quite fascinated by all nomadic tribes and for a couple of days we felt a bit part of the Golden Horde of Batu Khan. And while we were not there to conquer any land, we did ride the camp bikes with passion around the countryside like fierce Mongol horseriders.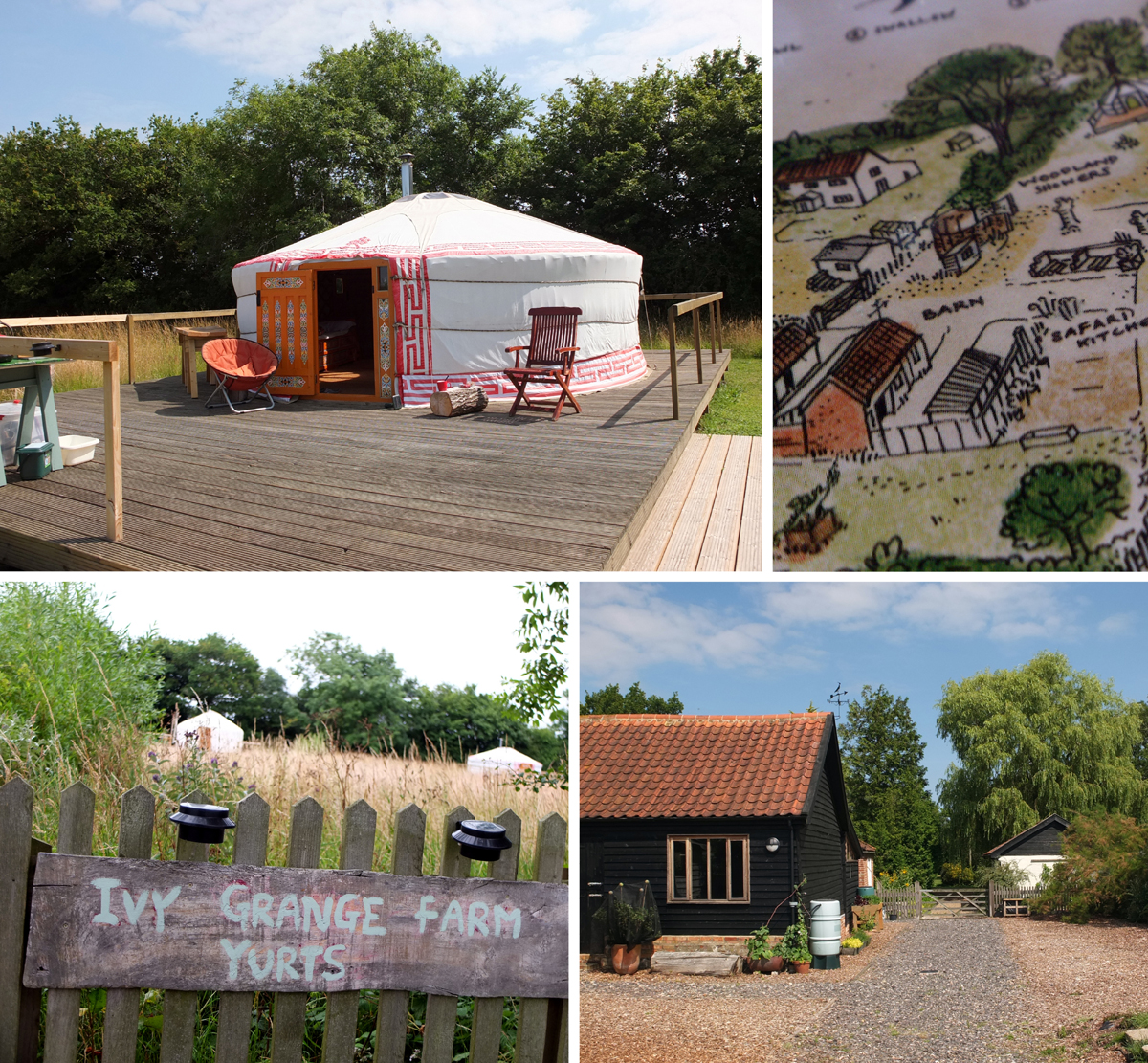 Among all the activities available, discovering the area by bike was definitely our favorite one and we spent an entire day in a quest to see all the Saints of Suffolk. It was a brilliant orientation race recommended by Kima and Nick on our arrival at the farm. We biked for about 40km in the area and managed to see all the beautiful churches of the Saints but one. I guess we wanted to leave ourselves a reason to come back and complete the quest!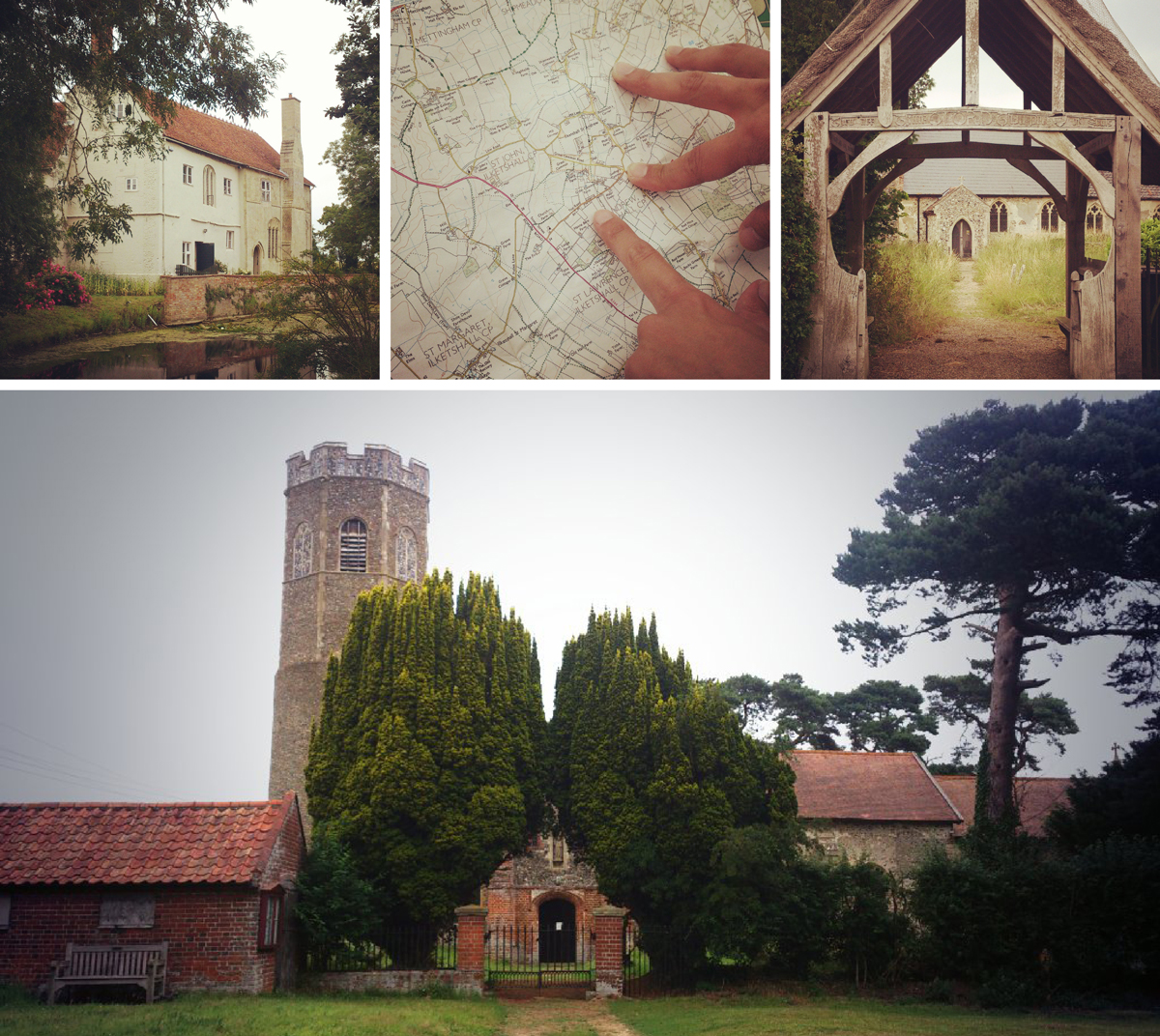 [divider line="true"]
Chillin' on
English Riviera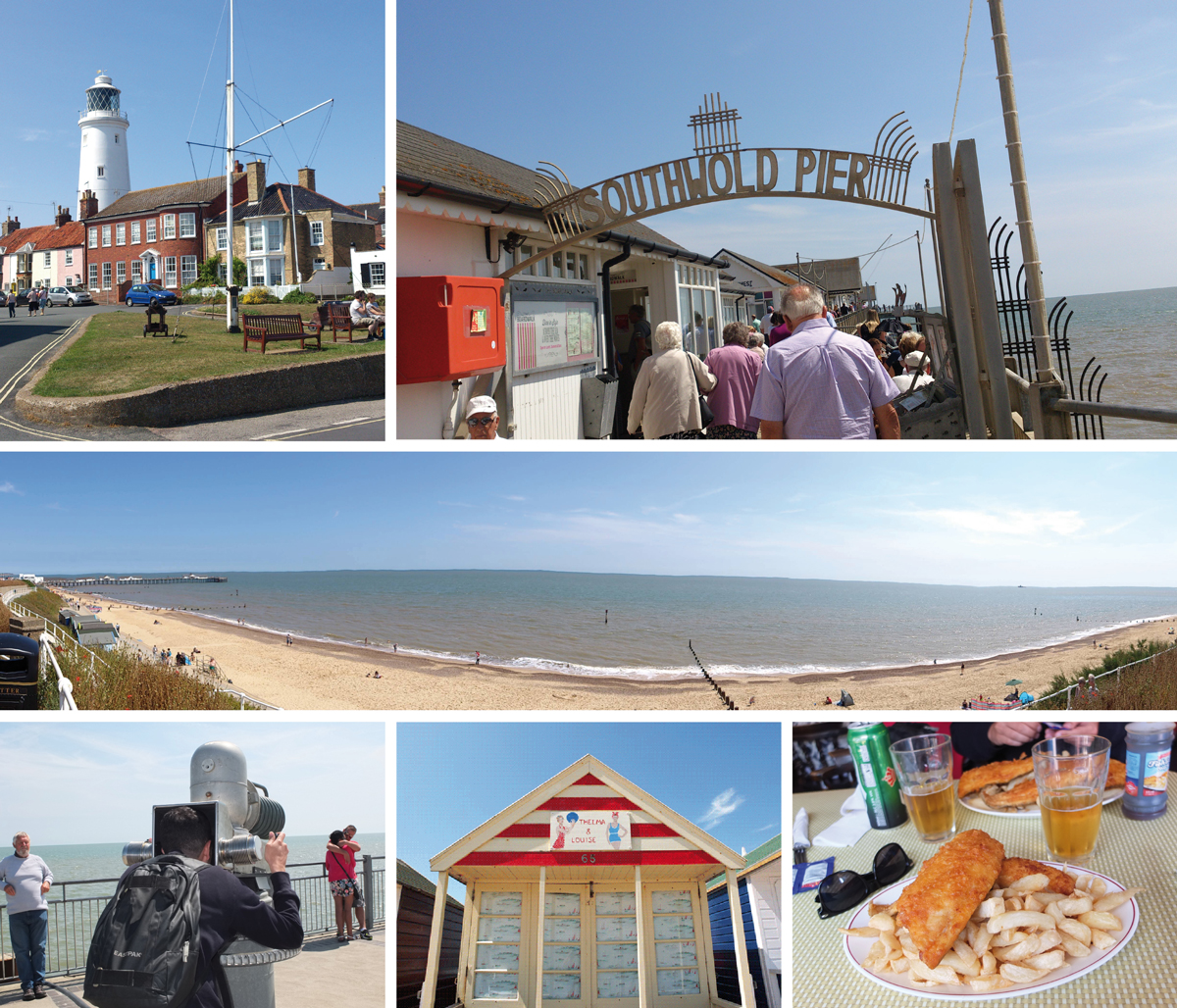 A ride to Southwold would be only about an hour and half but decided that the car would allow to spend more time there before heading to the festival which was luckily exactly between Ivy Grange Farm and the coast. And this beautiful beach city of Suffolk definitely deserves the time of a good visit.
Southwold has a typical pier like most english beach towns but features a very unique attraction: "The Under The Pier Show". If you expect a typical arcade game area when you enter the space created by Tim Hunkin, you will quickly realize that there's something odd about the coin-operated machines in there. Just to give you a quick gilmpse of the arcade "games" avaiable, our favorite one is "microbreak", a motorized armchair and TV set that takes you on a very ironic trip around the world through an hilarious animated film. Forget about Street Fighter and Pro Evolution Soccer, the real deal is in Southold: Rent-A-Dog, Bathyscape or Microbreak are way more fun and unique experiences!
During our research for the trip we also learned that English writer George Orwell spent some time in Southwold during his youth and actually took his writer's name from the Orwell river that crosses Suffolk. As an hommage to one of our favorite writer we had lunch at Marks Fish Shop on High St where he was supposed to be a regular customer.
[divider line="true"]
Getting the proper attitude
for Latitude
After a coffee on the beach, we had to leave sunny Southwold and a short drive took us to Henham Park where Latitude festival takes place. We decided to arrive early and avoid the usual hassle of big festivals: massive jams at the parking lots, queues to get the bracelet, etc. But from what we could see everything is well organized at Latitude to avoid those inconveniences and the staff was super helpful. Didn't take us a long before we were laying on the grass with a beer deciding on the acts we would go and watch at night.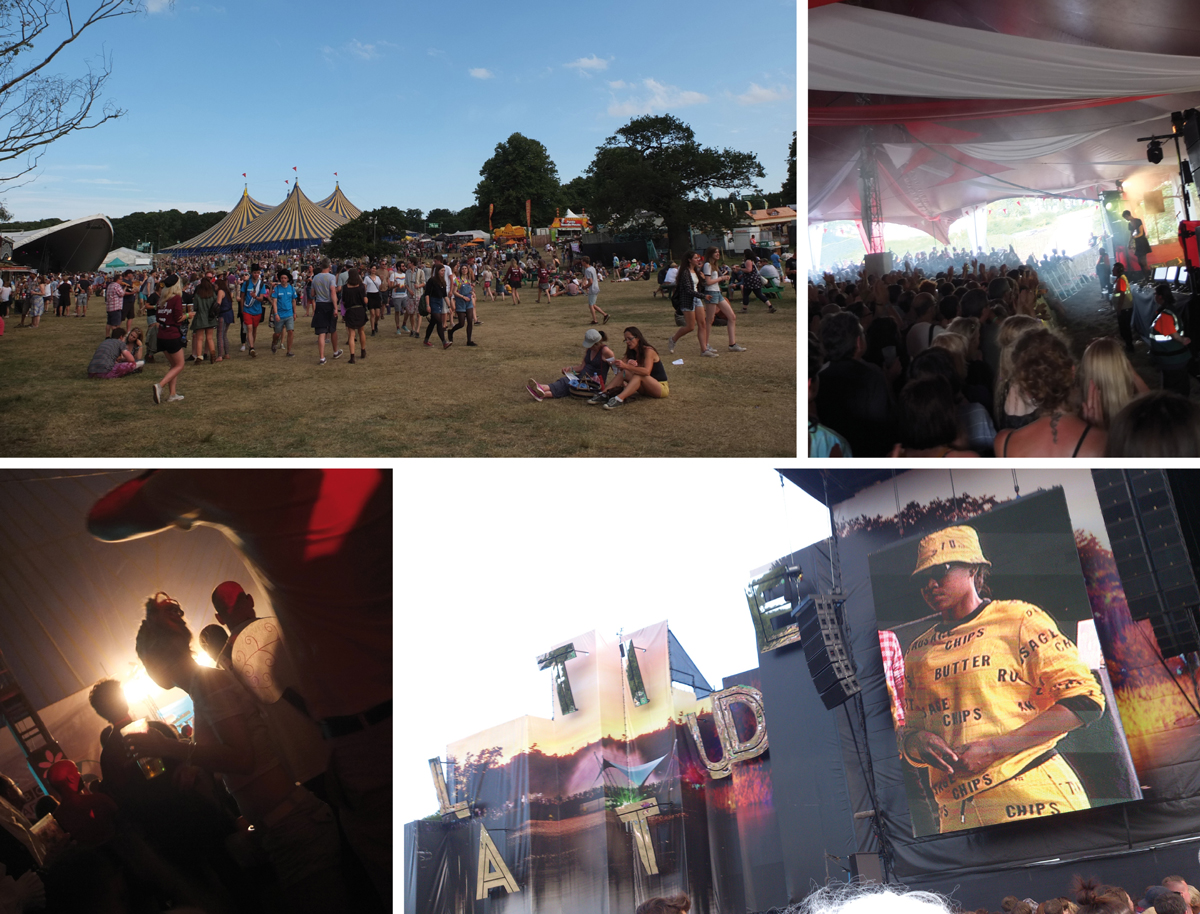 We had a great time at Latitude and were delighted to discover a festival that is about much more than just the music. It's a fantastic artistic experience in the beautiful forest of Henham Park. Of course, having the chance to see Santigold, Young Fathers, UMO, Ezra Furman, Caribou and Django Django perform almost back to back was amazing.
But we were also stunned by the unique theatrical experience of "With a little bit of luck" co-produced by the company Paines Plough and writer Sabrina Mahfouz.
And this was just one of the great acts we saw over the couple of days of the festival which included wild parties at the Electro Shack, hilarious comedy in cabaret and old school soviet Russian vibe at the Dasha. For more about the festival head to our recap post on MustLoveFestivals.com and a full multimedia coverage in our dedicated article.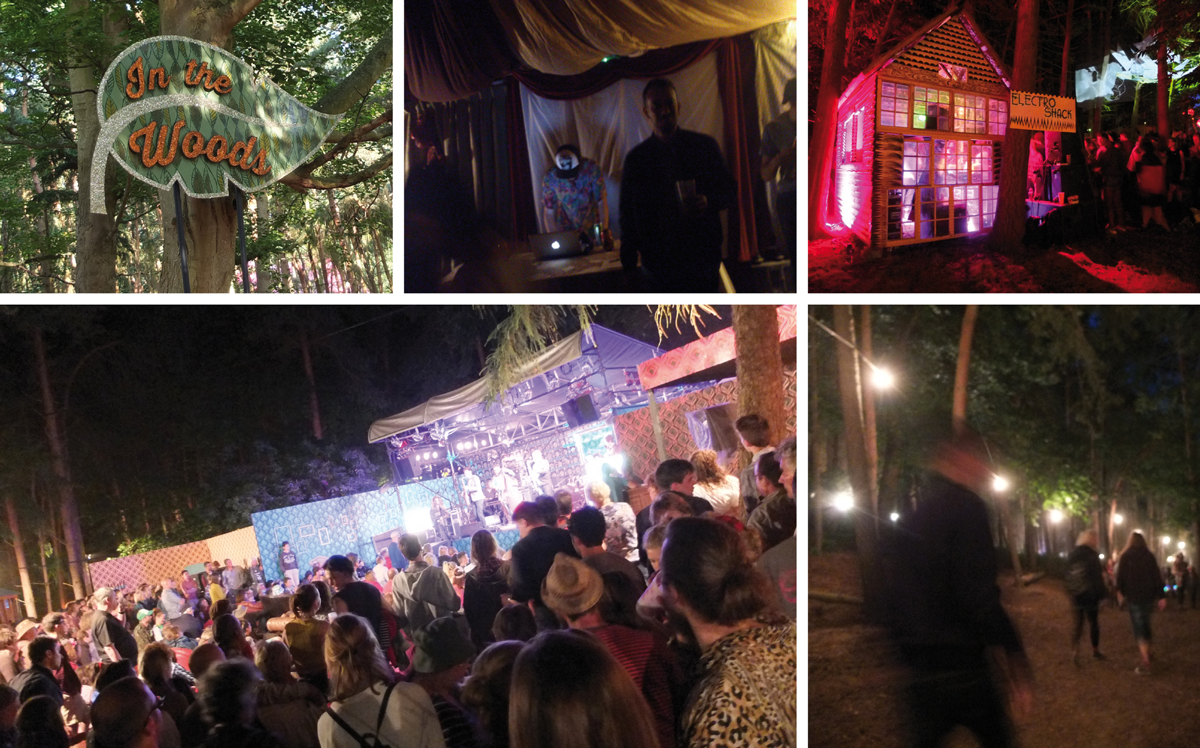 [divider line="true"]
Last day, with ancesters
After two days of fun at the festival, it was time to head back home but not without a stop in Sutton Hoo, an archaeological site where you can discover a bit more about the "East Anglia" history and walk around the medieval burial site. Honestly there isn't that much to see outside of the museum but it's an interesting spot to get some information about the past of Suffolk.
The city of Woodbridge nearby can also be a good stop on the way to or from London. It has some beautiful medieval houses including the Hill House Hall bed and breakfast where we had the chance to stay for a night. Located in the oldest house of the region, this charming bed and breakfast takes you a bit closer in time to the East Anglia back when it was ruled by the kings buried in Sutton Hoo. But with much more comfort!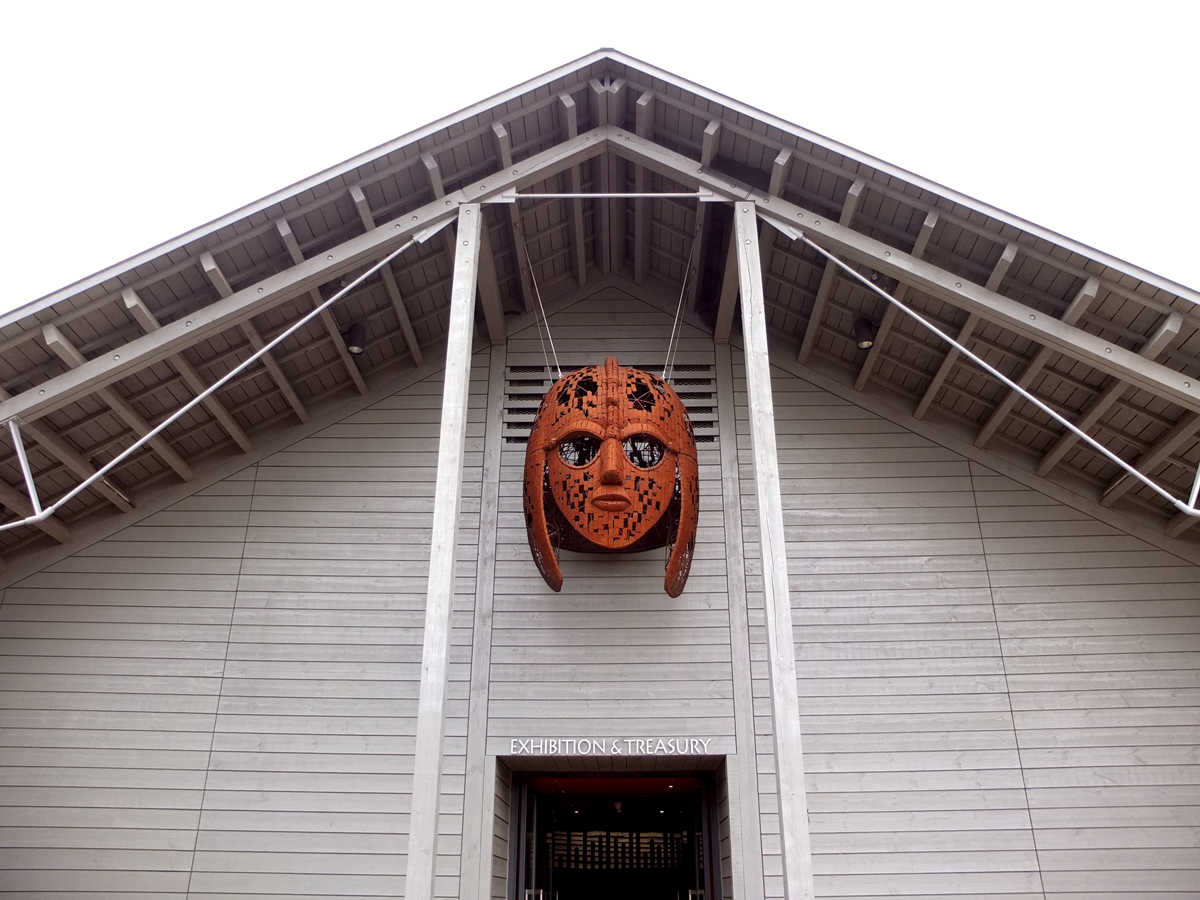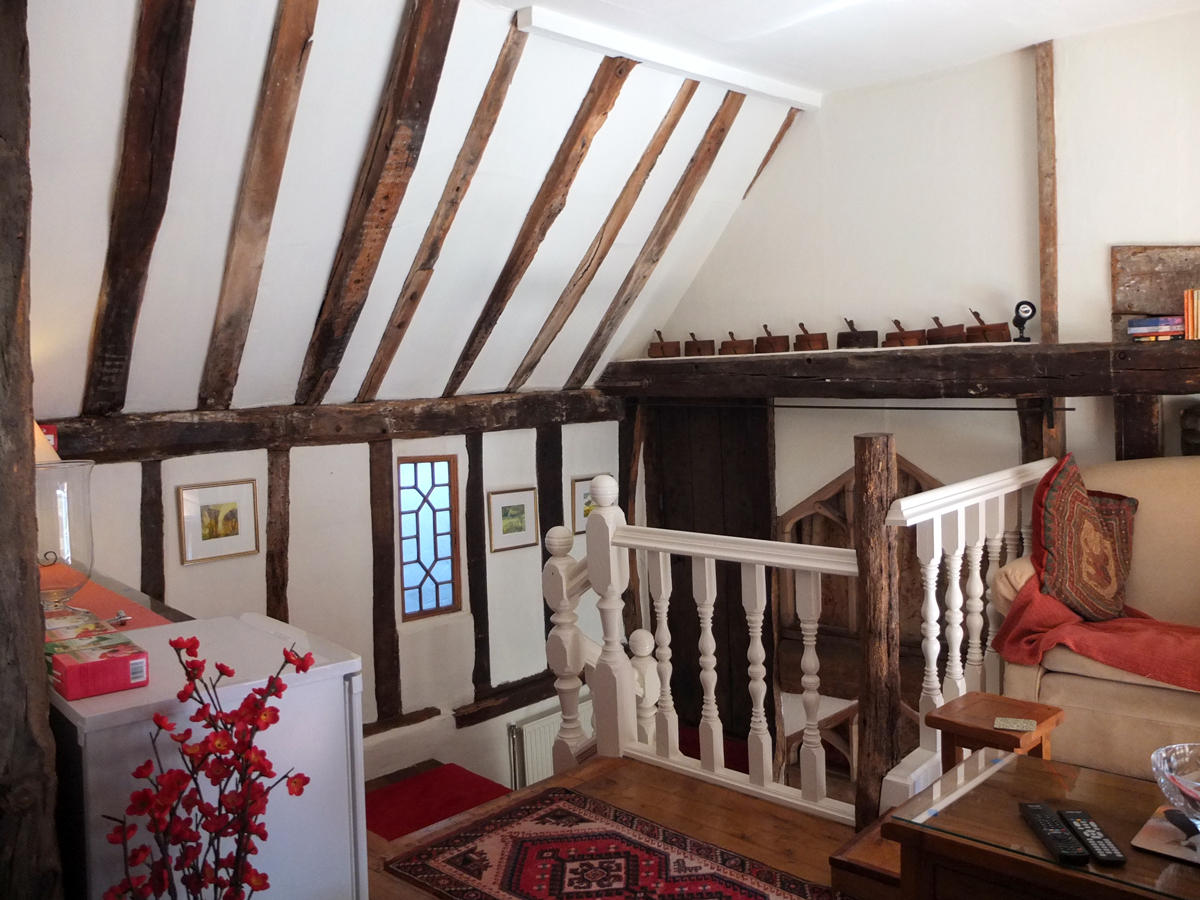 This final episode was the end of our trip in Suffolk which was much more than just a getaway trip in the countryside as you can see and we had the chance to live many cultural and artistic experiences over the course of only a few days!
[divider line="true"] Thanks to Kim and Nick for welcoming us in their
Ivy Grange Farm
yurts
Thanks to
Visit Suffolk
for accomodation and suggestions. What a beautiful region…
Thanks to
Visit Britain
for inviting us and
Expedia
for fly us there (and back).
This trip is part of
Must Love Festivals
project. More stories to come about Suffolk.