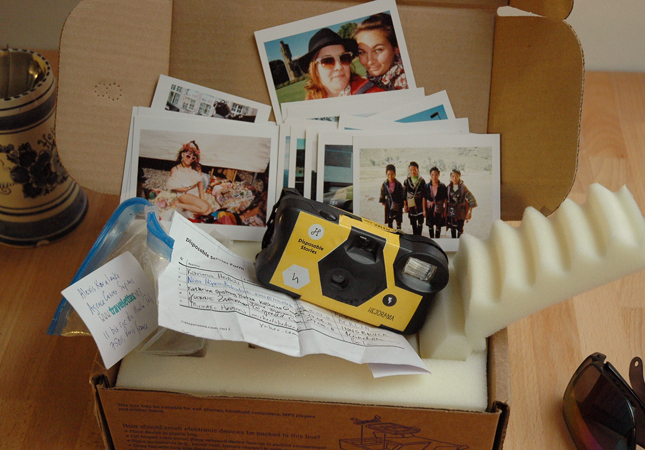 Last summer in Paris, Maeva, Roy, Daniel, Ben and Alex came up with the Disposable Stories project.
Soundtrack of the report
I Turn My Camera On
Spoon
The concept is simple, we give a disposable camera to someone with the mission to take 5 pictures and then find a traveler to pass the camera to who will take 5 photos again but in a different part of the world, etc... A chain of 5 people taking 5 pictures around the world.
We sent 10 cameras around the world between June and September 2011.
No one truly believed that this would work and I have to admit that after a few months without any news, we began lose a bit of our eternal optimism. And then we got a package back. It worked!
We'd like to thank all the people who took care of camera n°4 and especially Michael who went through the hassle of shipping the camera back to our office in Paris. Thanks for showing that this kind of project can work, you rock!
And now, the photos!
Update: We have started a Kickstarter project to fund a relaunch of the project on a bigger scale. Join in!
1. Karima
Karima is good friend of ours from Paris and we gave her a camera before she left to attend the Bread&Butter fashion show in Berlin last summer.
2. Nina
Nina is a graphic designer living Berlin, she took the camera on a road trip to England.
Follow her adventures on @smaracuja and Travelettes.
3. Kathrine
Kathrine got the camera from Nina back in Berlin and took it to Innsbruck, Austria.
Follow her adventures on @katieba and Anchored Paperplane.
4. Yvonne
Yvonne received the camera in Innsbruck but shot her photos during her trip to Norway.
Follow her adventures on @JustTravelous and Just Travelous.
5. Michael
Yvonne passed the camera to Michael while he was passing by Berlin during his Ultimate Train Challenge. Randomly enough we made the map for his adventure. As you can see his photos cover a large area going from Russia to Vietnam.
Special thanks to Michael to had to take care of the shipping back of the camera as he was the last on the chain.
Follow his adventures on @mobilelawyer and Go,See,Write.