Sunny Buick's travels in Europe – Berlin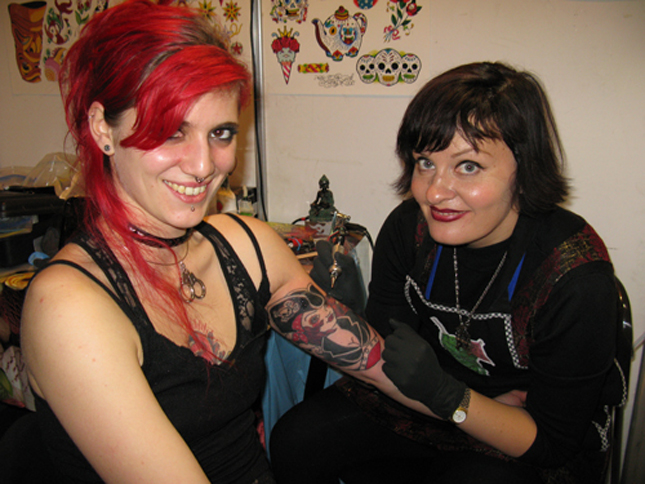 My fascination with Berlin began with my discovery of Marlene Dietrich in « Blue Angel », films by Fritz Lang, Cabaret, Otto Dix, the Weimar period, and Cinema Expressionist. The decadence of the 1920's had its dark side in Berlin. Friends of mine who live there say there's a special mixture in the air, maybe more oxygen which makes the night life more energetic. No one sleeps in Berlin.
Soundtrack of the report
Heavy Rotation
Cobra Killer
Berlin is not a good place for someone susceptible to excesses. Any number of decadences are available everywhere you turn. Musicians can live by their music. Every night of the week you can see and hear any number of concerts or djs. I'm not an expert on illegal activities but I assure you if you look for it you will find it.
The desire to experience the city where all this style and legend comes from made it a must on a list of places to visit. I made my connections with Netchett a fellow artist during my visits to Vienna. My first host Lily knew him from art school. She had the small gallery where Netchett's art was featured and she had invited me to show as well. We spoke of an eventual visit to Berlin.
About a year later my husband and I were invited to stay with him and his girlfriend in the Mitte district. That first trip was just what we needed. We arrived in September and the weather was perfect. We ate cheaply and saw a lot of concerts/ djs and nightlife. The contrast is huge between stressed out Paris and laidback Berlin. A cheap and relaxing vacation. I already wanted to return as quickly as I could. So, as always, I start to scheme to find my way back easily.
One of my addresses to check out was Bongout gallery (the owner Meeloo is French and has a lot of tattoos). His gallery was at the time also his silkscreen atelier. I asked Meeloo for a list of respected tattoo shops in town. After visiting a few that were not encouraging, I stopped by White Trash's annex and asked for a guest spot (this tattoo shop doesn't exist anymore). They suggested sending a portfolio.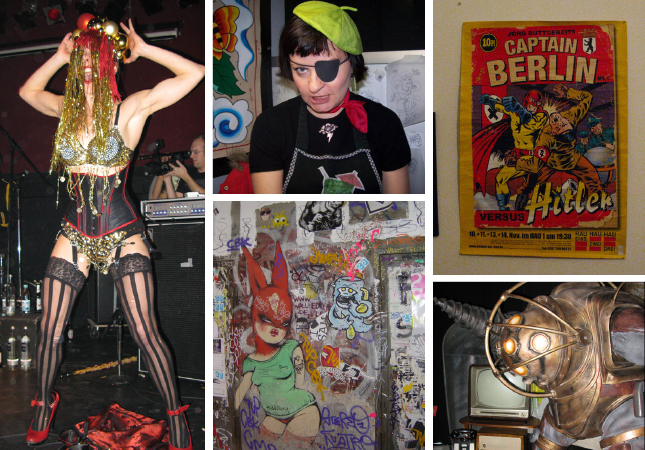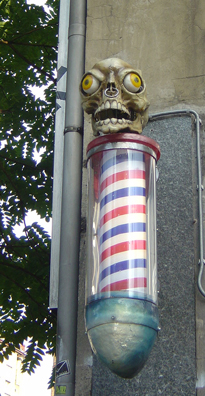 Soon after I returned home I sent a small cheap portfolio (something I didn't care if it wasn't returned). Pretty quickly I received an email from a fellow American and San Francisco native that enthusiastically invited me to return and work for a week plus have an art show. Just to show that with a little effort my profession allows me to work and live in different European cities for short periods. That art show was in 2007 and was called Tea and Circus.
I made 3 or 4 contacts after that first trip. Since then I've stayed at each and everyone's apartment. I like to mix it up so that I don't impose too much on any one person. I always plan a visit around a week of tattoo clients or a tattoo convention. That way I can pay my trip as I go.
Two interesting neighbourhoods to check out Mitte ( Kastanienallee is a great shopping street) and Kreuzberg.
Some things I learned on that first trip:
Small businesses can open while their file is waiting for approval at City Hall and have one year to wait for the response, if they are refused they can just change to a new location and open one year again while they wait for approval. This is probably why you can find so much alternative shopping and interesting businesses.
An artist told us that it was hard to be motivated in such a laid back city. He said the stress of a city like Paris is good for staying productive.
Pictoplasma, the world's leading and largest festival of contemporary character culture started in Berlin.
Favourite addresses
Food:
– Babel Falafel in Mitte (5 euro huge plate of food)
Kastanienallee 33
– White Trash
Expat home away from home, lots of Americans working there last time I checked
Schonhauser allee 6-7
Nightlife:
– Bassy
"Music before 1969"
Schönhauser Allee 176a
– 8mm Bar
Schönhauser Allee 177B
Check for djs Nick Sleazy and Joe Dilworth
– Wild at Heart, next door to: Tiki Heart Cafe and Shop
Wienerstrasse 20
Fleamarkets:
– Mauerpark
– Arkonaplatz for books and records
Galleries/Museums:
– STRYCHNIN Gallery
Boxhagenerstr. 36, 10245 Berlin
Tel.: +49 30 9700 2035
– cool art gallery in Prenzlauer Berg: staatsgalerie-prenzlauerberg.de
– Bongout: Art Brut/ nice folks
Torstrasse 110, 10119 Berlin
– Merry Karnowsky Gallery
TORSTRASSE 175, 10115 BERLIN-MITE, GERMANY (PHONE +49 30 28 50 30 72)
– Neurotitan Comic book art shop
Rosenthaler Straße 39, 10178 Berlin
– KW Institute for Contemporary Art (Where I saw the Joe Coleman exhibit in 2007)
Auguststraße 69, D-10117 Berlin
– Neue Nationalgalerie
Potsdamer Str. 50, 10785 Berlin
– Ramones Museum Berlin
Krausnickstr. 23, 10115 Berlin-Mitte
– Medical Museum: Creepy and Fascinating!
Campus Charité Mitte, Charitéplatz 1 (ehemals Schumannstr. 20/21), 10117 Berlin
Tel.: +49 (0)30 450-536156
– Deutsches Historisches Museum
Unter den Linden 2, 10117 Berlin
Info-Telefon: +49 – (0)30 – 20304 – 444
I took tons of photos of the roman helmets on the outside of the building look for dragons and weird stuff! (see photos)
Records:
– Wowsville!
Ohlauer Str. 33
Tattoo:
– Pain and Ink dept
Chorinerstrasse 75
– Fabian Nitz Outback Tattoo
Luckenwalder Str. 23
Other Stuff:
– Dynamite! Magazine rockabilly mag all in german
– Cherry Muffin Photography
– Kamakazi Queens – Cabaret Punk (Tritity and Lloyd two Americans living in Berlin in a number of cool bands)
Sunny