Breaking Bread: A Recipe for Friendship in Life Abroad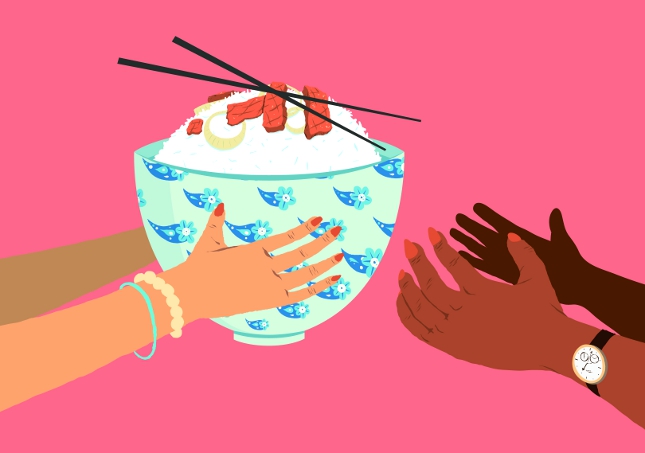 "Ni chi fan le ma?" It's Chinese for "Have you eaten yet?" and is as common a greeting as "How are you?" is for English speakers. You'll hear family, friends and even strangers greeting each other with Ni chi fan le ma? Now, every Chinese person knows the proper response is, "Yes, I've eaten," in the same way we answer, "I'm fine, thanks."
Soundtrack of the report
We Don't Eat
James Vincent McMorrow'
But what a world of wonderful friendships I discovered when I learned to say, "Actually, I am hungry!" Naturally, it was an Italian who showed me how. We met on my apartment hunt in Dublin. Antonio was looking for a flatmate and I was looking for a home. I had just arrived in Dublin and didn't know a soul. Before even showing me the apartment he asked, "Are you hungry?"
After a few reflex protests of "I'm fine, thanks," came my simple admission of "your carbonara smells amazing," and we instantly became family.
Antonio still loves to tell the story of how I was too shy to eat with him at first, but was soon finishing his affogato. And I can't believe I ever hesitated at a Roman's invitation to have homemade carbonara in his home!
We've met every so often in Italy, after he went home and I moved on to Paris, and we're still like family. So when I think about carbonara and affogato, I think about Antonio and Dublin. But when I think about Paris, I think about avocados. And my friend Kim.
Kim is one of the vendors at Marché Baudoyer, the farmers' market where I did my grocery shopping. Like all the vendors, Kim would ask, Voulez‐vous goûter? "Would you like a taste?" and she would offer all kinds of things to try and would remember what I liked. She quickly discovered my fondness for avocados and would set aside a few for me every week.
She had a trick for knowing exactly when an avocado would be perfect so she'd always tell me which one to eat tonight, which one to save for tomorrow, the day after…
I never learned Kim's trick, but wherever I am, whenever I open an avocado, I remember her. I remember how she wrote down French words I didn't know on her brown paper bags and I smile.
"Would you like some tea?"
And then once upon a time in Istanbul, I met Felix. When I saw him at the concierge desk, I thought he was so cute, I couldn't say hello. So when we bumped into each other on the rooftop of the guesthouse that evening and he asked, "Would you like some tea?" I was very happy to say yes.
The hours flew by and suddenly it was 3 a.m., we'd drunk too much Raki, and had geeked out over our mutual love for photography, etymology, typography… We'd shared childhood stories, political worries, and travel dreams. I can't remember the name of the restaurant we went to, nor the names of the delicious dishes we shared, but I'll always remember Felix and our before-sunrise night.
But in accepting his tea, I met a stranger halfway around the world
I had a 6 a.m. flight to catch and we knew we'd never meet again. He's German and loved living in Columbia. I'm Canadian and Paris feels like home. But in accepting his tea, I met a stranger halfway around the world who felt very much like a soul mate.
People often ask me if travelling alone is lonely. Honestly, it never is.
So, whether on the road or in your hometown, the next time a stranger invites you to break bread, say, "Yes, let's eat!" And don't be afraid to invite a stranger to break bread with you, either.
Yvonne
You can follow YVonne on Twitter @mlletravelista and soon on Hejorama for more adventures and food.
Editor's note: this article was originally published in the September '11 issue of Fricote Magazine as the first Hejorama column.