Drinking wine in beer country (1/2)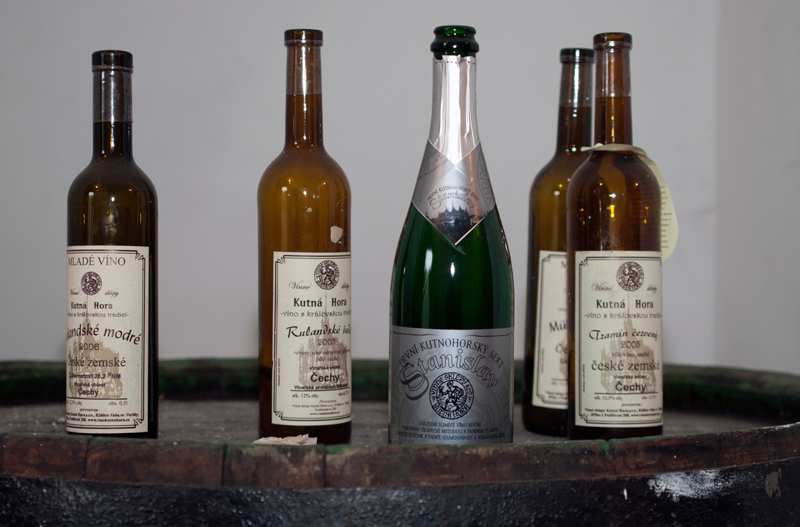 I had passed nothing more than snow-covered farmer's fields since boarding an eastbound train at Prague's Hlavni Nadrazi station a few hours earlier, well before sunrise on a frigid January day. Fresh snowflakes floated down that morning, adding to the mountains of snow already suffocating the streets of the Czech capital.
Soundtrack of the report
Pass the wine (Sophia Loren)
Rolling Stones
Stepping off in the Bohemian town of Kutná Hora, I felt if I had been transported back to the Soviet era. From my surroundings, I half expected the railway station to be guarded by Kalashnikov-yielding soldiers. But on this day, the station looked nothing more than a deserted movie set.
A day earlier I had arranged through a translator to meet biodynamic wine producer Lukáš Rudolfský to learn about his family's history of wine making in Kutná Hora, the medieval mining town and UNESCO World Heritage Site which once rivaled Prague for prominence, beauty and religious importance.
And while most people come to Kutná Hora to see the chapel made entirely of human bones or the soaring 14th Century Saint Barbara Church, I was here to pray to the gods of Bohemian wine – in the freezing cellar of the converted 17th Century Monastery of the Ursulines, where Rudolfský runs Vinné sklepy Kutná Hora.
My idea to visit – and perfect excuse to mix wine with journalism – came after stumbling upon a wine bar packed with locals down a cobbled lane in Prage's Staré Město (Old Town). I was in town for a journalism course and impromptu winter getaway – yes, swapping frozen Alberta for a frozen Czech Republic – joined for New Year's celebrations by Hejorama co-founders Alex and Ben. But finding a cultural story to tell that would allow me to do a little bit of travel and get closer to the local scene was my real mission.
Left: Along the rails between Prague and Kutná Hora. Right: Praha, New Year's celebrations, 2010.
For me the whole point of travel is discovery and cultural immersion, where the best things are always found by chance. I did not of course foresee myself drinking Czech wine in a buzzing bar full of locals, in a place where men in business suits were rubbing elbows with youthful couples and families of young and old.
And much to my surprise, again, the wine bar I happened upon that evening was full of bookshelves stacked floor to ceiling created a library with as many Czech wines as foreign wines. With clever art, the claustrophobic proximity of wooden tables filled with charcuterie platters and small plates of bread, olives and cheese, and young waiters helping patrons to decide from chalkboard menus, you'd think you were in Paris or New York, or in one of the brilliant wine salons of Calgary I once treated as my office, growing my own discerning palette.
I'd been to the Czech Republic once before, three years prior, on a pilsner-soaked summer backpacking trip. Returning, I felt well-versed in the cavernous underground drinking dens of Prague, where the beer is often made in house to accompany hearty local meat dishes and smoking cigarettes and downing the rocket-fuel-strength Becherovka herbal bitters seems almost mandatory.
The Czech Republic is world renowned for its beer culture – having the highest beer consumption-per-capita on the planet – as the endless droves of locals and tourists who pack the smoky micro-brew pubs and restaurants to down bottomless pints can attest. But Similar to the delight many travelers feel when uncovering all that Prague in the 21st Century has to offer – glass and steel 5 star hotels, world class shopping and dining scenes and thriving modern arts intuitions – amongst the postcard views of the medieval city and thousands of years felt beneath one's feet, I was delighted to learn of a wine bar culture revolving around home-grown and fermented vintages.
A vineyard of Vinné sklepy Kutná Hora, below the town's most famous attraction, the St Barbara Church.
And more often than not, I found the local wine establishments were pouring for demanding locals head of visitors, where there seemed most people knew about local wines, and the Czech Republic's lengthy history of wine consumption and production.
"I think the biggest changes [in wine culture] happened around 2004 and 2005, when you started to see a lot more young people here taking a serious interest in wine, studying for sommelier programs, traveling to famous wine regions abroad, and so forth," says Evan Rail, a Prague-based travel writer for the New York Times and author of Good Beer Guide Prague and the Czech Republic.
"There's a lot of energy and awareness that these young wine lovers are bringing to Czech wine culture. I know a lot of Czech wine drinkers who start out by trying all the great European wines, then gradually come back to Czech wines," adds Rail.
"Others go the other way around. Either way, it's good for the country, as it means more educated wine lovers who will demand a higher quality product, whether it's domestic or imported."
Tasting wine with Lukáš Rudolfský and Jake Zahradnik in the cellar of Vinné sklepy Kutná Hora.
Rail notes that while the Czech beer market is almost closed to foreign importing, and a major player in global markets, domestic wine production is still fully absorbed with domestic consumption, where imports are needed to make up the rest of what people drink at home and in restaurants. Back in Kutná Hora I found that such is the problem for Rudolfský, who is unable to cellar and age any of his wines because demand forces him to sell every drop, even though he has yet to break into and foreign markets.
Knowing that January is strange time to visit a winery – where the fields were frozen, and the harvest and production seasons long past – I decided I needed to climb aboard the train and discover what life is like for a wine maker who is forced by free-market domestic demand to focus on producing small quality batches over cheaply produced hectoliters.
Stay tuned for Part 2: Aged in history, refined in the 21st Century; the organic growth of a new Czech wine culture.