How to produce T-shirts in Africa using the Batik technique
We've had the desire for a long time to work with artists and craftsmen from Africa, but never got the opportunity. That is, until recently, when our friend Seb told us about Moussa, a talented artist from Burkina Faso who has mastered the art of Batik.
Soundtrack of the report
Kardjatou
Floby
It was the perfect timing with the release of our "J'ai 2 amours" T-shirt collection to collaborate with him and introduce the world to this complex, wax-resistant dyeing technique.
A little while ago we wrote about the organization Mama Hope and their campaign "Stop the Pity, Unlock the Potential". We believe that Africa can have a bright future, but that people there need a little bit of help to unlock that potential … and we are determined to do whatever we can to contribute to this.
Moussa Zoungrana is an entrepreneur from Ouagadougou — Burkina Faso's capital —specializing in creating handmade garments and art using the Batik technique. Helped by one of his brothers and a friend, they spend days creating new pieces to sell in their small kiosk, which is also their workshop. Moussa has been working for 12 years on this venture, but unfortunately, it's not enough to live off, so he also works as the head of maintenance at a local university.
We really liked Moussa's work, and always wanted to know more about the Batik technique, so we ordered a limited collection of 12 T-shirts from him. We decided to extend our "J'ai 2 amours" series to Burkina, so Moussa created two designs representing his country on our request. He chose the Baobab that represents the "tree of wisdom" in the local culture. The second design was inspired by the Princess Yennenga, a legendary African princess, considered the mother of the Mossi people of Burkina Faso.
We asked Moussa to document the entire process of creating the T-shirts, so we could make a short video (see above) to explain the complex technique that led to the beautiful end result of the T-Shirts, which we received recently. As you will see, it's fascinating in complexity and I didn't realize each individual T-shirt would actually require a couple of days of work in total. Good thing he has a team of talented craftsmen with him!
Moussa, Alex and Ben wearing some of the T-shirts
We couldn't be more happy with the result and randomly had the chance to meet Moussa a couple of weeks ago in Paris to thank him in person. And he is such nice guy! If you ever want to collaborate on this type of project, get in touch with him now that you've seen his talents. He can do many different things from traditional artwork to shirts and pants or even cushions and linens (You'll see wonderful example in the photos here).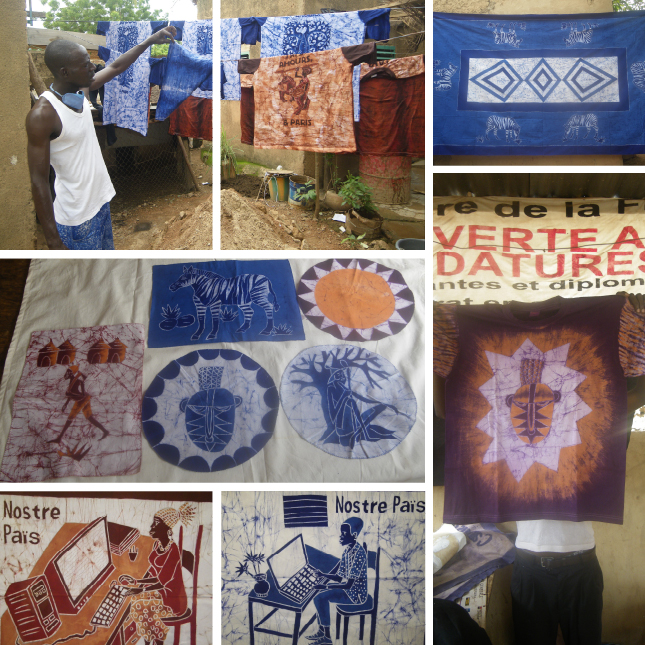 Some examples of the art that Moussa makes in his workshop
If you are interested in ordering one of the T-Shirts in this very limited collection, please write to shop@hejorama.com and we will give you the details. They won't be added to our online shop, as we only have a couple of units per size. We can also get you more of Moussa's creations. Feel free to also get in touch with him directly by writing him an email to smoussas_syfed@yahoo.fr or via his Facebook page.
Hopefully, next time we'll go to Burkina and work on a new project with Moussa directly there! That would be a beautiful was to follow up what has been a great experience.
Team Hejorama
Memo: the steps of the T-shirt creation using the batik technique
Step 1: Make the drawing on the T-shirt using a pencil.
Step 2: Prepare the wax by melting it in a hot pot.
Step 3: Using a thin brush, apply wax over the details of the T-shirt you want to keep white. Batik is a wax-resistant dyeing technique.
Step 4: Using a bigger brush, cover the larger areas that you want to protect with wax.
Step 5: Apply a second layer of wax over the T-shirt using old wax this time.
Step 6: Prepare the dye by mixing powder of the colour you want, caustic soda and sodium hydrosulfite.
Step 7: Dip the T-shirts in the dye for 2-3min.
Step 8: Hang the T-shirts for them to dry a bit. You can optionally repeat the waxing process to work on several layers of colour and gradients.
Step 9: Take a well-deserved break with your friends.
Step 10: Wash the T-shirts in hot water to melt the wax and clean it off the fabric.
Step 11: Dry the T-shirts and proudly admire your good work. Congratulations!
Step 12: Show them to your friends and teach them the Batik technique!