T
his week on Hejorama, an exclusive interview of the French DJ duo, Christine!
Soundtrack of the report
4 Ton Mantis (Christine Scratch Live Remix)
Amon Tobin
If you don't know them already, let's introduce the French DJ Duo
Christine
. Yes like in the John Carpenter Movie and the original Stephen King book where the legendary
Plymouth Fury
comes from. Strange name for a duo of guys! But their music is like a good horror movie except that you are dancing much more! Aeon Seven et Kunst Throw, the two DJs from Christine, started in Rouen in France before making Parisians dance in the most famous clubs like the Social Club. Then the
Printemps de Bourges
Competition paved their way to fame and famous festivals all over the world! We wanted to know more about their beginning and their new adventures so they kindly accept to answer our questions.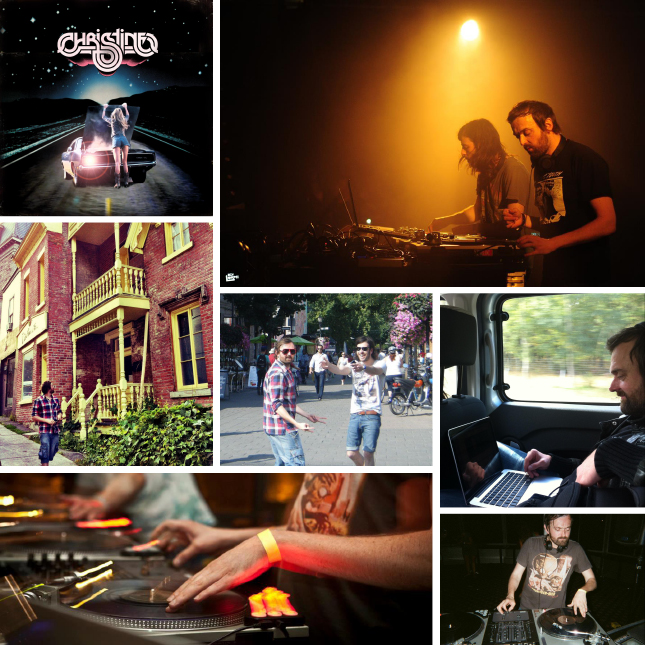 Who are you and how was Christine formed?
2 guys, 4 arms, 4 turntables We met 4 years ago and have the same musical influences and the same idea of the music we want to make so therefore created Christine in 2010.
How does a DJ duo work? Who's the boss?
Nico: Christine is all me :) No, it's quite complementary. The good thing about being a duo is that there are two brains, it's handy and easy for us to agree with each other.
2012?
A great year for us, the beginning of our big live shows, travel, encounters and doing music professionally.It's just incredible to be paid to go play in Réunion or Canada and to feel so welcome, to have played at the biggest festivals in France (Solidays, Eurockéennes, Vielles Charrues, Francofolies, Garorock…) and Switzerland (Montreux, Paleo). We were lucky to play with artists like DJ Shadow, Justice, Sebastian, C2C… who are huge names to us.
Christine + Beat Torrent by Ben Lorph
Is grass always greener on the other side?
In Switzerland, it's really nice ;) No joking, Switzerland is the best. No man is a prophet in his own country. There is always a pretty crazy atmosphere at festivals, people are there to let loose and to enjoy themselves to the max. In a club it's a little different, it's more confined and the atmosphere is more about the context (place, time, slot, and line up). It's never great to play at 4am on a Wednesday even if it's at Social Club for example.
What tips do you have for festival goers?
Come 2 weeks early and bury your alcohol bottles on the site.
What do you listen to during your travels?
Often our great manager plays us old school French pop songs, and when we've had enough Stef listens to funk on his lonesome and Nico listens to tons of mp3s that he illegally downloads of course.
Nightlife in Paris?
Nico: I personally love Parisian nightlife, that's where I have my best and worst memories. I used to like Triptik when I was younger (Paris Social Club today), Bus, Sans Souci… Stef: I like to go to Bellevilloise. But for me it's all about the live music I've seen: Nouveau Caz, Maroquinerie, Flèche d'Or…
Petite vidéo du passage de Christine à l'International par Alex
Nightlife in Rouen?
There's a cool bar we drank at a lot at called Shari Vari, and for over a year now we have 106, our new concert venue.
Which travel memory do you usually keep to yourselves?
What happens on tour stays on tour…
A cultural practice discovered abroad that you use in your every day life?
Poutine, you'll need a strong stomach.
Christine's next adventures?
At the moment we're on our way to Marsatac, a big show with Breakbot, Busy P & SebastiAn. Otherwise, a Spanish tour at the end of October, Holland and Switzerland again :) And we're supposed to go to Mexico next May, and a lot more we hope, we'd love to go to the US!! Otherwise our first
EP Fucking Youth
will be digitally released on 1st October. We are also preparing our next 4 track EP that will be released in January 2013. --- Christine on the Internet:
Official website
,
Facebook
,
Twitter
and most important on
Soundcloud
Listen to Christine: