Nans and Mouts, Nus & Culottés
English subtitles will be available soon. Meanwhile you can practice your French. Sorry for that...
A
ugust 2012, we are going through a gloomy and rainy Parisian summer when Alex tells me about a new TV show he has just discovered on the French TV channel France 5.
Soundtrack of the report
Tout nu et tout bronzé
Carlos
Two guys depart naked from a location in France (completely naked!) to try and make a dream come true. In other words, I was immediately hooked... They set off and must reach out to people to find clothes, accommodation, food, transportation, etc. They must approach people whether they want to or not. They set out to make a snowman in the Alps, paraglide in Corsica, find an oasis in Morocco, tandem cycle in Holland, etc. A splendid idea requiring a great amount of courage also. It's exactly the type of spirit we are trying to develop with Hejorama. Create encounters, unforgettable moments, learn more about the world and one's self. Put together unique and more personal travel journeys. Question preconceived ideas about travel (including within one's own country), people, money... We were extremely thrilled and honoured to welcome Nans and Mouts, who were in Paris for the
DVD
release of their adventures, to our office for a meeting. So we chatted, as you will see, about the recently released
Lonely Planet's Traveller's Bible
that Nans worked on (with
Anick-Marie Bouchard
and
Guillaume Charroin
).
Under the torture of the almighty internet, we had to cut a one hour conversation down to 20 minutes and therefore have a ton of extra rushes. Some of the information we had to edit out but seemed important for us to mention anyway: - Congratulations and respect to the co-director
Charlène Gravel
who spent weeks looking at 80 hours (on average) of rushes and took care of the editing that produced this subtle balance. - For the survival in the wild aspect, they spoke to us about their friend and role model
Kim Pasche
with whom they spent a fair amount of time to train. Contrary to Bear Grylls who needs a flint stone, he only needs a knife… He hopes to recreate a world closer to our ancestors the hunter-gatherers.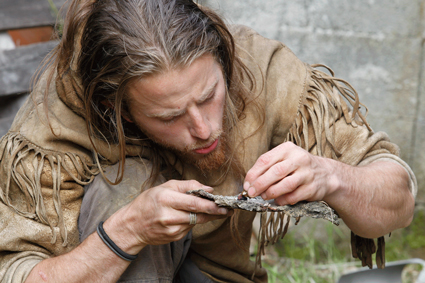 While we're on the subject, here's a reminder that
survival workshops
in the wild run by Nans and Mouts will take place (in theory in 2013). I know this is long for an internet video, put cast 20 minutes of your time aside, skip your lunch break, bunk your swimming lesson and take advantage of this lungful of emotion and adventure given to us by Nans and Mouts. Ben