It all started after I had moved to France with an invitation to have an art show in Vienna. A girl contacted me by email and she had a small gallery in MuseumQuartier called Fabrica de la suerte. There was also a record store and clothing boutique, husband and wife in two different stores. I tattooed both of them in the wife's boutique.
Soundtrack of the report
Roll Over Beethoven
The Sonics
Lily had seen my work in Juxtapoz magazine and was a fan. She also wanted a rather large tattoo, a "half sleeve" of fruits falling from a cornucopia. We spoke by phone and I found that we had a lot in common and she seemed really sweet. I designed her tattoo and we corresponded by the post. She decided to come to Paris to get it started as it was a project that would take 4 to 6 sessions of as many hours to complete. We got to know each other for the next 4 days. I tattooed her twice and we went to Disneyland Paris.
Next I was invited to spend three weeks in summer at her place in Vienna. There's no business in Paris in August and in fact the shop where I worked was closed all month. I remember well that I no money and I was eager to tattoo all her friends. I took a train and it was a grueling 15 hours. Her apartment was large (I had my own room and bed!) and so were the apartments of all her friends, high ceilings decorated with pop art.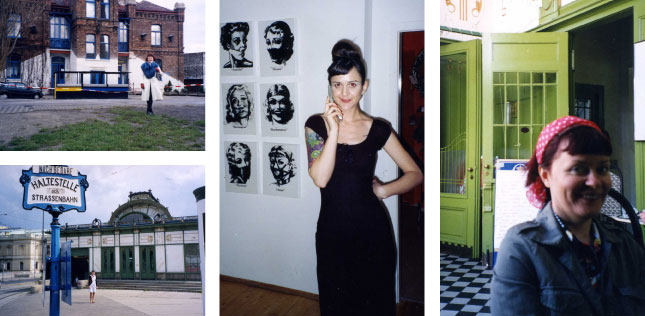 I found the city beautiful yet deserted. My impressions of Vienna were based on her group of friends. People were well off, relaxed but very depressed. In fact Lily is the only person I think completely ressembles a character from a film. She is Holly Golightly from Breakfast at Tiffany's, with her "mean reds" (far worse than the blues). And her friends reminded me of Valley of the Dolls. Pills and booze.
The architecture was incredible. I remember thinking that there must have been 1 in 3 citizens working in the business of architectural sculpture at a certain period of history. I loved the dark philosopher's cafes. You can feel the ghost of classical musicians. I decided that the city was very conservative based on what the women's shoes stores were selling. Shops were required to close at noon on Saturdays. I discovered banana tea. Demel's pastries and candy and learned that French pastries started in Vienna.
From this trip to Vienna, I met an artist friend of Lily's who had moved to Berlin. I made plans to visit him there. More about it in a future article.
My second trip to Vienna I was invited to tattoo in a shop in a little town in the middle of nowhere. Fantasy Island Tattoo by Serge in the little country town Lagerhaus in an industrial building that was once a chemical supply outlet. Serge and his family live in old converted train station next door!
Recommendations
Kissing- at bars when people start to get drunk there seems to be a contest to see how many people you can make out with! Girls on girls mostly (not very hygenic!)
Swimming in the Danube is possible. There's a part of the river sectioned off and apparently cleaned up.
In July and August you have Kino Unter Sternen, outdoor films in Augarten park.
There was talk about Sissi and the films of Romy Schneider when we visited the garden's at Schonbrunn Palace.
Favourite addresses:
Farmer's market on Saturday - Naschmarkt 4th district