Getting a tattoo during your travels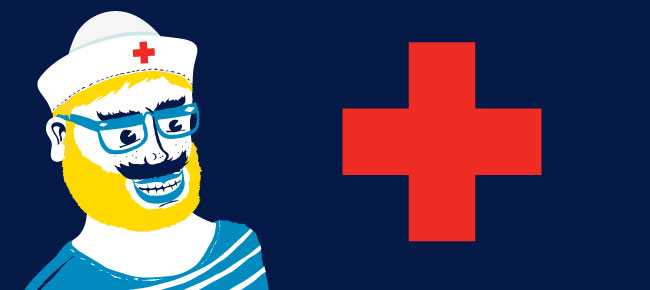 It is quite a common thing for a traveller to get a tattoo abroad these days. The adrenaline in the moment and the feeling of escape from the daily constraints simply push some of us to try new things.
Soundtrack of the report
Beat the Devil's Tattoo
Black Rebel Motorcycle Club
However, problems associated with this practice are the same around the world. The epidemic of AIDS, the range of hepatitis viruses and killer bacterias don't know borders. Without prevention, the risk of infection exists in any country, even the most modern.
Here, we lay out some tips for you to avoid disease and infections when getting a tattoo.
Before the tattoo
If you're looking for a particular style (Tahitian, Japanese, etc.) or the work of a specific artist (Rudi Fritsch in Milan, for example), the Internet is a good way to find tattoo artists who work at your next vacation spot. Many tattoo artists in the world exhibit their work on personal websites, such as Myspace. In addition, many studios have their own blogs or websites, some which give their references in terms of hygiene. You can also ask in a tattoo studio near you. Tattoo artists often meet at international conventions and can often refer you to good artists anywhere in the world. Or, if your dates match, you can travel yourself at one of these conventions.
If you're looking for a tattoo parlour close to where you are, be especially careful of the shop. Choose one preferably with a storefront on the street and if you don't know it beforehand, it might be safer to avoid the ones located in dark alleys and shady locations. The best tattoo artists often seek visibility, thus exposed shops. You cannot miss them; their fronts are often plastered with signs and neon lights. These tips are obviously not absolute, as there are some very good shops and studios hidden away, but in this case it's better to know the artist before you get to his parlour.
Once you've made your choice, don't hesitate to go in just to ask questions and get some information. You have no obligation to return with a tattoo so do not be intimidated - tattoo artists are usually nice and helpful people. Look around in the shop, a respectable tattoo artist will take care of his studio. Most of the artists have their own style, which you should see in the design and decor. They would decorate their store with paintings, toys, works of art and collections of objects. Also the most demanding about hygiene won't hesitate to display proof and certificates from the local health authorities.
In this regard, here are some basic rules:
Is there dust, and is the floor clean?
Are there people who smoke? Are ash trays full?
The shop area / reception is also where the tattooist operates?
These situations are signs of poor hygiene and show a lack of respect to the customer. If several or all these conditions are met, I suggest you leave the place and take time to research for a decent parlour.
Getting the Tattoo
So you think you've found the perfect place to get inked? Here's a quick check list to make sure the tattoo is created iin the most hygienic conditions:
• The needles are disposable and only used once ?
I highly recommend the needles used are disposable and discarded after use in hospital trays and make sure the needles are taken out of a sterile package. If the tattooist explains that he sterilizes needles, you shouldn't go through with it, as you wouldn't be able to verify the actual sterility of the material.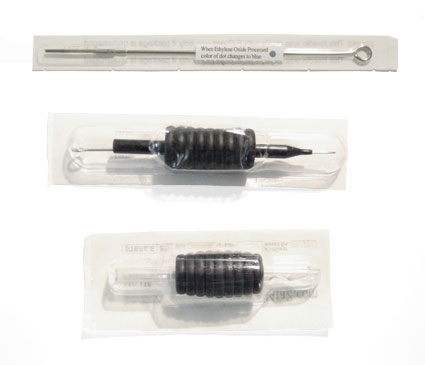 • What method of sterilization for the rest of the material should be used ?
The correct answer is "a sterilizer autoclave steam heat, pressurized, Class B". Moist heat allows sterilization cycles to be shorter and more effective; the Class B title keeps you from being contaminated with prions. It is imperative that the tube (metal shaft connected to the machine through which the needle travels) is treated by this type of equipment. It will then be presented in a plastic bag with one side of paper - tightly closed - which the tattoo artist will tear to get the sterile tube out.
• There are now sterile needles and tubes which are disposable. Very reliable, and they provide you very little material handling and therefore less exposure to germs and bacteria. It's a good sign if the tattooist uses these.
• In a good studio, the tattoo machine power cables are threaded through a disposable sheath of plastic. Some tattoo artists also enclose their machines in a kind of plastic bag to avoid contact with your body.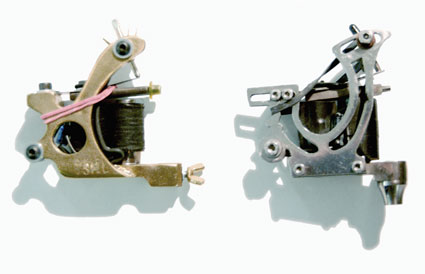 • The tattoo artist must wash his hands and forearms before the meeting. He must wear gloves and not touch anything other than the tattoo equipment. If he touches anything else, he must put on a new pair. A good tattoo artist is not frugal on the amount of gloves they use.
• The ink must also be new, leaving the tube and placed into containers called "caps", which are new and meant for single use.
• Do not be surprised to see the tattoo artist use paper towels and plastic film. Even if they are not sterile, they are also clean and disposable, ensuring a tattoo without infection.
After the tattoo
Each tattoo artist will give their own advices for how to help your tattoos heal. Here are some advices that I give to my clients :
Keep the bandage until the end of the day and for the first night (that will prevent blood stains on your sheets that are really hard to clean).
The next day, wash your tattoo in the shower with pure soap, being careful not to tear the scabs that hold the ink
Do not dry with a towel but leave it to dry in the open air.
After the first night, moisturize your tattoo to facilitate healing: Biafine or Bpantène are two very good creams for treatment (you might also use these creams to heal a sunburn as well).
Do not expose yourself to sunlight for at least six weeks.
Do not swim in the sea for a month (some cultures encourage to soak in a bath after a tattoo, but beware, it stings pretty bad).
No swimming or sports for two weeks.
A good idea might be to get your tattoo at the end of your trip so you won't have too much problems respecting these rules.
If you follow this set of rules and advice you will be safe and will have only to worry about the design of your dreams!
Sailor Roman