The well-traveled and city dwellers among us have learned to read metro maps with ease and efficiency. So much ease in fact, I myself often wish the style and structure of metro maps were utilized elsewhere. The following maps do just that:
Sam Loman's Underskin is a metro map of the body, making human anatomy as easy as buying a metro ticket. The subway lines represent the different systems of the body, with stations located at the organs and major bones.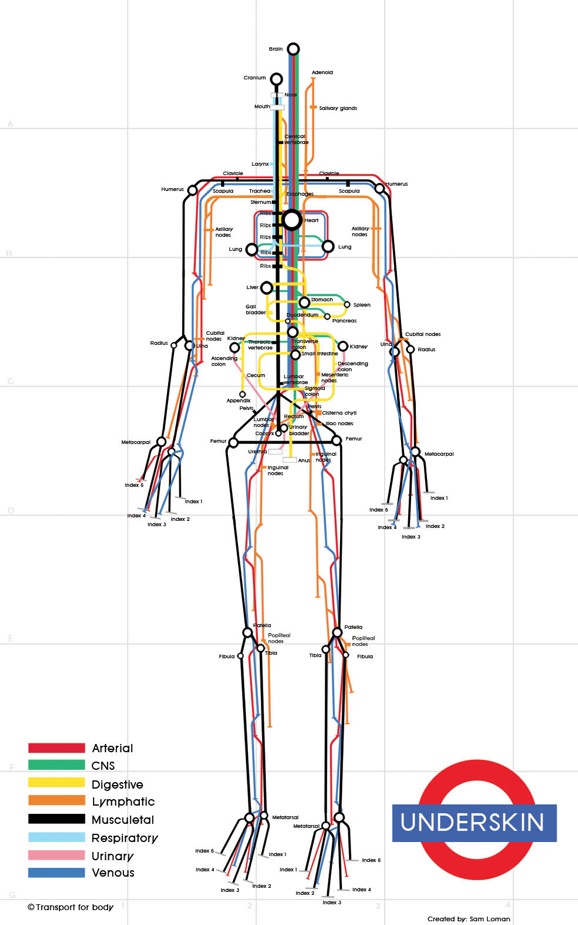 Cameron Booth's Interstates as a Subway Diagram is a simplistic representation of the U.S. Interstate Highway System, which in reality is anything but simplistic.
The Milky Way Transit Authority map by Samuel Arbesman depicts our galaxy in a series of subway lines and stations. The lines correspond to arms of the galaxy and the stations are actual locations within the Milky Way. While galactic space travel is not a reality to the masses, this map helps you imagine a time when it might be.
Lauren
"Collector of maps, passport stamps and freckles. Freelance writer and blogger about destination and design.". You can follow her adventures on doubletakesblog.com and Twitter.