A bicycle world trip in Paris
I
f you think of really cosmopolitan cities in the world, London or New York might come to your mind first. The Big Apple alone has over 100 countries represented in his various ethnic enclaves. And London is said to be the only place in the world where every single country has a restaurant serving its specialties.
Soundtrack of the report
Paris
Taxi Girl
We happened to live in Paris which might not be the most cosmopolitan city but has still a lot to more offer than most of people expect regarding ethnic neighborhoods. Growing up in the city of lights has definitely made us more curious of the world because of all the foreign nationalities we encountered there. Ruben came up with a great concept to show this diversity in a video, mixing his love for fixie bikes and deep knowledge of Parisian ethnic communities. He was joined in this adventure by our friends
Julot Bandit
and Sacha for the very first Hejorama ride in Paris. Equipped with Gopros and
Looxcies
, our elite rider team left from the Place de l'Europe and headed first to Little India near La Chapelle in the 18th district. Dodging cars and buses, they arrived at Little Tunis near our office in the 11th to taste some delicious pastries. Then, they made their way to the Jewish district of the 4th before arriving to the main Chinatown of Paris in the 13th. One more stop in Little Tokyo for a well deserved dinner of bento boxes and beers before the final destination of "Africa Town" and it's famous hairdressers in the 10th.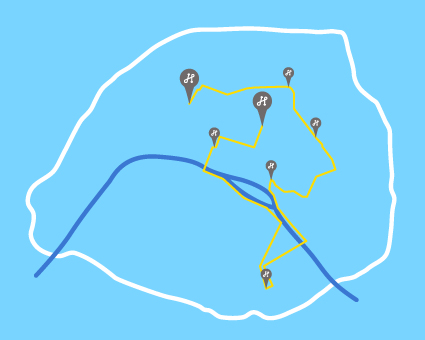 Travel around the world with this fantastic video and maybe you will want to discover all these areas yourself during your next trip in
Paris
. Thanks for rolling with us!