8 Christmas stories
4.9K views
10

minute read
B
ack from the south of France, where I spent Christmas with my family, I wondered how this traditional event is celebrated in others places around the world.
Soundtrack of the report
Jingle Bells
TenchiMuyo
For me, it was a delicious meal for the Christmas Eve. Foie gras, oysters, turkey with chestnut stuffing, Yule log. The presents — bought in shops decorated for the occasion, or in one of the many Christmas markets — were happily waiting at the feet of the Christmas tree to be opened, once the feast is over! When I was a child, I used to open them on the 25th as soon as I woke up, always after Santa Claus was gone. And now I am wondering, how are things going in other parts of the world? I haven't had the chance to celebrate Christmas in every corner of the world yet. And I definitely didn't want to simply look for information on the Net and not be able to distinguish the clichés from the truth. So I decided to ask to some of my friends about their Christmas experiences, away from their country and their culture, or simply living in a different country from mine. I also asked them where they would dream of spending Christmas. Here are their answers: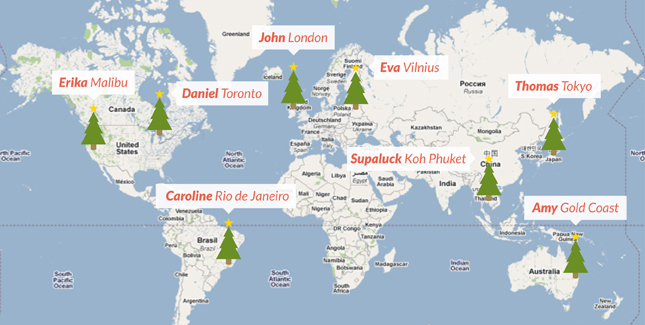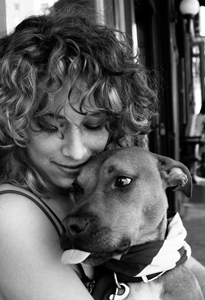 Dreaming of a romantic White Christmas
Erika, 22, photographer/songwriter, Malibu, L.A – USA « Christmas is a funny holiday for me, not only because I was raised Jewish, but because the only reason we celebrated Christmas was because my father was raised in the Lutheran faith, although he believed in nothing. We celebrate by cooking a copious and extravagant meal, all together in the kitchen and buying gifts for one another. As the years have gone by the gifts have become less important, but for most Americans it is a frantic gift giving time of year… Christmas in Malibu is a warm occasion. The sun shines and the temperature rarely drops below 50 degrees Fahrenheit. If there is a place I dream to go during Christmas it is a place where I am stuck inside a warm cabin, the woods outside, the fire inside, food in the oven, snow at the windowsill, a lover at my side. You know, romantic, White Christmas. That traditional story. Otherwise, I spent Christmas in France, once. In America all the commercial retail stores have sales, but in Europe, all the small towns set up little Christmas stalls where commercial retailers as well as artisans can set up winter boutiques to set up their goods. Actually New York does this, the most "European town in America".»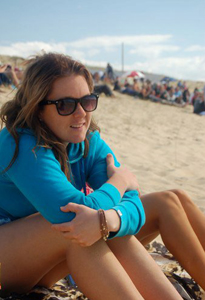 Christmas at the beach
Amy, 24, marketing coordinator, Gold Coast, Queensland – Australia « Christmas in Australia is celebrated on the 25th during the day. We wake up in the morning and open presents, the weather is usually anywhere between 26-36 degrees as it is summer. For that reason, we have a lunch instead of dinner and we don't cook hot food as it is hot weather. We have seafood for lunch such as prawns, cold chicken, salads and deserts and we drink a lot!. We spend it either with the family or the family go to a family friends house. Spend the afternoon swimming in the pool or at the beach. At night I personally go to a friends house who has a party at the beach every where but I'm sure every family is different. At the moment, I live in France. We celebrated it on Christmas Eve with a 5 course, hot turkey dinner. I tried mulled wine for the first time too. It is winter, which is the main difference. I live in Nice so it wasn't snowing but still really cold for me. There are more Christmas displays and decorations in the streets, Christmas markets and ice skating...Australia doesn't decorate as much. If I could spend Christmas anywhere it would be New York or Paris for a white city Christmas. Hopefully Paris next year! »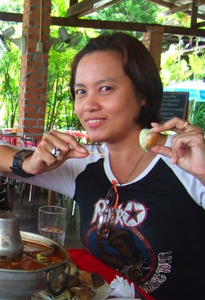 How Buddhist people are influenced by the western cultures
Supaluck, 37, district director in a central food retail, Koh Phuket – Thailand « I haven't really celebrated Christmas this year. I was in Chiangmai during the Christmas time. I went out with my best friend to the discotheque on the Christmas Eve and the day after I went to had dinner with my family who lives in Chiangmai. We were drunk with many litres of beer. Just like normal meeting during seasonal periods only! Christmas time is not an important for the Buddhist people. But because of we have received western cultures from international movies, the new generations changed. So, the big towns like Bangkok or touristic places like Phuket, Samui and Chiangmai (the north of Thailand) have changed a lot in the last 10 years. Hotels, restaurants and bars decorate their rooms in Christmas theme that's make everywhere looks so special. Anyhow, you would not see anything happened in the small cities. In Phuket there are many events before Christmas and New Year. The theme of circus in town is impressive. In Laos, it's quieter than in Thailand. How do they keep their traditions in this globalization network? »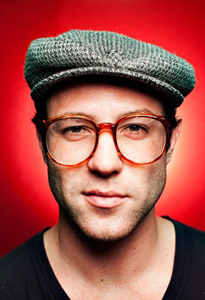 « In England, they opened these tubes called crackers at the meals »
John, 26, freelance designer, Brooklyn, NY – USA « This year I celebrated Christmas back home in California like I do almost every year. I love my family a lot so to be with them means a lot to me. We usually spend Christmas doing all kinds of family dinners and gatherings, and because all my family lives in San Clemente I end up getting fat. Ha ha ha! I have spent only one Christmas away from my family and it was while I was living in London. Luckily for me I had made a friend on CouchSurfing and she had invited me to spend Christmas with her family in the English countryside just outside of London. It was so beautiful and when I had arrived her family had presents for me. I had only met them once and they gave me presents. Who does that? That's so freaking rad! That was the most amazing thing ever. The experience was great and I was very happy to spend Christmas with her family. The big difference that I took notice of was that there were two times for gift giving and they opened these tubes called crackers at the meals. In the tubes you would find a paper crown and some type of small item like a toy or a joke to tell. When we first woke up on Christmas day we opened stockings. Then after that we had a lunch which was a bigger meal almost like dinner. And then later in the evening we opened presents and had a smaller meal or tea that was like lunch. Lots of small things like sandwiches. Back home I am used to opening all my gifts in the morning and eating breakfast and then going to my grandma and grandpas house where we have dinner. Being that my grandma is Sicilian we have Italian sausages. So Good! There were no big differences and it was good to be around people who made me feel like family so I wouldn't be sad to not be with mine. That was the best part. »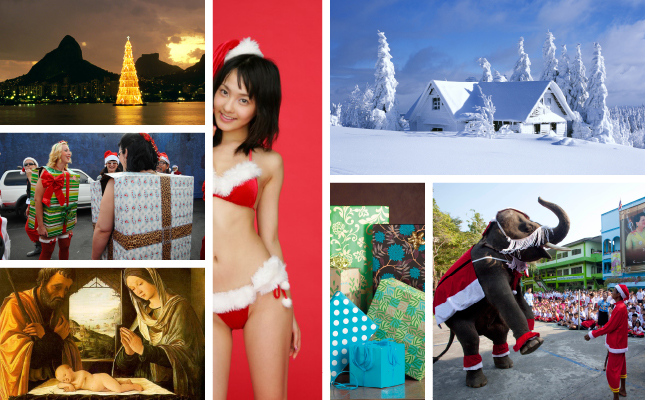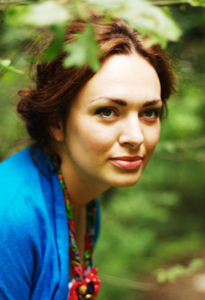 The important religious tradition of Kucios
Eva, 27, Vilnius – Lithuania « Christmas is an important event in Lithuania. The most important is the eve of 24th of December, we call it "Kucios". Preparations for the Christmas Eve take all day. The house is cleaned, food prepared not only for the special supper (Kucios) but also for the first day of Christmas. People fast and abstain from meat all day long. Christmas Eve dinner include no meat dishes. For the Christmas Eve dinner, the table is prepared as follows: a handful of hay is spread evenly on the table. This is a reminder that Jesus was born in a stable and laid in a manger on hay. The table is then covered with a pure white tablecloth. A small plate with wafers is placed in the center of the table. In some Lithuanian regions these wafers were called God's cakes for they were obtained from the parish and were imprinted with Biblical scenes of Jesus' birth. All family members make an effort to come home for the Christmas Eve supper, even from a distance places. Perhaps not so much for the meal as for the sacred family ritual. If a family member has died that year or cannot attend the meal (only for very serious reasons) an empty place is left at the table. It is believed that the spirit of the deceased family member participates in "Kucios" along with everyone. Twelve different dishes are served on the table because Jesus had twelve apostles. All the dishes are strictly meatless: fried fish (usually carp), herring, slizikai (traditional cookies) with poppy seed milk, kisielius (cranberry drink), some salads from potatoes or beetroot, pies stuffed with mushrooms, stewed cabbage and some others. The country people believed that Christmas Eve night was miraculous: various omens and rituals were done. It was believed that exactly at midnight all animals were able to speak like humans. But to listen to their conversation was extremely dangerous because you could learn the day of your death. At precisely midnight all water turns into wine, you must simply hit the correct moment which is of very short duration. If the sky is clear on Christmas Eve night and full of stars, the year will be good. »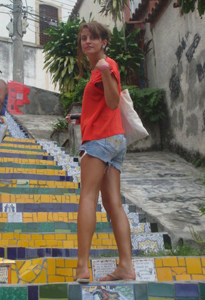 Christmas do Brasil!
Caroline, 24, communication assistant in tourism, Paris – France « My first Christmas under the sun, in Rio de Janeiro… From the middle of November, the shops, streets and buildings start to be decorated. It was funny to see Christmas trees, stars and Santa Claus when I was coming back from the Ipanema beach in bikini! The Brazilians enjoy to party, are very warm and 90% of the population are Catholic, so Christmas is a very important celebration. The spirit of Christmas, with the importance of the family and the friends, is reflected in the human warmth. I was amazed to see that event if it is a very poor country, they always have kind gestures to please their nearest and dearest. How do they do, in the favelas? I know that in the most of the families, they draw lots in order to offer only one present to one of their nearest. In the middle of the Rodrigo Laoga (lake) there is a giant Christmas tree, during one month of celebration. The 1st of December, there is an important firework… Wonderful! This day the offerings for the Lemanjà deity start too. On the little beaches at the feet of the Sugarloaf mountain, the water is invaded by white flowers and candles. For the Christmas Eve, I was with my Brazilian family. In spite of the warm, the turkey, pasties and other doughnut were here. And we shared this moment (thanks to Skype!) with my family in France… While I was drinking a Skol beer for Christmas, my father was with his delicious French wine! And while my cousin was playing guitar in France, we were dancing in Rio… Magic! »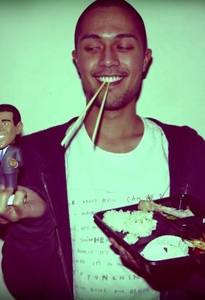 Back to Tokyo!
Thomas, 29, Art director, Paris - France « I have lived in Paris for 5 years, but I am originally from Tokyo (my father is Japanese). I have never celebrated Christmas in France. Every year, I go back to Tokyo, where Christmas is a very important event. Mostly because of the marketing... I feel more the "magic of Christmas" in Tokyo than in Paris! But even if children believe in Santa Claus and get presents, it's not a religious event. Just an other reason for celebration, to offer and receive presents, to say "It's Christmas, let's celebrate it!". Like Halloween. Everywhere, you can see Santa Claus, Christmas trees, tinsels, lights. There are parties in the clubs, special meals in the restaurants, special cakes and limited editions in the shops... Every places are decorated, even MacDonalds. Everything revolves around Christmas, in order to sell as much as possible. And it's above all an event celebrated for the lovers, the couples. Not so much the families. In Japan we have the Valentine's day where the girls offer chocolate to their boyfriends, the "white day" where it's the opposite, and then the Christmas Eve where they both give presents to each other, have dinner at the restaurant, maybe go to Disneyland! As for me, I celebrated Christmas with my partner and my family as my mother is French. This year, we had dinner at home with the family of my brother's wife and some friends. For us it was for the tradition, but for the others it was just for the fun... and the presents! »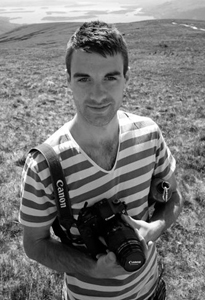 White Christmas
Daniel, 25, journalist, Toronto – Canada « Christmas is most importantly about being around family. On Christmas Eve, we always have dinner and sit around the fire at home swapping stories and usually enjoying wine. Usually in my family, we start Christmas Day with coffee and eggs, and Champagne and orange juice. And then we open all our presents and stockings together – my favourite tradition of all. Usually we try to do an outdoor activity – like a long walk or skating – and then always have a large family dinner, complete with turkey. Christmas is a huge part of Canadian culture. It's the most important holiday of the year, hands down. Not only is it the biggest time of year for retailers and travel companies, but also in most schools and offices – as everyone is trying to finish things up before taking time off over the Christmas holidays. Usually decorations are up in the city after Halloween – a long time before Christmas! Canada really know how to decorate for Christmas, and if you're lucky – they'll be snowfall on the big day to make it a white Christmas. I spent Christmas in Lisbon, Portugal one year. It was hard to spend the holiday away from my family in Canada, but it we were welcomed warmly by everyone we met in Lisbon. It's a very traditional part of Portuguese culture as well, so it was nice to learn about some of the family traditions there. All the stores were closed and most restaurants as well – it was really hard to find something to eat! Another year I was in Cuba around Christmas. The Cubans really know how to throw a Christmas party, and it's a really important time of year when many people are off work – like anywhere else really, but with really warm weather. »

--- If you also want to share your Christmas experiences from somewhere around the world, you should simply write a

chronicle

on Hejorama! For that you just need to register and start a new one in your

personal space

. Happy new year and best wishes for 2011, all over the world! Maéva