Eating like the locals in California
I had the chance to meet Melissa in Berlin a few weeks before she left the city after spending a year in Germany. She describes herself as "an entrepreneur, artist, minimalist, foodie, writer and slayer of dragons" but I would simply say that she's totally awesome. When she's not busy printing gangsta-rap greeting cards, leading an entrepreneurs groups or writing posts for her blog, she prepares a round-the-world adventure conciliating food and art. Her first destination? Bangkok where we'll have a chance to meet her again. But before that she takes us to her native California and gives us her best tips/addresses to eat like the locals. -- Alex, Team Hejorama
I
've done my fair share of traveling, but I was born and raised in California. Technically speaking, I'm even a "Valley Girl" since I grew up in the suburban shopping mall-crazy pocket of Los Angeles nested in the San Fernando Valley. (Like, omg.)
Soundtrack of the report
It's Just A Ride
Jem
Throughout my upbringing, my family and I bounced around the Los Angeles area and I went to college 7 hours up the coast in sunny Santa Cruz. Though my mother is a great cook, she's pretty lazy in the kitchen, meaning I've had the pleasure of dining out constantly from a young age. So, I feel pretty qualified to share with you my top tips on eating like a local in California. Below is my finely crafted, taste-tested Foodie Roadtrip of classic California dishes on the drive from South to North. If you have a couple weeks (or months!) to explore here, drive up the mind-numbingly beautiful coastal highway 101 North from San Diego to San Francisco, stopping in Los Angeles, Santa Barbara, San Luis Obispo, and Santa Cruz on the way. Your mouth will not be disappointed. Fret not if you don't have the time to cover all that ground--you can still find great places serving up the following classic Cali dishes. Without further ado, the awards for Best In Kitchen go to... Menu: jump directly to
Los Angeles
,
Santa Cruz
or
San Francisco
.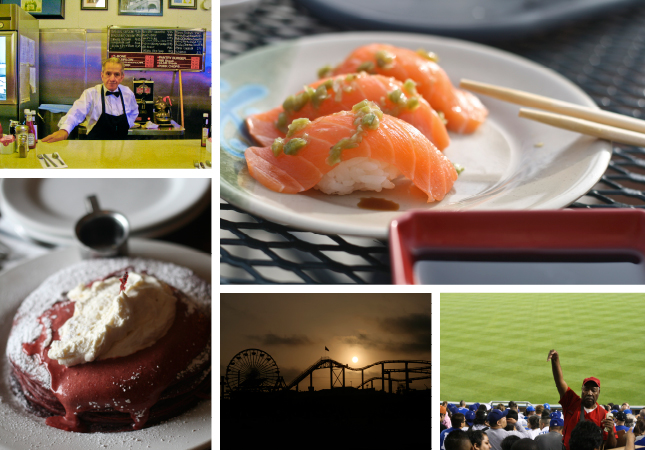 From left to right: 1. Pantry Cafe, 2. Sushi at Genki, 3. Pancakes, 4. Santa Monica Pier, 5. Dogers game
&nbsp
LOS ANGELES
Pancakes for dinner at the Pantry Cafe
Unlike its think, crepe-like namesake from Europe, these hotcakes literally melt in your mouth. Yes its sweet, yes its indulgent, yes its way more than one person can or should eat for breakfast or for any time of the day, but this is America, damnit! Its a rite of passage, and I'm sorry, but you'll have to deal with the incumbent food coma. If you go on a Sunday morning, you'll be in a long line out the door, but its worth it. Luckily, this historic Los Angeles joint is open 24 hours a day. See a baseball game at Dodger Stadium a few miles away and head here for a late night breakfast.
Frozen yogurt at Golden Spoon
California's obsession with this "fat free" sugary delight has been going strong for at least five years. I must admit I am weak around this sweet delight.. at the height of my addiction I had a cup every day. I've scoured the land for the most delicious, smooth, and affordable frozen yogurt, and Golden Spoon gets my award for Most Awesome "Froyo". Get a mini size--even the small is more than a grown man can handle. My favorite flavors are cake batter and peanut butter with mochi.
Sushi at Genki
Perhaps the only thing Californians love more than frozen yogurt is sushi. Personally I like to eat both on the same day--I think creamy froyo is the perfect dessert after fresh seafood. You'll find no shortage of sushi places in California (maybe because we're by the beach?) but my absolute favorite is this little family-run gem at the northern end of Los Angeles. Stop here for dinner after a day at Malibu beach--drive through the beautiful Santa Monica mountains via Kanan Dume Road and end up in seafood heaven. They have fresh wasabi, and its the only place I've ever seen it. Did you know that the green paste you usually get on the side of your fresh salmon is actually made of mustard and green food coloring? The real stuff looks like gooey green onions, and it is STRONG! Pair it with the old style Oops Roll (tempura, cream cheese, crab, avocado in soy paper) and you've hit a culinary home run. I'm drooling thinking about it.
Bagel at Western Bagel
I grew up eating these and am now incapable of enjoying a bagel made by anyone else. They are simply the most well-crafted, full-flavored doughballs in the world. Get an open-faced, toasted Everything bagel with cream cheese, tomatoes, capers, and "lox" (smoked salmon) for a light lunch. On your way out, get a baker's dozen for the road to give to your friends--you'll be a bagel hero. Head down to the Santa Monica Pier and the Promenade for LA's finest people-watching.
Soup at Pho999
Hot and satisfying, fill up on a big steaming bowl of vegetables, noodles, broth and meat with bean sprouts and brown sauce. You'll probably stick out like a sore thumb if you're not Vietnamese, but that's how you know this stuff's legit. Perfect if you've got a large group as they have extra large tables. Stare at the fish tank while you wait and the giant forest wallpaper.
View Larger Map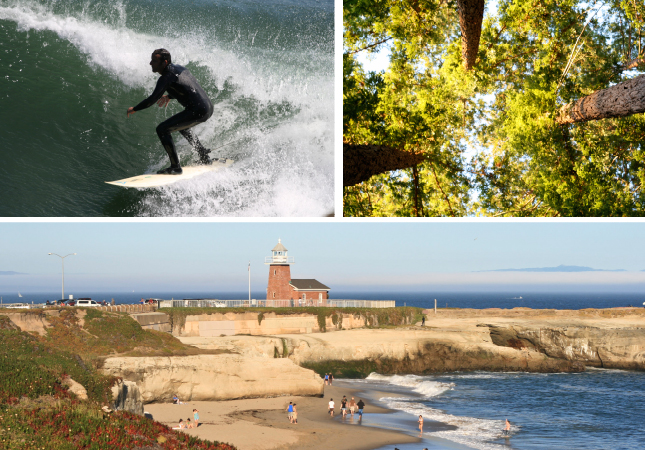 SANTA CRUZ
Burrito at La Cabana
Mexican food is a huge part of Californian culture, and although a "burrito" is a Mexican-American creation, it is, in my opinion, one of the greatest inventions of mankind. Take all things delicious--cheese, beans, rice, meat, sour cream, guacamole and roll it all together in one mouth-watering hot tortilla and bam--heaven on earth. Pick up one here and take a bike ride, drive, or walk down Westcliff Drive--my favorite coast in the whole world. Feel the positive energy emanating from all my happy hippie friends, see the panting pups fetching tennis balls on the shore, some of the most historic surf spots in the world, and watch the sun set over Natural Bridges State Beach. Life is grand is Santa Cruz, and a grand life deserves a grand burrito.
Sunday brunch at Cafe Brazil
After a long Saturday on the beach and a houseparty at night, soothe your hangover the next morning with my favorite brunch in the world. I've seen restaurants of the same name in many cities, but none come anywhere near as close to my heart as this place. Its one of those places where anything you order is out of this world--you literally can't go wrong. Some of my favorites are the crispy fish sandwich and the Santa-Cruz brazilian fusion dish, Tofu Preito. Most dishes come with palm of heart (reminds me of artichokes) on the side, garlic rice, and farofa (I think of them like bread crumbs)-- Brazilian classics served with a smile inside a bright blue-and-yellow little house on Mission Street. It's famous for its acai bowl, which is, in my uncultured American eyes, a giant Brazilian smoothie.
Pad thai and cocounut soup at Sabieng
One of the best parts of California is how many cultures are melded together here. Thai food is really popular, but the best I ever had was at Sabieng. Unfortunately they had a kitchen fire last year, but I'm told they will be reopening soon. Their lunch specials come with soup and a big serving of squishy noodles with black bean sauce at a great price.
Chinese food at Phoenix
The classic lazy day food for Americans. In my last year of university I lived in a big house with 6 students, and we had an unwritten family ritual of eating here 2-3 times a week. That says something about how good this place is. Or more likely how lazy we were. Cheap lunch special price plus a serving big enough for two means a lot of bang for your buck. Super friendly owners, quiet place to eat in or great for take out, and a lot of flavor. I recommend General Eggplant: garlic stir-fried eggplant with oyster sauce and rice.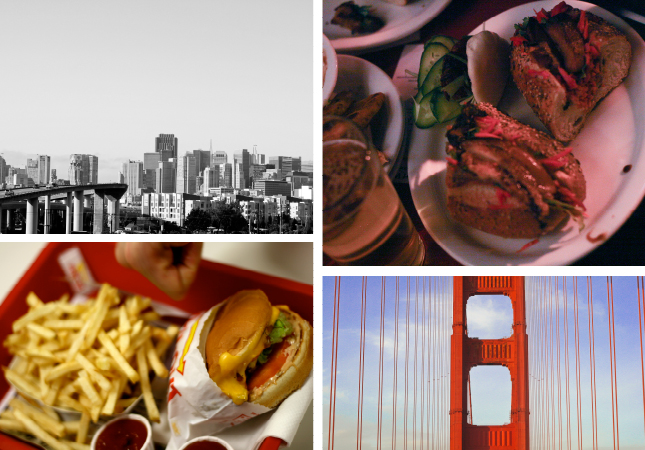 From left to right: 1. San Francisco skyline, 2. Bahn-mi sandwich, 3. In & Out burger, 4. Golden Gate Bridge
SAN FRANCISCO BAY AREA
Bahn-mi sandwich with Rice Paper Scissors
My friend Valerie Luu started San Francisco's first Vietnamese Pop Up cafe, which serves hot fresh Bahn-mi sandwiches and other goodies every Thursday night at Mojo Bicycle Cafe and in various "pop up" locations around the city. Its always up to the chef what's on the menu, but my favorite is the vegan duck on crispy dutch crunch bread with daikon and carrots. Like the infamous food trucks of San Francisco, you can check online where and when Rice Paper Scissors will pop up. Its all about handmade fresh food and enjoying the simple things in life with friends in a small, intimate space.
Cheeseburger and animal style fries at In-N-Out Burger.
I don't actually need to recommend this to you, because every person you meet here will tell you to eat at In-N-Out, but it is truly a California must. Technically fast food (and with a fast food price that can't be beat), In-N-Out comes with an actual fresh-never-frozen guarantee and its just an establishment that everyone loves. Its comfort food that you can get all over the state. Its the greatest after-party dinner you'll ever have. If you have the "medicinal" marijuana munchies, don't even think about going anywhere else. The "secret sauce" on top of cheese and grilled onions underneath the freshest French fries you'll ever find (you can watch the employees peel 'em) plus a chocolate shake and cheeseburger with grilled onions is truly worth all the calories. Don't forget to take a local with you or check out the "secret menu" online before you go.
Pizza and scones at Arizmendi
They make one kind of pizza per day, fresh and hot out of the oven right before your eyes. Don't like the day's offering? Unlikely, but you'd just have to come back the next day or choose from the wide array of mind-bogglingly mouthwatering baked goods like oatmeal scones, eggplant foccacia, and croissants. Cheap, delicious, fresh and friendly. Plain and simple goodness.
Vegan sandwich at Ike's Place
No better place to try out veganism or vegetarianism than with the San Franciscans. Sandwiches are one of the great loves of my life, and this place is not to be missed. You should probably visit California JUST to eat here. Search for 20 minutes for a parking spot, stand in a long line with a wide array of cool cats and young professionals, pay $11 for a sandwich, and then scream in amazement and delight at how worth it the whole ordeal was. Walk over to Dolores Park with your "vegan breaded chicken with wasabi mayo" sandwich and settle into the best 10 minutes of your life.
Salad at Intermezzo
Sometimes the stereotype that Californian's are obsessed with health is true. We love salads. Intermezzo loads you up with a massive mound of romaine lettuce piled high with all sorts of goodies like avocados and sprouts, fresh hearty bread and a scoop of egg or tuna salad in a big brown bowl. Great atmosphere for a lunch date. Once you're stuffed, take the other half of your salad and your friend on a stroll down this vibrant street, full of students, dogs, shouting beggars and funky hippie shops. ----
Inspiration at Mel's
I'm giving away 15 of my favorite illustrations, like the ones I drew above, to Hejorama readers. It's my way of saying thank you so much to Hejorama for the opportunity and to you for reading! So, thanks a ton, and go
grab my illustrations
! Melissa