Interview of the week: Fab&Vivien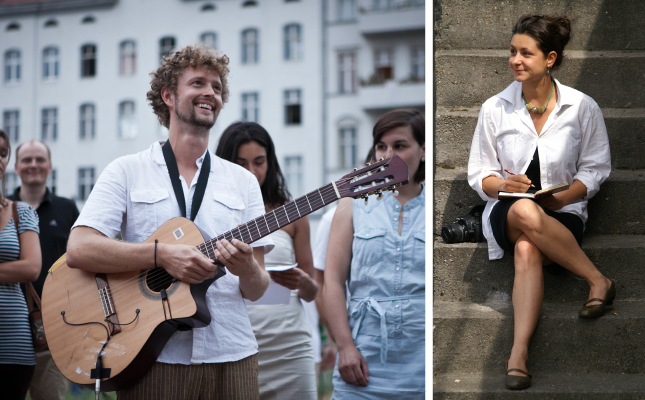 Fab and Vivien are two travelers from Berlin who left their hometown two months ago to go around the world and make the world a better place.
Soundtrack of the report
With My Own Two Hands
Ben Harper
"What if we could sing to change the world?" wondered Fabian when he organized his first 'Singing for change' fundraising event. The success of this first operation led him to plot a bigger plan to make even more effective changes around the world. Helped with Vivien, he decided to travel around the world to meet various local grassroot initiatives in Africa, Asia and South-America with the intention of finding ways to support them.
Fab&Vivien decided to partner up with betterplace.org to raise the money for this local projects. In exchange, they will sing in all those countries and make videos out of their adventures to document it. But here's the catch, for every 10€ that are donated, they will need to find one person to sing with them in a public performance. If they don't succeed in finding the required number of people? Well, it's up to you to decide what will be their penalty.
They left Berlin about two months ago and are currently in Granada as you can see on our map. Their first video has been published on their website so make sure to go have a look to see what they've been up to so far.
Watch their awesome introductory video and then see their answers to our questions to discover a little bit more about Fab&Vivien:
1. How did you become travelers?
Many people like visiting places – so do we. There was always an interest in other cultures and different languages – thus the best is to go and see yourself what is going on. We both have lived abroad, Fabian lived in Santiago de Chile and Madrid and I lived in Seville, Cork and Dublin. Spending the past few years in Berlin – which is a great place to live no doubt – it's about time to move on. Going traveling to see the world, meet people from all kinds of places and do something useful along the way.
Follow their adventure using our HejoMap system
2. Why is travel appealing to you? What do you get from it?
It is about leaving the place that you are familiar with and to discover things, places and people that you didn't even know that they existed. Seeing the world with your own eyes as opposed to what you have learned in school, university and through the media. Experiencing is very different to being told things that are supposedly facts about a place. The other appealing aspect is that you are on a journey, in movement, there is no destination as such. This changes your outlook on life and the way you perceive things. There is one phrase that I first heard by an Irish member of the Travelling community (nomadic Irish People that were mostly made sedentary by the Irish majority population) that sticks to my head: "A rolling stone gathers no moss". Traveling keeps your mind healthy and prevents you from getting stuck in issues that are of minor importance.
3. What is your favourite memory of travel that you usually keep to yourself?
There is no single story favourite story that I could recall right now... but it has always to do with what you could call "the kindness of strangers". I find it fascinating that there are people in any given place that are willing to help you without knowing you at all – just because you are co-human being and need their support.
4. What is your best asset when you travel?
Being open - and happy to see and experience whatever may happen (as long as it isn't threatening, of course). If you expect anything in particular you might either end up disappointed or you are too focused on your ready-made picture that you miss out what a situation or a place is all about.
5. Any cultural practices you've learned in travel you use in your own life?
More from living abroad than from traveling (although this isn't much of a difference in many respects): I still find it hard to be punctual despite having lived in Germany again for almost three years. I learned not to stress myself to death just to arrive on time – as it is common in Germany. The first thing I learned in Spain was "prisa mata" which translates as "being is a rush kills". That was one of the most valuable things I learned in the last ten years. Apart from this: using olive oil on bread, appreciating a proper pint of Guinness and drinking mate to keep you awake and concentrated.
6. About your trip, why did you decide to embark on such a journey?
It was Fabian's idea – as an extension of his fundraising campaign "singing for change" on a global scale. In return for a donation you could request a song that Fabian would play, and how he should perform it. He once sang Kylie Minogue in women's clothes. I always wanted to travel for a longer time and do something that makes sense to me while on the road. You also get the to know the country and the people much better once you interact with them in the we do. So, last spring we decided to go on the trip together. It is also about breaking free from the daily routine of a full time job – and to see how you can use what you have learned not to earn money for yourself but to do something adds a different kind of meaning to your life.
7. How did you prepare it? What resources did you use?
We were looking for companies that would support our project. We primarily contacted them online and addressed them in self-produced videos, explaining the project. Betterplace.org assisted us with finding promising grassroots projects and we used our networks to accumulate information in relation to projects and traveling in general. Apart from resources we got with the help of many companies, we also offer our "services" in return for a donation to help us cover our expenses: give us a task of whatever kind and we'll do it! Leave the instructions at: fabandvivien.com/donate
8. Which song are you looking forward to sing the most?
We don't really know – in every project we'll sing a song in the local language – so we probably don't know the song yet. So it is gonna be an interesting surprise every time. We are looking forward to meeting great musicians along the way
9. Besides singing, what else do you hope to do during this trip?
Meet a lot of interesting people, learn more about creative grassroots projects and inform the global Internet community of those – to show that there is more to poorer countries than poverty, diseases and conflict. And to show people that if we all just share a little, a lot can be achieved. We are one human race and we should focus more on solidarity between each – that is a message we would like to deliver and that we would like to change in people's heads.
10. What do you hope won't happen during this trip?
That we loose faith in our project - it is very important for us to receive input from many people with suggestions, hints and criticism – that will help us to keep going.
11. What can people do to support you?
All support is appreciated. If it´s some word of motivation, joining our Facebook group, registering for our newsletter or donating for the projects we visit. Whatever it is, the starting point is our website fabandvivien.com