Drinking wine in beer country (2/2)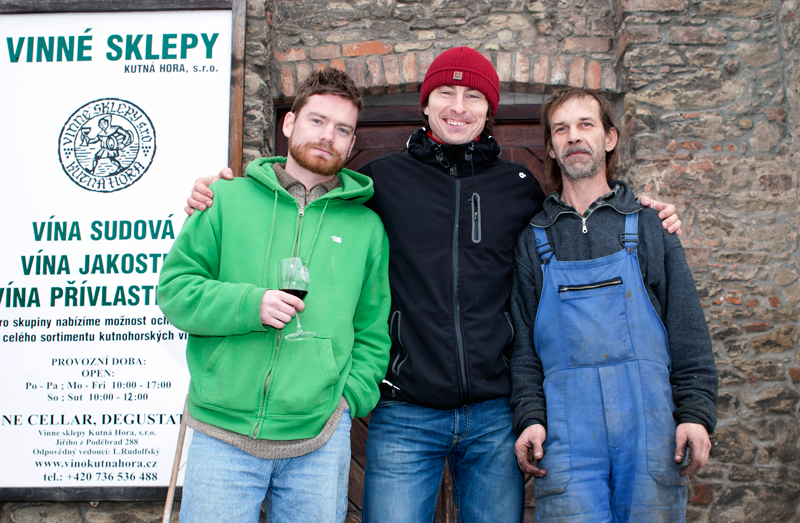 The team at Vinné sklepy Kutná Hora.
When a black Skoda screeched to a halt in front of me at the Kutná Hora station on that cold and drab Central European day, I expected the communication between myself and winemaker Lukáš Rudolfský – who only speaks Czech, but had promised an interview and a ride from the station – to be more than a little disconnected. More surprise came next.
Soundtrack of the report
Bottle of Red Wine
Eric Clapton
An employee at the winery, Jake Zahradnik – born in this small town and raised in my hometown of Toronto – was instead driving, saying he was happy to see another Canadian. It seems I had also saved him a morning's worth of hard labour: rooting apple trees from a frozen field the winery had recently purchased, which was to become another vineyard. Zahradnik would also act as a translator as I interviewed Rudolfský, although his own story was interesting in itself.
His parents escaped communist Czechoslovakia to Canada in 1983 – Zahradnik then an infant – after more than six months in refugee camps. That was six years before the Fall of the Berlin Wall in 1989 and Velvet Revolution that followed, restoring democracy and eventually dissolving the country into the Czech Republic and Slovakia. I remember Zahradnik saying he did not feel entirely Canadian, and was back to put some hard labour on the land as a way to discover himself and his Czech roots.
And hard work it was I would learn, working under perfectionist and entirely organic wine producer – the only organic producer in Bohemia - like Rudolfský. Fitting in nicely at the family-run winery of just six employees, it would seem Zahradnik had chosen to work in an industry that is as important to Czech culture as ice hockey and beer.
On the day I visited, the front entrance and shop of the winery, stocked with the full line of Rudolfský's wines, books and wine glasses for sale - only the best Bohemian crystal of course - was undergoing some renovations. Carpenters were installing beautiful new cabinets, complete with bunches of grapes hand-carved into the moldings. Grapes are always in the detail in the Czech Republic it would seem.
Later, as Rudolfský was guiding me on the tour of the winery, he stopped in the opulent monastery dining room - which he said hadn't changed much since 1733, when the place was built - to point out that grapes have been a prominent fixture in Czech religious art for many centuries. Tongue in cheek, he says that grapes were incorporated to remind people to not get too drunk, but I think it has a little more to do with tradition and celebration.
"If [the wine] makes a connection with a cultural element of Czechs, then they are going to enjoy it and want to drink it," he says.
Indeed my first clues about the history of wine in the Czech Republic came in noticing bunches of grapes planted in frescoes and carved into statues in Prague's cathedrals, and in trying to learn something of Vinohrady – the Prague neighbourhood where my hotel was located – which translates literally to 'vineyards.'
The neighbourhood got its name after what can be seen as the first revolution in the history of Czech wines: when in the 14th Century, the Holy Roman Emperor, King Charles IV, imported Pinot Noir grapes from Burgundy – the most famous production region of the wine world's most lauded grape - and reigned over more than 20,000 acres of vineyards from Prague's Vinohrady to Bohemia. Today, the splintered Bohemian region has less than ten per cent of land with around 1900 acres, and makes up less than four per cent of the market of Czech wines sold abroad.
The second revolution was perhaps the advent of the free market and increase in disposable incomes of those who prospered after the fall of Communism, and Velvet Revolution of recent memory, where Czechs were offered the choice of the world's – and especially Europe's – finest wines. Rudolfský is like many producers in the Czech Republic, having traveled the wine world for their own education. He says it's important for Czech producers to learn from what others are doing abroad in terms of growing and creating new tastes and qualities, and not stubborn in their ways of traditional production. He also says Czechs and Czech producers should remember the country's long history of wine production, but realizes the industry is still evolving, and improving every year.
Rudolfský comes off as confident in his knowledge of winemaking, perhaps because it's the trade he grew up in. Or perhaps it's because he knows the Bohemian terroir, or land and soil of the region, is regarded in wine circles as perfect for growing highly acidic and mineral-laden white varietals. Rudolfský already grows and produces wines with a number of these grapes, such as Riesling, Gewürztraminer, and Pinot Gris, famously produced in Germany, Italy and the Alsace region of France, and Müller-Thurgau and Grüner Veltliner, used in world-renowned wines from Germany and Austria.
The third revolution has perhaps been in the an organic return to home: a focus and love of domestic vines. In less than two decades since the end of Communism, the renaissance in the Czech wine industry has seen the replacement of what was described to me as "wine factories" - mass-producing wine at a low cost with little character - with independent wineries producing fermented grape juice that is quenching the discerning thirst of a growing number of connoisseurs.
"Drinking wine for certain tastes used to be a posh thing for Czechs," says Prague-born sommelier and wine columnist Klára Kollárová of post-communist Czech Republic, "but not anymore. People here like wine, and you can see that right away," she says, sharing a glass of Czech Pinot Noir with me at the Vinograf wine bar she operates.
After a race back from Kutna Hora to Prague – from train, to tram to mad-dash through throngs of tourists on the Karluv Most (Charles Bridge) – I found Vinograf, with seating for about ten people, down another quiet cobbled lane, steps from the bridge. Perched inside the cleverly named Hotel Pinot – with 13 rooms, each dedicated and named for a region or style of wine – Kollárová's bar features the wines of Czech producers, many of whom she knows personally, from both the Bohemian and Moravian regions. She laughs in saying that the handful of foreign wines on her wine list, made up of selected international favourites of the staff, only exists so that people can see how good the Czech wines are when tasting both side by side.
Left, Vinograf wine bar. Right, a bar advertises specials for Prague Wine Week, an international festival held in January.
"People come here because they want to drink and talk about good wine," Kollárová says. "There are two types of Czech wine drinkers," adds Kollárová. "Those who enjoy good wine for the price, but aren't as demanding. And those who come back to talk about wine, and are pushing the restaurants to have more [Czech wine] choices - and that group is getting bigger every day."
Kollárová, who has been serving wine in the tiny wine bar since 2001, says she knows the Czech wine industry will continue to grow domestically, because locals in bars and restaurants with a discerning taste are continuing to drink local, not only because of national pride, but also because the wines are meeting their standards in price and quality.
I quickly learn that Kollárová has an intimate knowledge and experience with local wine. She tells me the story of the start of her education in wine, serving hot mulled wine – a staple of Czech culture during the winter – to locals and tourists alike from a stand on the Charles Bridge, seen out the window from our table at Vinograf, mere steps away.
The wine list at Vinograf holds the names of Bohemian producers Kollárová knows well, having been to work the land and pick grapes at the wineries not far from Prague. Having spent the morning drinking wine in Bohemia, I'm curious of course to sample and learn more about wines from Moravia, which dominate wine lists across the country.
Wines from the Czech Republic's Moravian region, which make up more than 95 per cent of the domestic market, are grown in the southeastern corner of the country that borders Austria and Slovakia. Because of a larger market share and money to promote their wines, Moravian wines have a greater shot of selling abroad, according to Kollárová.
But ahead of breaking into an already flooded global market - I learned in a wine seminar from the Wine and Spirit Education Trust recently that there is probably three times more wine produced globally each year than seven billion humans can even drink - Kollárová says all Czech producers will find success domestically in focusing on making great wines for the Czechs who want to drink them.
"With Czech wines, it's not a matter of quality, it's a perception," Bohemian wine producer Lukáš Rudolfský had said to me earlier in the day. He points out the nose of sweet cherries in his award-winning Pinot Noir wine, as he savours the taste he has drawn from an oak cask, in the freezing cellar where we can all see our breath and I find it hard to hold a wine glass in my frozen fingers.
"I sell everything I make, and I can't make enough," he says. "It's too cold to drink right now, but it's really good."
Daniel