5 indispensable yet nonexistant travel gadgets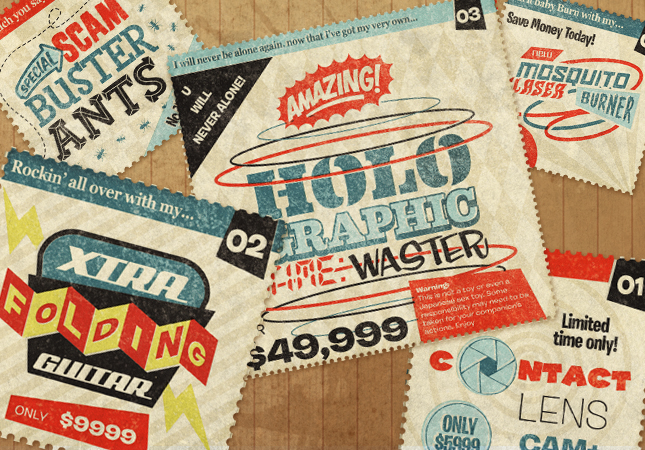 Small difficulties are the real salt of travelling. Making our way in a country where we can't read, write, speak and have no idea what we eat, overcoming the small glitches found out of our comfort zone usually give us a great sense of achievement. But sometimes little annoyances can spoil a trip.
Soundtrack of the report
Future Reflections
MGMT
Here is a selection of essential, yet nonexistant piece of technology that our gadgets-driven generation could use without compromising our reputation of heroic travellers.
The extra folding guitar
Designed by the best Tetris players, this guitar first looks like a pendant that you could proudly show off around your neck. Not only it increases your sex-appeal as the real around-the-fire-camp-on-the-beach rockstar, but it guarantees you to to amaze the opposite sex when it morphs into a real sized instrument at the push of a button. "Tears in heaven", "Still loving you", "Hotel California", "Stairway to heaven" tablatures and a set of heart-shaped picks are included in the package.
Version 2.0: a small loudspeaker would play the Transformers gimmick sound while morphing, attracting the closest geeks.
Contact lense camera
Tired of these "I'd like to record the scene exactly as I see it", "Shame I hadn't my camera handy" or "I so would like to make a picture of this local mafia boss with his big gun pointed at me" moments ? This contact lens embeds a 10-megapixels transparent sensor, a piezo-electric receptor, a nano-battery and a bluetooth module hidden under your eyelid. Just clap your chaps together: the vibration will propagate through your bones to the receptor, wirelessly triggering a shot instantly sent to your smartphone. Energy is gathered from your natural blinking, so no need to carry a bulky power charger.
Version 2.0: by slightly pinching the contact lens you will be able to adapt its field of view, from fish-eye to telephoto.
The Mosquito Laser Burner
This small device consists of a rotating 180°/360° mini laser and a camera. Laid on a flat surface or hung on the ceiling thank to a suction pad (sold separately), it tracks flying insects and swiftly terminates them with a deadly focused light shot. Recharges through its standard USB plug.
Version 2.0: by plugging The Mosquito Laser Burner to a computer, you will be able to manually control the device and play real life versions of Space Invaders with your tiny new friends… Show off your best score thank to the Facebook / Twitter integration.
The Scam Buster Ants
You know that taxi driver is trying to grossly overcharge you, but you can't argue in a language you don't know. Here come The Scam Buster Ants, brought to you by the latest researches in nano-technologies! Just open the matchbox-sized container and unleash a myriad of invisible tiny pico-robots: the Ants. They will start to crawl into the clothes of your new best enemy up to the very fibres. If a common scam is identified after querying an online database, the bots will quickly eat all the fabric worn by your villain, leaving him bare naked on the street. Satisfaction guaranteed!
Version 2.0: a new mode, Body Hair Eater™ will be added. That way you will be able to send a strong signal as you understood that you're being scammed and consequences may have to be faced.
The holographic time waster companion
Human-faced robots are actually existing. One can usually find them behind the desks of banks, social security services, VISA application offices or every other kind of administration. It is easy to spot them : they keep asking the same questions with their usual monotonous voice and then ask you to sit down for ages until they spot you again and remember why you've been waiting for so long. It is a real waste of your precious time that could be better employed having a beer with fellow travellers, flirting with a local or writing trip reports for Hejorama. Fortunately the Holographic Time Waster Companion can display an accurate image of yourself. Just discreetly lay its DVD sized pod on the ground and push a single button. A battery friendly neural network analyzes the questions of your peer and provides pre-recorded answers. Reclaim your free time!
Version 2.0: researches shows 76.4% chances that the administrative worker may connect at too deep levels with your holographic you. They may find its robotic voice and accurate answers very charming and may want to be involved on the spot in intercourses. To avoid damages caused by years of sexual frustration released in one go, the hologram will quickly morph into the less administration-receptive humankind: the mighty graphic designer…
What are the gadgets you'd have needed on your travels and that don't exist yet?
Charlie
Note from Hejorama: thanks to our friend Charles Flèche and Richard Roberts who teamed up for this great piece. Charlie wrote this while on the roads of his current adventure from Cambrai, France to Cambrai, Australia by bicycle. And a superb illustration as usual from the talented Rich!