For several years, the burlesque striptease has been all the rage. In France, you can take lessons to know the right gestures and attitudes, many strippers perform on stage or in bars, Dita Von Teese is advertising for several brands (Perrier, Cointreau, Jean-Paul Gautier).
It's funny, spontaneous, daring, sexy, intelligent. In particular the new burlesque, is supposed to resume the codes of the 40's burlesque, re-appropriating them to claim things, to assert one's personality, to reject the models imposed by society, all with humor and second-degree.
Louise de Ville is a new burlesque performer originally from Kentucky, arrived in Paris in 2005, taking with her all the eccentricity and the claims of American strippers. She began by doing political theater when she was a student, pointing to rapes occurring in American high schools. She began to do new burlesque performances 7 years ago when she realized that people payed more attention to what she told when she wore underwear !
I met Louise two weeks ago, with the opportunity for me to ask her some questions about her life, and to know why I could observe such a difference between the American new burlesque, and the French one.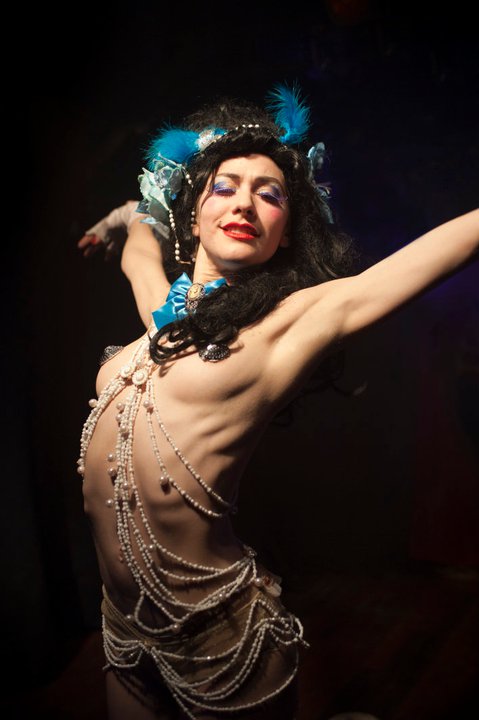 My opinion is that the French strippers are more shy and less professional than Americans. I think the American new burlesque is an art. The performers think about the message they want to transmit, in each of their steps, they train, invent a character or exaggerate a significant aspect of their personality, and at the end the shows are considered, have a sense, are beautiful, eccentric, intelligent funny. It is both a striptease, a play, a choreography.
In France, there is a big popularisation of the new burlesque. Anyone can take or give lessons, and that's cool! But the most often burlesque comes down to undress, have pretty underwear, know the right gestures and good attitude (naughty eyes, remove gloves with one's teeth ...). We are in the technique, the aesthetic, but we lose in self expression and spontaneity. And we forget the original meaning. All the girls reproduce the same gestures, think aesthetic, gestures and attitudes, and wrap up everything with a scene thought a little faster. Rather than put forward their differences and their personalities, they all become the same.
So that is my opinion. Of course there are exceptions, and there are french strippers that I admire, 'cause they think more about the reason why they do new burlesque, they are able to take a new look on themselves, and to see the new burlesque as a real art. But I noticed this gap and I wanted to hear from Louise de Ville, the American in Paris.
I'll let you watch her interview and make your own opinion!
Maéva
More about Louise de Ville :
- http://louisedeville.com
- http://vimeo.com/20200553