Welcome to the hostel Hejorama
House to sell on Chulia Street in Georgetown, Penang, Malaysia
While I was walking around the streets of Georgetown in Malaysia one day, I passed by a beautiful old colonial house that had a "for sale" sign. I spent the rest of the day dreaming about what a Hejorama hostel would look like if I had the money to buy this place. I started making plans about this future venture and now I've decided to share them with you here as it's always good to share ones dream.
Soundtrack of the report
Hotel California
The Eagles
The location
Choosing the location is probably the most difficult step in such a venture, and we'd probably simply wait for a good opportunity to arise. Given our deep knowledge — and love — of big cities, it would seem natural to establish our first hostel in an up and coming area of a big European capital city.
Perhaps somewhere in Hackney, our longtime favorite area of London. Or maybe a long-term investment on Berlin's Wedding or Moabit. Ideally, it would be somewhere affordable, not too gentrified, culturally mixed and not too dodgy so tourists aren't too scared to visit. But if it comes to really having the choice to do it anywhere, we might try a real adventure somewhere exotic like an island in Cambodia, or a risky business in Colombia. Meeting the right partners would be the key as we are interested by the whole world.
The building
As you know, we have a passion for old ruins and abandonned buildings. That's why I stopped in front of this house in Georgetown and we'd probably be scouting for warehouses in cool areas. The old storage buildings in the docks of Red Hook in Brooklyn would be absolutely fantastic for instance. Or, one of the oversized rundown mansions on the Esplanade in New Orleans. If it doesn't have character, it's not Hejorama...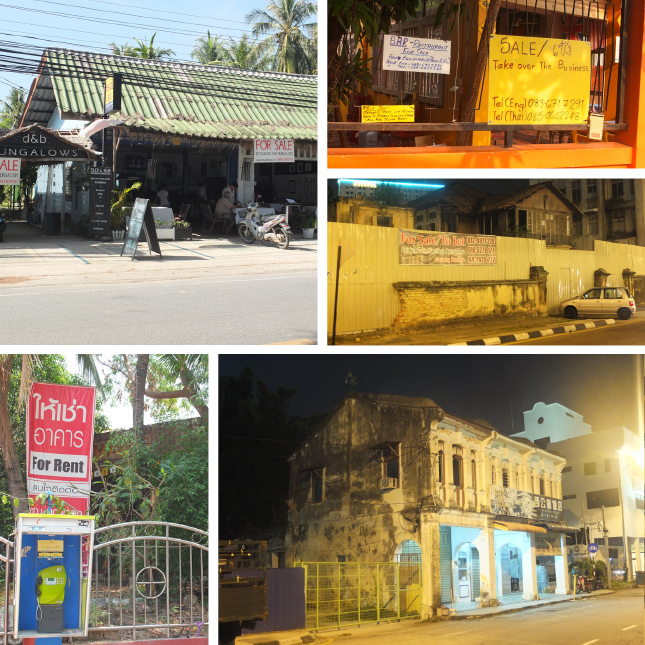 Some hotels, resorts and houses to sell in south-east Asia
Amenities
Don't expect a TV in our common room, we don't travel to watch re-runs of Friends or the Hangover for the fifth time. But we'll have a bar stocked with a selection of cold beer, so don't worry, you won't get bored and will always will have someone to exchange travel stories with. And in case you are too tired to share a drink and just want to relax, we'll have a giant library filled with travel books, vintage guidebooks, recent issues of Vice and our collection of Monocle magazines … amongst other literature.
And for the special hangover nights, we'll have a video projector to watch episodes of MacGyver and action movies from the 90s. And of course, an Xbox with the entire Rock Band set for crazy nights of singing and pretending to be the Bon Jovi, ahem ... I mean the Rolling Stones.
Don't even ask, there will be super fast and reliable free wifi but the only available website, will be Hejorama.com. That's all you need ...
Tuk tuk, guitars, couches and computers like at Lub D Siam? Yes, please! And our Tuk tuk will have a driving simulation too!
Rules
There won't be many rules aside from expecting common sense from our guests. We are the children from the French riots of May '68 and their motto was "It's forbidden to forbid."
no plastic bags in the dorms!
One single rule will be strictly enforced though: no plastic bags in the dorms! Actually let's make it no bags at all in the dorms. Anyone caught packing his bag at 6am or using plastic bags will be banned for life from the establishment and we won't prevent the roommates to cruelly punish him or her.
For the rest, we'll install a ring in the common room with gloves and shin-pads to settle disputes between our guest or with the staff. If you are courteous and care about the people you live with, there shouldn't be any problems.
You might think that it's a good idea to forbid shoes in your hostel. But in truth it will only make it smell bad. Shoes are not mandatory but welcomed at Hejorama hostel.
Activities
We won't organize any rigged bar crawls to touristy places and stuff like that. Instead, we'll take our cool guests with us on nights out in the local places we actually visit. We'll also have regular dinners for our guests, prepared by local chefs to introduce them to different food cultures.
But to be fair, we'll probably just send you to Gidsy to find yourself the interesting and original things to do in town.
The staff
That will be us, our friends and the motivated local people who want to work with us. We'll also offer a chance for people to stay for free at the hostel in exchange of a couple of hours of daily work. Cleaning the toilets, doing the laundry, preparing the beds, you know the kind of cool stuff you want to do when traveling ... Just kidding. We do our dirty work ourselves.
We like to believe that we know how to entertain people and show them around
Inspiration
Here's a list of some of our favorite hostels around the world that have inspired our ideas for our own place:
- Lub D in Bangkok (our reviews here and here)
- Czech Inn in Prague
- Matchbox in Singapour

Will you come stay with us? How would your perfect hostel be?