"Après-ski" in the Tyrolean Zillertal region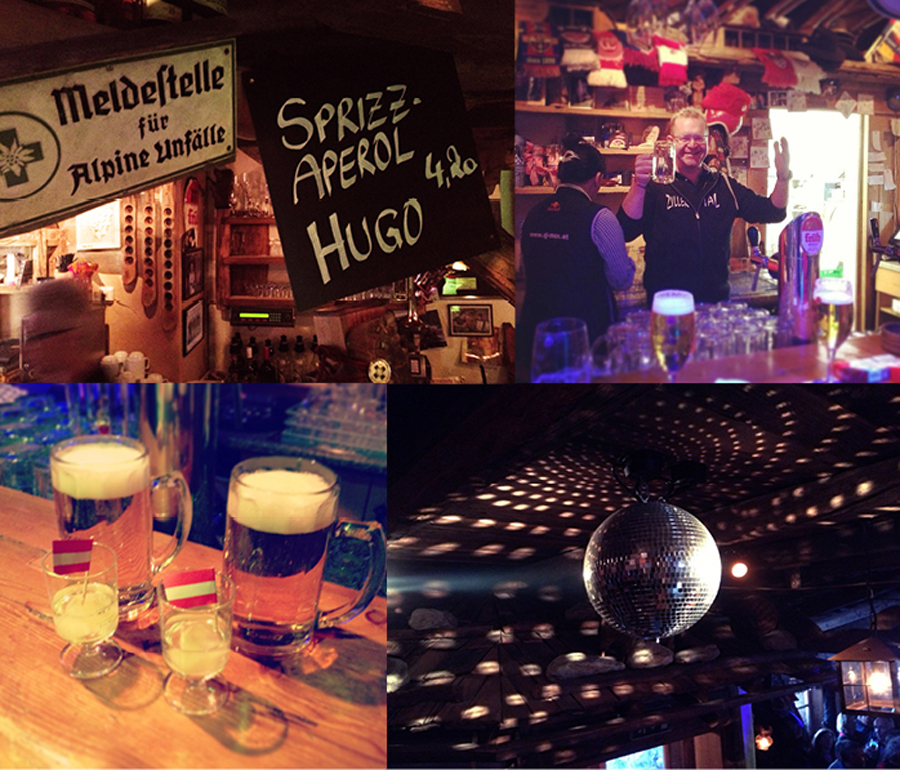 Last March, Ben and I were invited for a blogtrip in Tyrol, and more especially in the Tux Valley. Four sunny days of relaxing time, on the white snowy slopes, with nice people from different regions of Europe. The atmosphere was relaxing, friendly, and also festive… In the après-ski bars!
Do you know the meaning of "après-ski"? In France – Ben and I are French – this word (litteraly meaning "after skiing") represents the kind of boots we wear when we are not skiing, after skiing.
We were surprised to rediscover this French word with another look. It's funny to know that in the Austrian Alps (as in other countries in the world), it has another meaning that the one we have, in France.
Après-ski refers to going out, having drinks, dancing, and meeting new people (sometimes charming) after skiing. Skiers and snowboarders stop at bars before going to their accommodation (back from the slopes), still wearing all their ski/ snowboard clothes.

Après Ski, Quebec movie (1971)
That's what we did, in the Tux Valley. And we discovered two different kinds of après-ski, with two very different atsmospheres.
Hexenkessl après-ski: big place, a lot of students and young people, foreigners, old and modern musics, place of seduction.
https://www.hejorama.com/lieu-Hexenkessl-aprsski-bar-1214.html
Kaser Mandl après-ski: our favorite one! Smaller bar, young and old people, families, friendly and convivial. The owner is Dj-Mox, a fantastic Austrian man who plays music in his bar between 3pm and 6pm, with typical Austrian and Tyrolean songs, and who likes singing in his mike, talking to people, making people dancing or singing. Very funny and unforgettable moments guaranteed!
https://www.hejorama.com/lieu-Kaser-Mandl-aprsski-bar-1215.html
/
If you plan to go skiing in the Tux Valley next winter, we strongly recommend you to wear your most beautiful and trendy "après-ski boots", and to have drinks (schnapps!) in one of these two après-ski bars.
Hexenkessl
Vorderlanersbach 80 · A-6293 Tux · Zillertal
http://www.hexenkessl-tux.at/
Kaser Mandl
Vorderlanersbach 268 – A-6293 Tux – Zillertal
http://www.dj-mox.at/zillertaler_musikantenalm/zillertaler_musik.html
Tschüss!
Maéva

(a big thanks to the Tirol Tourism Board,Tux-Finkenberg and Lea Hajner from Tripwolf!)
NB: If you want to discover experiences from other people about ski in Tyrol, search #skitirol on Twitter.
And if you want share your own experience, you can also hashtag #skitirol on Twitter when you post your articles / chronicles / pictures / videos